Every week, there is quite a selection of new comics available that have been added to ComiXology via their creator-owned Submit platform, and here at Bleeding Cool we're taking a moment to point out some of the titles that have caught our attention this time around that you might find as wacky or as intriguing as we did. This week, it's a storm of pros who are taking up the challenge to use Submit as their platform to keep things creator-owned as well as newer indies continuing to make their mark.
Top Pick:
The Undertaker Mortonstone #1 written by Gary Chaloner, with art by Ben Templesmith and Ashley Wood
If you're thinking "What??", the only answer is "Yes, that's right". Though this comic appeared in print and digital in 2013, it's coming to wide distribution through ComiXology Submit this week, and for many of us, this is our first look at a very interesting team up. Not only that, but we get a chance to see Ben Templesmith operating in black and white, certainly a less common choice for his work. Mortonstone is a fabulously macabre tale of madness, corpse-digging and serial killing, but our erstwhile hero, an undertaker who has lost his family to said killer and been falsely accused of killing them, landing him in an asylum for two years, is a font of Shakespearean dialogue conjuring Hamlet and, in situation at least, Edgar Allen Poe, with nods to Stephen King. There are some truly humorous, of course very darkly humorous elements. The semi-mad Mortonstone, and the touches of madness are also reminiscent of Shakespearean characters like "fools" in the bard's plays, totes around a stuffed dog on wheels that we later learn has some basis in his past, pre-tragedy life. He also totes around and speaks to the dug-up corpse of his still-beloved lost wife, and that hints at the deep structure of the comic–what holds it together is the flip side of love that just won't die.
It's the driving factor for Mortonstone seeking to find the killer and bring him to justice. It's a dark, strange, haunting world that might as well be some kind of underworld, and the jump into Ashley Wood's artwork for flashback has a sharp, precise, and messy contrast in black and white that speaks excellently to a different time and mind-set, a precarious, vulnerable, but happy world about to go wrong. If this comic were out in your local LCS today, I'd say "Go and get it", but it's even easier than that, since it's right here on a platform where you can catch all the stellar detail and inking on this twistedly heart-tugging tale.
You might also like:
Testament, written by Douglas Rushkoff, with art by Liam Sharp, colors by Jamie Grant, and letters by Jared K. Fletcher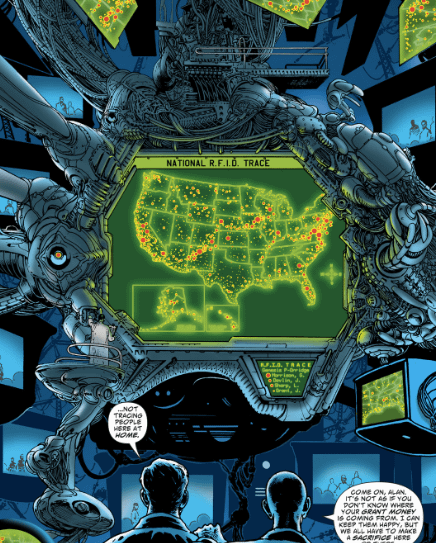 When you suddenly discover you're intrigued by a TV show you've missed somehow, you're likely to binge-watch it on demand, or similarly on Netflix. This week we have the comics equivalent as 3 volumes of graphic novels and an omnibus edition for the same hit ComiXology at once. And once more, we have some big names on board with this epic work. I'll take a look at the first volume, Akedah, since I haven't read this series before. Testament is a reimagining of the Biblical narrative of the Old Testament in an experience that Rushkoff says in the foreword, may be "closer" to what the original authors intended. That's quite a statement. What we get in this first volume, Akedah, are interspliced narratives drawn from those nearly inexplicable supernatural encounters in the old testament that still puzzle scholars and lead to deep theological texts–Abraham being ordered by God to sacrifice Isaac, Abraham entertaining angels "unaware", and the destruction of Sodom and Gomorrah, and several branches of a "modern" futuristic narrative set in a world of almost equally puzzling trends and events as microchipped youths are sent off to war, struggle to comprehend their world and loyalties, and everyone seems poised on the edge of some kind of impending doom that's only gradually spelled out.
This graphic novel certainly has that uneasy, heightened feel of those Old Testament episodes, and uses them as a kind of coda to help you interpret the other narrative events. But things begin to get even more intense as the reader begins to recognize just how those patterns between old gods and mythologies are taking shape in the "present day" of the narrative. Sound like a set up for a binge read? Exactly–a wide cast, multiple layers of narrative, and a driving sense of dangerous and sublime super-human powers taking shape make Testament just that kind of story.
Healed, written by George O'Connor and illustrated by Griffin, S.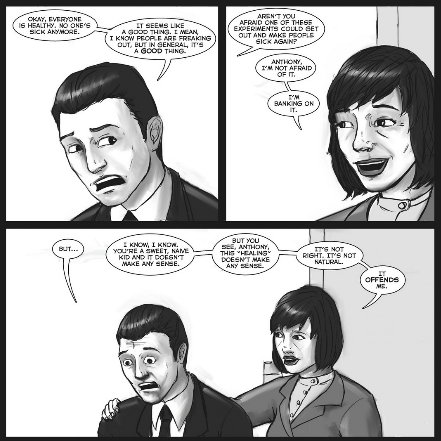 Healed is arriving in its second issue of five this week, but I'm catching up a little to check out this installment, having been intrigued by the premise of the book, which seems to touch on a certain zeitgeist in comics right now, to consider what it would actually be like for people to become immortal or at least immune to decay, and what very practical problems that would cause. Death becomes "unnatural" in this book because illness is instantaneously removed from the earth. Alcoholics dying of liver disease can celebrate their reprieve with heavy drinking, but the revelries pave the way for darker considerations. And those considerations seem to lead to pharmaceutical and medical research companies, and all the way to Washington as the idea that a natural order has been disrupted begins to take hold. Naturally, there are likely to be parties interested in making sure the old order is restored, and, well, what about overpopulation? But that's likely to be a consideration for future issues of the series, as this second issue focuses on close up human reactions, and does build up tension around what may be in store for humanity. The artwork on the comic is freely indie in style, black and white with grey tones and shading, and is purposefully uncluttered to suggest universal environments and recognizable entities, and by streamlining the storytelling, O'Connor and Griffin keep your interest building. Where better to pose questions like this than comics where a reader can include their own questions and assumptions between panels as part of the building narrative?
Enjoyed this article? Share it!