At The Overlook Hotel, All Work and No Honey Makes Bear a Dull Cub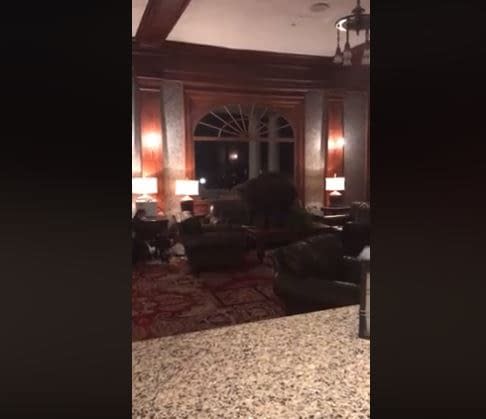 In what might end up being one of the best viral marketing campaigns ever for Hulu's Castle Rock (then again…), the staff at The Stanley Hotel — the visual inspiration for director Stanley Kubrick's 1980 horror film adaptation of Stephen King's 1977 novel and the filming location for the 1997 television adaptation — had a very unexpected guest checking out the premises on Thursday: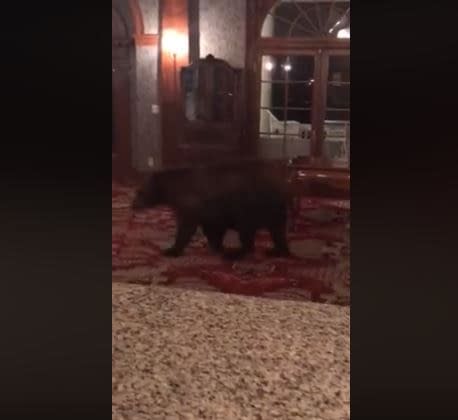 Now in the bear's defense — and as you can clearly see in the video below — he was only there to scope out locations for his annual "cub scout" retreat (ba dum tss), and definitely not looking to bash anyone's brains in. If you're listening, "Smokey"? Eerie children, creepy bartenders, and slight elevator "plumbing" (???) problems aside, it's a pretty nice place to stay — though you might want to avoid hibernating there in the winter: things can get a little… weird.
Oh, and if anyone comes up to you claiming to be a bear? Ask for some ID. Just sayin'…
Late night visitor from the wildside visits our hotel lobby. We'll make an exception to the rule about jumping on the furniture.

Posted by Stanley Hotel on Thursday, August 23, 2018
For those of you who need a reminder of Kubrick's righteously over-hyped, all-flash/little substance, more-bastardization-than-adaptation of King's novel, here's a look at one of the film's rare highlights – the trailer:
"I don't get it. But there are a lot of things that I don't get. But obviously people absolutely love it, and they don't understand why I don't. The book is hot, and the movie is cold; the book ends in fire, and the movie in ice. In the book, there's an actual arc where you see this guy, Jack Torrance, trying to be good, and little by little he moves over to this place where he's crazy. And as far as I was concerned, when I saw the movie, Jack was crazy from the first scene. I had to keep my mouth shut at the time. It was a screening, and Nicholson was there. But I'm thinking to myself the minute he's on the screen, "Oh, I know this guy. I've seen him in five motorcycle movies, where Jack Nicholson played the same part." And it's so misogynistic. I mean, Wendy Torrance is just presented as this sort of screaming dishrag. But that's just me, that's the way I am." – Stephen King
For any King/The Shining fans who plan on being around the Estes Park, Colorado, area on Saturday, October 20th, your friends at The Stanley Hotel have a righteously cool event planned for you (visit their website for ticket and other information):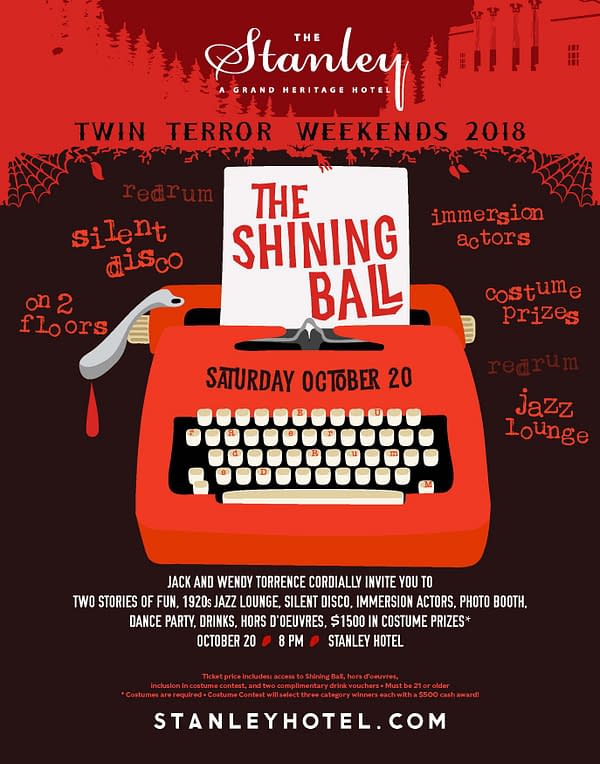 The wildly popular Shining Ball expands onto two floors of entertainment, music and wild decorations as the ball makes its debut in the brand-new Pavilion Amphitheater. Complete with immersive theater characters from The Shining, an upper level three-DJ silent disco in "Jack's Attic", a 1920's themed jazz lounge on the lower floor, late night dancing, the Ball is bigger and shines more than ever.

Participants will compete for cash prizes with creative and daring costumes, so dress to impress. Festive hors d'oeuvres, delightful drinks, dancing and cavorting among the imaginative, Shining-themed decor will bring new chills to the hottest night of the Halloween season.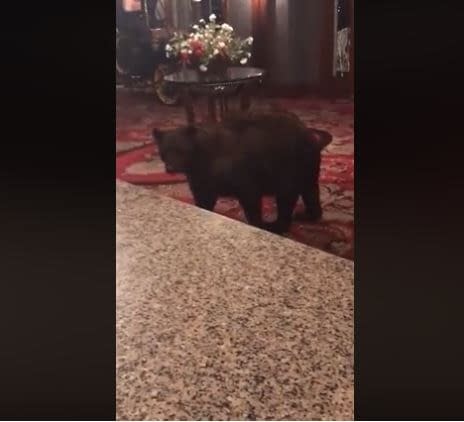 A psychological-horror series set in the Stephen King multiverse, Castle Rock combines the mythological scale and intimate character storytelling of King's best-loved works, weaving an epic saga of darkness and light, played out on a few square miles of Maine woodland.

The fictional Maine town of Castle Rock has figured prominently in King's literary career: Cujo, The Dark Half, IT and Needful Things, as well as novella The Body and numerous short stories such as Rita Hayworth and The Shawshank Redemption are either set there or contain references to Castle Rock. Castle Rock is an original suspense/thriller — a first-of-its-kind reimagining that explores the themes and worlds uniting the entire King canon, while brushing up against some of his most iconic and beloved stories.

From J.J. Abrams' Bad Robot Productions (Star Wars: The Force Awakens, Lost), best-selling author Stephen King and executive producers/writers Sam Shaw and Dustin Thomason, Castle Rock stars André Holland (Moonlight), Melanie Lynskey (Togetherness), Bill Skarsgård (IT), Jane Levy (Suburgatory), Sissy Spacek (Carrie), Scott Glenn (The Right Stuff), Terry O'Quinn (Lost) and Chosen Jacobs (It).