Supergirl's Nicole Maines On Playing Television's First Transgender Superhero, What Fans Can Expect from Dreamer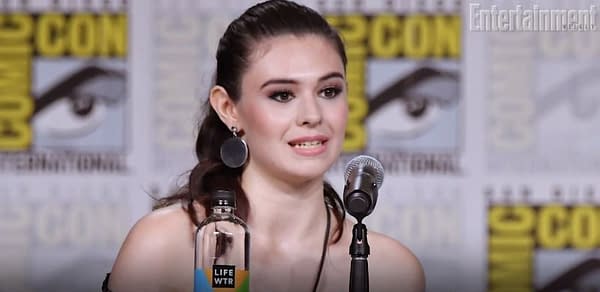 The fourth season of Supergirl is a big one for the CW: paired with Charmed, the super-hero series is serving as the "tent pole" for the network's move to Sunday night programming. But the upcoming season is important for a much more important, meaningful, and historical reason: for the first time on television, a transgender super-hero will be saving the day.
Transgender activist Nicole Maines has landed the series regular role of Nia Nal/Dreamer on the upcoming season of Supergirl, following an extensive casting search for a transgender actor to play the role. The producers worked with DC Comics in adapting the character from the original comics, and with GLAAD representatives and other consultants from the transgender community.
https://www.youtube.com/watch?v=Jw30raSbrhE&t=18s
In highlights from her interview with Variety, Maines opened up about the importance of her role on the larger societal level, the importance of representing the transgender (and other under-represented groups) the "right" way, and what fans can expect from Dreamer. Here are some of the highlights:
● On what it means for her to play television's first transgender superhero:
"I haven't really grasped that yet. I haven't really wrapped my head around being a superhero, first of all, and being the first trans superhero on television. It feels fitting to say with great power comes great responsibility. I'm very hopeful. I'm very excited. And at the same time I'm nervous because I want to do it right."
● On why she thinks it's taken so long for this level of representation:
"We've had trans representation on television for a while, but it hasn't been the right kind of representation. When I was first coming out to my parents in the late '90s, we had trans people on television portrayed by cis men as sex workers and drug addicts — which painted a very specific image. Having trans women portrayed by cis men contributed to that idea that we are men in dresses, and that was damaging for a long time.

Now it's very relieving and hopeful to watch creators and writers and directors and casting offices opening up to put trans people in trans roles so we can portray ourselves and we can start to disprove some of those stereotypes about us. I think we're in a time right now where more than ever representation in the media matters. And what we see on television has a very dramatic effect on our society. I'm just beyond thrilled to be able to do that in a super suit!"
● On what she wants fans to take away from Nia Nal/Dreamer's story arc:
"More than anything, I want fans to take away an understanding of trans people that we can be anybody. We can be whoever we want, we can do whatever we want, we can be superheroes, because in many ways we are. More importantly, I think as a trans character whose storyline is not necessarily revolving around her being trans, I really want viewers to take away that trans characters don't have to be the trans character. They can be so much more."
● On the Scarlett Johansson/Rub and Tug casting controversy:
"I think that cisgender actors don't take roles out of malice; I think it's just a failure to realize the context beyond having cisgender people play transgender characters. … Having trans people play trans roles shows that we are valid in our identities and we deserve to exist as we do. When we have cisgender actors play trans characters, it furthers the stereotype that we are playing dress up, which is not true."
Debuting Sunday, October 14th, at 8 p.m. ET/7 p.m. CT, Supergirl serves as the anchor for the CW's new Sunday night line-up (paired with Charmed). With a new season comes new cast members, including: Star Trek: The Next Generation's Brent Spiner as Vice President Baker; Rhona Mitra as Mercy Graves, Lex Luthor's one-time bodyguard and also a "human first" supporter; Sam Witwer as anti-alien activist Agent Liberty; Robert Baker as Mercy's brother and enforcer, Otis; April Parker Jones as Colonel Haley; and David Ajala as triple-dealing Manchester Black.