Supergirl Season 4 Adds Star Trek: The Next Generation's Brent Spiner as VP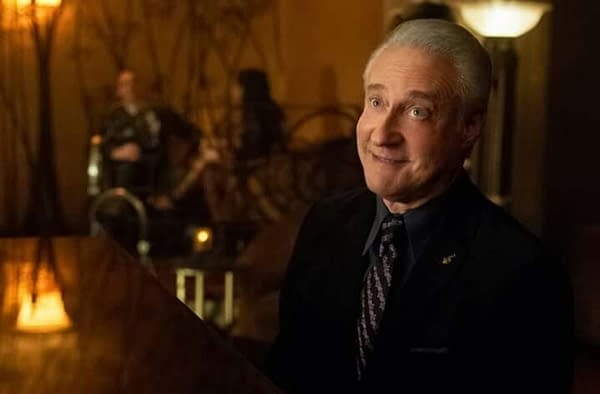 When the CW's Supergirl makes its move to Sunday nights for the start of its fourth season on October 14, it's bringing a number of new faces along with it – and now you can officially add Star Trek: The Next Generation's Brent Spiner to that list. The actor has been cast in the recurring role of Vice President of the United States of America Baker, described as "an unlikely leader who will nonetheless step up in a big way when his country needs him." While the season is expected to address the growing anti-super power fervor, Supergirl will also pay respects to famous Superman story Red Son, as was teased during the season 3 finale when a clone of Kara (Melissa Benoist) was shown in Siberia.
Best known as Data on the Star Trek: The Next Generation televison and film series, Spiner has also appeared in Cinemax's Outcast as well as returning for Independence Day: Resurgence. On Starz's comedy series Blunt Talk, the actor was reunited with former Star Trek: The Next Generation co-star Patrick Stewart.
Along with Spiner, Supergirl season 4 also boasts television's first transgender superhero, Dreamer, played by trans activist and actor Nicole Maines. Other names to keep in mind – especially if you're familiar with the comics: Sam Witwer as anti-alien activist Agent Liberty; Rhona Mitra as Mercy Graves, Lex Luthor's one-time bodyguard and also a "human first" supporter; and Robert Baker as Mercy's brother and enforcer, Otis.
https://www.youtube.com/watch?v=Jw30raSbrhE
Season three saw Supergirl stop Reign and the other Worldkillers' threat to humanity and our planet, and in the process, Kara was shocked to find her mother Alura alive and living in a salvaged Argo City that survived the destruction of Krypton. Reconnecting with her past caused Kara to realize that her true home is now here on Earth, where big changes are taking place for her and all of her friends in National City – and also, it appears, for a doppelganger in Russia! Season four promises to be full of surprises, action, adventure and lots of big revelations for Supergirl, Alex, James, J'onn, Lena and Brainy.

SUPERGIRL is an action-adventure drama based on the DC character Kara Zor-El, (Melissa Benoist). Twelve-year-old Kara escaped the doomed planet Krypton and was sent to Earth where she was raised by a foster family. Kara grew up in the shadow of her foster sister, Alex (Chyler Leigh), and learned to conceal the phenomenal powers she shares with her famous cousin, Superman, in order to keep her identity a secret. Years later, Kara was living in National City and still concealing her powers, when a plane crash threatened Alex's life and Kara took to the sky to save her.

Now, Kara balances her work as a reporter for CatCo Worldwide Media with her work for the Department of Extra-Normal Operations (DEO), a super-secret government organization whose mission is to keep National City – and the Earth – safe from sinister threats. As Kara struggles to navigate her relationships and her burgeoning life as a reporter, her heart soars as she takes to the skies as Supergirl.

Based on characters created by Jerry Siegel and Joe Shuster, SUPERGIRL is from Berlanti Productions in association with Warner Bros. Television, with executive producers Greg Berlanti ("The Flash," "Arrow"), Sarah Schechter ("Arrow," "The Flash"), Robert Rovner ("Private Practice," "Dallas") and Jessica Queller ("Gilmore Girls," "Gossip Girl," "Felicity").