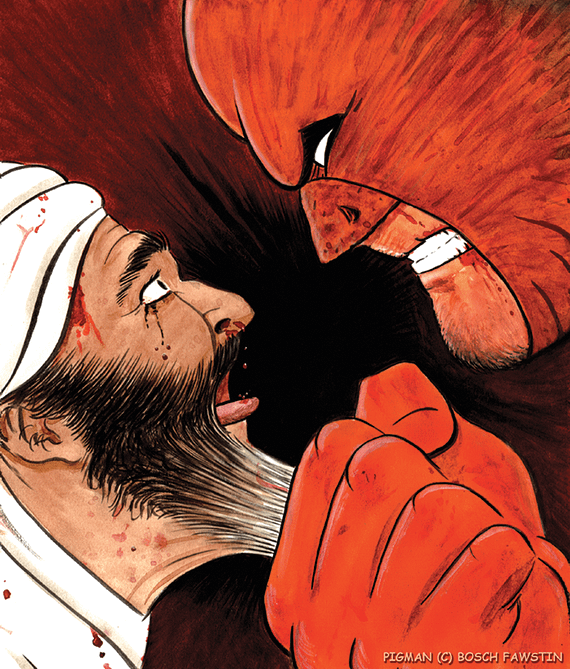 I've been covering the existence of The Infidel, a planned graphic novel about two brothers with a Muslim background reacting to the events of 9/11 for a few years now.  The plot has stayed the same, one is radicalised as a result, and the other, well is radicalised in another direction I guess, he creates the superhero Pigman who dresses up as a pig, wearing a pig skin suit, to fight Muslim terrorists in America. Read, every other Muslim in the book.
This is not a parody.
Well now the first issue has finally been published, albeit digitally. And as part of a PR campaign, Bosch Fawstin has snagged himself a spot on that most wonderful piece of Americana, The Daily Show With John Stewart. It will air this week, possibly tonight.
Now, I'm not expecting the coverage to be positive. I doubt Bosch is either. I'm sure he has certain opinions about The Daily Show that aren't overly positive. But it will be coverage, and that's what he's interested in.
Any way, here are a few of the promotional images Bosch has used that should set the tone of both the book… and Bosch Fawstin.
Of course, it's possible in the three years it has taken for this comic to be produced that the Eisner nominated Bosch Fawstin has developed a more nuanced, less provocative, multi-layered approach to his topic. Let's get a more recent cartoon…
Okay, maybe not.
Enjoyed this article? Share it!