The Russians Leaked Doomsday Clock #8?
Doomsday Clock #8 by Geoff Johns and Gary Frank is published next week. The series, an unauthorised sequel to Watchmen, has been both a critical and a commercial hit for DC Comics.
However, the entire issue has now been leaked digitally and illegally pirated in the usual places where such things occur. How?
Well, the rumour is that it's all down to Russian Premier Vladimir Putin appearing in the comic. Okay, that bit's not rumoured, that's fact. He also appeared in Doomsday Clock #1, but we get proper close-ups in this one, as Superman pops by to have a word.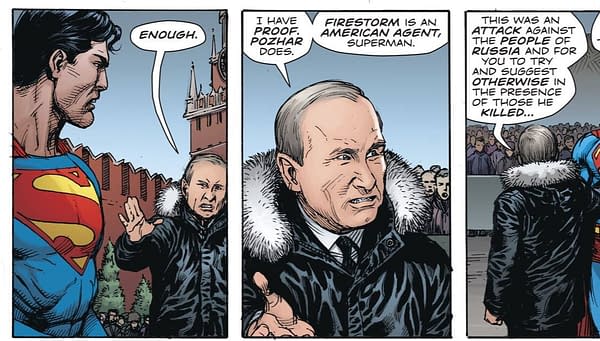 But Russia can be funny about the portrayal of Putin in the media. As stories like this can attest. So Warners, it appears, sought official permission for his appearance in the comic book. And it was the process of doing so, in talks with the Russian authorities that gave a comics fan who works there to get access to the Doomsday Clock #8 digital file, leak it, get it put up on the Madefire app and released it to Russian readers. And because this is the internet, it has now leaked to the world…
Of course, you realise, this means war…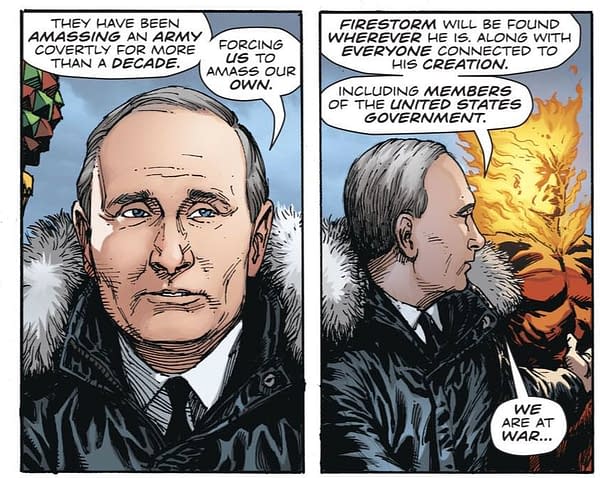 Doomsday Clock #8 will be released traditionally, you know, for money and things, on Wednesday.
DOOMSDAY CLOCK #8 (OF 12)
(W) Geoff Johns (A/CA) Gary Frank
The critical and commercial hit series by Geoff Johns and Gary Frank continues following the shocking revelations of last issue. As the truth behind Dr. Manhattan's actions against the DC Universe are revealed, Ozymandias turns to the only being who can stop him: Superman.In Shops: Dec 05, 2018
SRP: $4.99