"The World We Live In Now In Comics Is The World We Were Hoping For" – Jeff Smith, Paul Pope, Faith Erin Hicks on Sci-Fi at The Brooklyn Book Festival
The Brooklyn Book Festival brings out all kinds of litterati, but comics have been taking their place at signings and panels there for several years with increasing attendance and clamor. This year, at the "The Future: Big New Books in Comics Sci-Fi" panel, hosted by Publishers Weekly's Calvin Reid, Jeff Smith (Bone, RASL), Paul Pope (Battling Boy, One Trick Rip Off), and Faith Erin Hicks (Friends With Boys, The Last of Us) drew quite a crowd, many of whom have been obsessively following these creators for years, if not decades. What followed was partly a discussion about the freedoms that the sci-fi genre offers for comics creators, but also a round table on changes in self-publishing as well as the comics industry as a whole.
When Reid asked the panelists just how important sci-fi is to their oeuvre, the answers were interesting precisely because the creators concerned are not primarily known for sci-fi, though they certainly have overlap. Jeff Smith, for one, has always been a sci-fi fan, and always felt that when you can include a "nugget of science that was real" it creates "something to hang onto". When it came to writing RASL, he looked for something to "hang it on" himself, and string theory, which "calls for parallel universe" attracted him. When he came upon the true story of Nikolai Tesla's lost diaries, he felt things were starting to come together for RASL. For Smith, sci-fi offers a scenario where you can "hit" readers with "scenes and sequences that at first are a little disorienting but start to accumulate and make sense".
Hicks, too, got into science fiction as a teen, and was "very attracted to the sci-fi genre" but she became disappointed in it as an adult since it often included big ideas but could lack the "human element" that she "craved". Smith's work, as well as Pope's, convinced her otherwise and was an influence on her revived interest in sci-fi comics. She brought her concerns to working on The Last of Us. The "emotional element" was "extremely important" to her. Though it's an apocalypse narrative, for Hicks, it's as much about "two teenage girls" going through a movement from "innocence to experience" as the wider setting of the story. Reid observed that these three creators are known for presenting "vivid" characters and wondered how they go about developing character in the context of sci-fi. For Pope, using sci-fi elements enables him to create a world "slightly displaced from the world we know" which contrasts with the "believable" and "identifiable" aspects of a character. The combination makes a good story. Smith created characters in Bone who were "innocent", he said, in a tale of innocence under attack, whereas RASL, produced during a "different stage" of his life, is a "story about damaged people who have made bad decisions".
Hicks also decided that some darker elements were necessary for her characters in The Last of Us, partly dependent on the established video game. But for Reilly, a character she created, she decided to create a "reverse" journey where the character moved from confidence to "crumbling" under the weight of new experiences.
When Reid delved into the "evolution" of self-publishing, Smith, Pope, and Hicks had plenty to share about their experiences. "I would not have a career in comics if it wasn't for the internet", Hicks explained, and thinking back on the in-person pitching necessary to get comics published in the past, she reflected, "If I had to do that, I would not be making comics". Hicks started making webcomics in college and found the internet an "easy way" to readership. Five years later, she said, she found she had produced 1000 pages of comics on that model. Like Kate Beaton, she said, Hicks has transitioned from webcomics to print.
Smith and Pope have a shared history in trying to promote their comics in the 90's and often used to "stay up all night" talking about strategies at comic shows. In those days, "you couldn't even dream of having a comic sold on amazon or having it New York Times reviewed", said Smith. Even after the world "stumbled onto the graphic novel format", retailers used to treat graphic novels like floppies in the sense that once they were sold out, they didn't bother ordering more and going into second printing. "The World we live in now in comics is the world we were hoping for", Smith said, to several sustained rounds of applause and agreement.
But creating graphic novels, now, has its own challenges for Smith and Pope, who still feel serialization helps them keep on deadline and answerable to themselves. Serializing also allows for things like letter pages or web comments that may influence the direction of the comic based on reader response. Smith claims that he's now "following the 'Faith Erin Hicks model"', to create books online, serialize, and build up a community. Hicks chimed in to remind him not to blame her if things go wrong when he jumps into webcomics.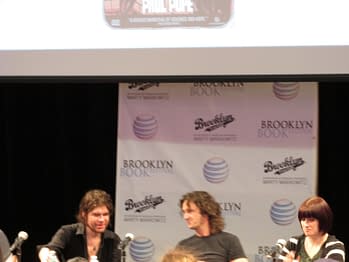 One of the questions from the floor prompted the panelists to wax lyrical about just how important color palette is to their works. Pope chose Battling Boy's colors based on a trip to the Mediterranean, and found himself looking for "greens and terra cotta" whereas Smith has always struggled to find just the right color scheme for his works. He and his collaborator Steve Hamaker spent "18 months doing the first issue over an over again" on RASL. Finally, the "came up with textures" that could be rendered in layers until it was "rich and smoky", creating RASL's noir world. Then all 500 pages had to be redrawn to fit the color technique. Hicks has had some very positive experiences working with colorists to create the right atmosphere on a book. "Colorists can make or break a book", she said, explaining how important it is to find "someone who gets you" as an artist or as a writer.
Though the panel was ostensibly about science fiction in comics, the panelists created a pretty substantial composite picture of the ways in which a creator has to be pro-active in terms of finding a genre and setting up the nuances in storytelling they are looking for. For some creators, choosing a genre may well be simply a case of serving the story in terms of character and tone. Science fiction seems to have provided the tools necessary for Smith, Pope, and Hicks to pursue their own individualistic interests in character development as much as setting, and the result has helped expand reader expectations in genre comics.
Hannah Means-Shannon is senior New York Correspondent at Bleeding Cool, writes and blogs about comics for TRIP CITY and Sequart.org, and is currently working on books about Neil Gaiman and Alan Moore for Sequart. She is @hannahmenzies on Twitter and hannahmenziesblog on WordPress. Find her bio here.
---
---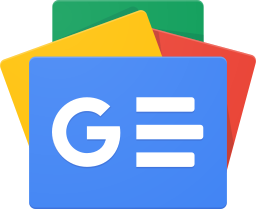 Stay up-to-date and support the site by following Bleeding Cool on Google News today!