Things To Look Forward To In 2015: Bizarre And Interesting Comics From Youth In Decline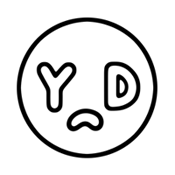 It's 2015, and no doubt I'll keep saying that to myself for the next 10 months until I get it right, but given the change of calendar I've been attempting to get my home office in order and have been increasingly aware of the small stack of parcels I've been receiving from Youth In Decline. I'm going to assume you don't know about this indie publisher or their unusual output.
Published by Ryan and Jane Sands, here's what they have to say about themselves:
Youth in Decline is a publisher of lovely and strange zines, comics, and books. We are based in San Francisco, and work out of a small office/Risograph print shop called Mission Risoplex.

Youth in Decline's focus is on supporting diverse and unique stories from up and coming North American creators, introducing English-speaking audiences to our favorite international cartoonists and writers, and providing an outlet for artistic books from established creators we love. We value our authors, and the fair and prompt compensation of creators is a central tenant of every project and product we release.

Youth in Decline is run by Publisher Ryan Sands (Editori-in-Chief/Risograph overseer) and his wife Jane Sands, but is made possible through a loose affiliation of internet and IRL friends, including Michael DeForge, Hannah K. Lee, David Murray, and Jillian Tamaki. Please check out the Our Books pages for details on announced and upcoming titles!
Interestingly, there's a serial and ongoing feel to many of their ventures, including the series Frontier, and to the large anthology RAV, which promises to reach a second volume in 2015. What makes me grateful they'll be continuing in 2015? I read a lot of comics. Not as many as some, granted–devoted fans can easily surpass people who may even be employed in comics journalism. But because I read a lot of comics, when I see things that genuinely surprise me and are far out of my normal reading experience, I react and it has an impact on me. Glancing through Frontier, Snackies, and RAV, I had several "aha" moments of seeing something totally unusual in a short space of time. That, for me, argues decidedly for the importance of the proving ground of completely unfettered indie comics production. They specialize in the new, and it may well be the only place you'll see ideas and art styles that big publishers just wouldn't take a chance on despite their promising qualities.
Here's some more information about the books I've been looking through:
Firstly, Frontier #6 by Emily Carroll is a dedicated horror zine (for this issue) by publishing Caroll's full color 32 page horror story "Ann By the Bed". The artwork is very accomplished and the storytelling substantial. Then there's Snackies, a collection of semi-autobio (I'm guessing) comics by Nick Sumida, which made me laugh out loud a few times even on an initial skim. There's a verve to the sense of humor, a kind of exuberant trend toward dark self-knowledge paired with a very cheery art style that's striking. Snackies has a very interesting introduction to the anthology, as if Snackies is a video game where you are playing the life of a Millennial art student–providing plenty of room for self-critical commentary. Lastly, there's the chunky and very attractive to book lovers RAV Ist Collection by Mickey Zacchilli. Why is it attractive to book lovers? It has the heft and the dimensions of a substantial paperback novel and is beautifully colored on its covers as well as being printed on orange pages throughout. But RAV is, to be fair, a strange book. I don't know if I should have laughed that its table of contents had nice little bubbles showing and listing the included stories but no page numbers or anything organizational like that. Because the whole anthology is presented in a very "messy" and "chaotic" art style which I've come to recognize is a kind of sub-genre of indie comics and find interesting. This particular story that collects several previous installments is characterized as an "action adventure romance drone comic" that follows several characters with surreal qualities moving through an equally strange adventure world. I can vouch that you've never really seen anything like this before and it raises a lot of questions about how stories are told and why in comics. So, what's coming up in 2015 for Youth in Decline?
Well, aside from still being able to get their t-shirts and the books mentioned above, it looks like you should really check out a limited time Subscription Offer to Frontier, which has been running over the holiday period until February 14th. Upcoming issues of Frontier will include the work of Jillian Tamaki, Anna Deflorian, Becca Tobin, and Michael DeForge. You can get either a print subscription, a digital subscription, or both. And wow, they've even put up descriptions of the next four issues of Frontier. You can find out more about them here:
OUR 2015 ISSUES:

Frontier #7: Jillian Tamaki: April 2015
Our first issue of the year features a brand new comic by the extremely talented illustrator and cartoonist, Jillian Tamaki. Her story for Frontier is called "SexCoven" and revolves around cults, file-sharing on the early internet, and sex. The 32 page issue will be Jillian's longest solo authored comic to date. Jillian is an award winning cartoonist and illustrator who works and lives in New York. She is the co-author with her cousin Mariko Tamaki of the graphic novels "This One Summer" and "Skim", the author of the forthcoming "SuperMutant Magic Academy" from Drawn & Quarterly, and creator of many zines and minicomics.

Frontier #8: Anna Deflorian: May 2015
Our first female creator from outside of North America, Anna Deflorian is a talented painter, illustrator, and cartoonist whose colorful and vibrants stories span a variety of media. She is creating a new story for Frontier that describes as " full and decorative in a 70s shojo manga vs renaissance painting way (haha)". Anna lives and works in Italy, and is the author of the graphic novel "Roghi" from Canicola edizioni. Her work has been featured previously in Kuti 21, Sans Soleil 3, and Kuš! 9: Female Secrets (where I first encountered her work). This will be her first work published in North America.

Frontier #9: Becca Tobin: September 2015
Becca is a cartoonist and artist who creates colorful and kinetic characters and moments in her drawn and painted narratives works. Her comics deal with sharing space and city life, nature, wizards, and living online. For Frontier, she will be creating a colorful collection of interconnected cosmic stories. Becca lives and works in Scotland, and is the author of a number of delightful comics including, "10% Battery", "Eye Contact," and the newly-released "Night Florist" from Dogooder Comics.

Frontier #10: Michael DeForge: November 2015
For the 10th issue of Frontier, Michael is creating an original 32 page horror comic that is a spiritual sequel to the ongoing story begun in "College Girl by Night" and continued in "By Night", revolving around desire, identity, and body-swapping. Michael DeForge lives and works in Toronto, and is the author of many of the most exciting comics of the last half-decade, including his Lose series from Koyama Press, Ant Colony and First Year Healthy from Drawn & Quarterly, and a long list of diverse and groundbreaking zines, minicomics, and projects.