Things To Do On The West Coast In October If You Like Comics
By Michele Brittany, a West Coast Bleeding Cool Correspondent
Can you believe it's October?! Where has the year gone? Are you ready for a month of scary movies and things that go bump in the night? Candy corn, trick-or-treat, costumes, telling ghost stories into the wee hours of the night? Here are some events in the wild west to keep you entertained!
California
SPECIAL SIGNING: He isn't a writer or artist for your favorite comic book, but he is the venerable Ron Perlman and worth a mention for his filmic portrayal of Hellboy. He will be signing his new memoir titled Easy Street at Book Soup in West Hollywood, October 7 at 6 PM.
Los Angeles' Golden Apple Comics will celebrate owner Ryan Liebowitz's birthday on Wednesday, October 8, from 6 – 9 PM. The Burleyman's Birthday Bash promises merriment of drinking, drawing, and cake. This is a free event. Yehudi Mercado (Buffalo Speedway, Pantalones, TX) and Theresa Rojas (artist and doctorial candidate at Ohio State University) are guests of honor at the Latino Comics Expo in San Jose, October 11 – 12. The expo features an exhibition hall and ongoing panels both days. This event is free.
SPECIAL SIGNING: If you missed him in Portland, you have another opportunity to meet R.A. Salvatore at one of my favorite comic book shops: Emerald Knights Comics and Games in the lovely city of Burbank. Stop by on Friday, October 17, starting at 5 PM. There is a good reason to return to San Diego in October: the third annual San Diego Comic Fest! Touted as "the friendly, intimate comic con" it will include all the trimmings you have come to expect: artist alley, exhibitors, panels, cosplay, and steampunk, but without the very long lines. Three-day adult passes are $50 or single day adult passes are $25. Children 12 and under are free with a paid adult. There are student and military discounts. The con runs October 17 – 19.
Fresno is going to get zapped (sorry, I could not resist!) the weekend of October 18 – 19 with ZAPPCON, the con that brings together comics, toys, movies, and gaming. Single and two-day badges available online through the 12th or at the door.
The octopus meets the jack o'lantern this year as Stan Lee's Comikaze is held over the Halloween weekend, October 31 – November 2 at the Los Angeles Convention Center. Game of Thrones' Gwendoline Christie and Alfie Allen are joined by 1960s Batman TV series stars Adam West, Burt Ward and Julie Newmar. Comic book writers, artists, small press, and vendors round out the weekend. A three-day pass is $70, or one-day passes are available for $30. Kids 12 and under are free if accompanied by a paid adult admission. More to be announced in the coming weeks.
Colorado SPECIAL SIGNING: Boulder's Time Warp Comics will host DC and Marvel artist Andy Smith on October 11 from 3 to 6 PM. The mile-high city of Denver will host the Rocky Mountain Con (RMC) the weekend of October 25 – 26, assembling Chad Hardin, TK Miller, Shelby Robertson, Mike Baron, Ron Fortier, Guy Anthony DeMarco, and Alfred Trujillo as special guests. Weekend and single day passes available online; a little more if you wait to pay at the door.
New Mexico All aboard…to the Santa Fe Comic Con! Meet Linda Blair, Ernie Hudson, Terry Huddleston, Brent Peeples, and several others the weekend of October 24 – 26 at the Buffalo Thunder Resort & Casino. There are single day, weekend, and VIP passes available.
Oregon
SPECIAL SIGNING: Master storyteller and creator of the fascinating Drizzt Do'Urden character, R.A. Salvatore will appear at Powell's Books at 7 PM on October 13 to sign his new book Rise of the King: Companions Codex II.
And, plan early for these very popular events coming up in November: Are you money? If you answered yes then get yourself over to the Vegas Valley Comic Book Festival on Saturday, November 1, in sunny Las Vegas! This free event starting at 9:30 AM at the Clark County Library will feature publishers, vendors, artists, film screenings and panels, plus special guest, Howard Chaykin! Back in my own stomping grounds, Tacoma Washington will host Jet City Comic Show on Saturday, November 8. Author Peter S. Beagle will join Battlestar Galactica alums Richard Hatch and Dirk Benedict from the original 1980s show as guests of this one-day show. Doors open at 10 AM. Tickets are $8 online or $10 at the door. Children 10 and under are free with a paid adult.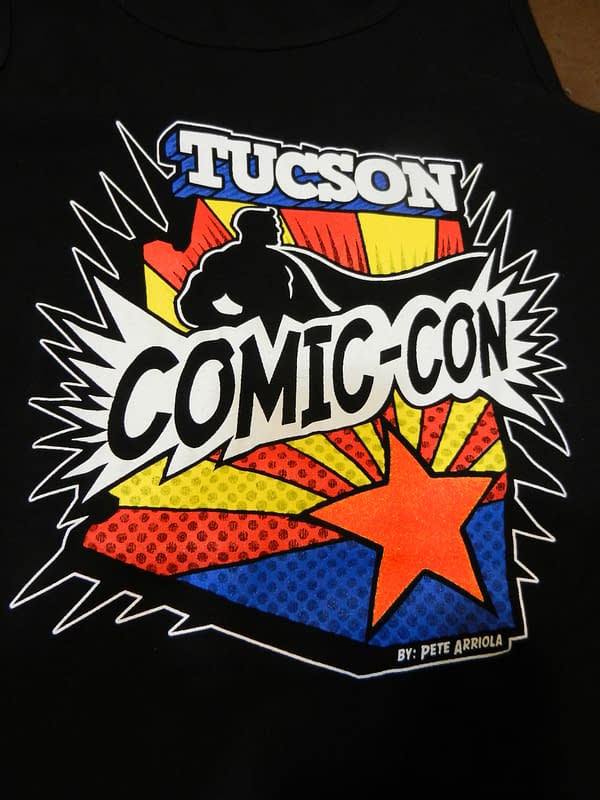 Where the saguaro stand tall and the jackalopes play, comic book lovers will converge on the desert town of Tucson for the 7th annual Tucson Comic-Con the weekend of November 8 – 9. A long list of writers, artists, vendors, and costume groups are listed to attend. Single day ($10) and weekend ($15) passes available. Children 12 and under are free with a paid adult.
While I try to cover all the major event happenings as well as some of the signing events along the West Coast, if I missed your event, please post the details in the article's comment section. And for those with events coming up in future months, please feel free to reach out to me via Twitter @mcbrittany2014.
Michele Brittany is an independent popular culture scholar and semi-professional photographer and editor of the forthcoming title James Bond and Popular Culture: Essays on the Influence of the Fictional Superspy (McFarland & Company). She regularly posts reviews and analysis on the spy/espionage genre on her blog, Spyfi & Superspies and can be followed at Twitter @mcbrittany2014.