Three Minutes of Dean Haspiel Inking An Impromptu Incubus by Frank Reynoso, Scored By Barry White
It's Friday night. People are out partying. Or are they? It's rainy and cold here in New York City, but especially in Brooklyn, and while a few people are breaking out the Jameson at the Gowanus home to several comic studios, most are still working, and rethinking ideas. Especially at eclectic Hang Dai Studios, home to cartoonists, 3D animators, illustrators, and the like.
Proof that if you hang around long enough very interesting things happen: Frank Reynoso, who has published short comics, whose work appears in Occupy Comics, and has some upcoming work in World War III Illustrated, acted on cartoonist Dean Haspiel's prompt, "Draw something for me to ink and fuck up".
Haspiel is the artist on The Alcoholic with Jonathan Ames, The Quitter with Harvey Pekar, and the current series The Fox with Mark Waid, from Red Circle/Archie Comics. Reynoso provided a massive pencil illustration of a vampire/incubus in short order. Haspiel took up the challenge and here you can see three minutes of the result, all to the sonorous mood music of Barry White.
It must be the weekend now. Enjoy.
[youtube]http://youtu.be/yRFTjsidmCU[/youtube]
And here are some photos of the process: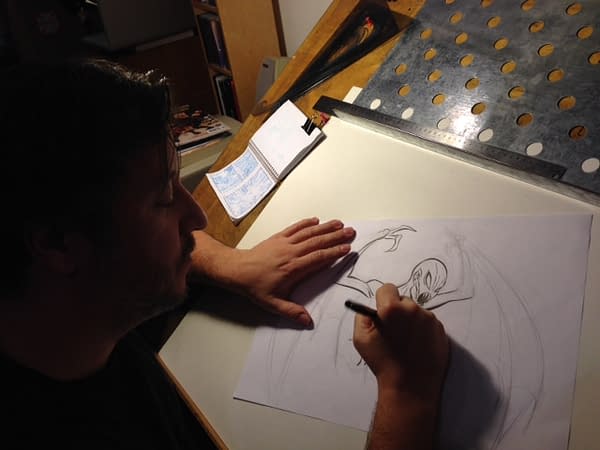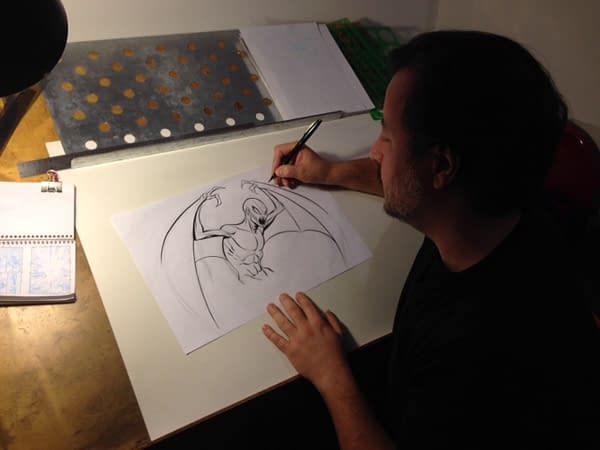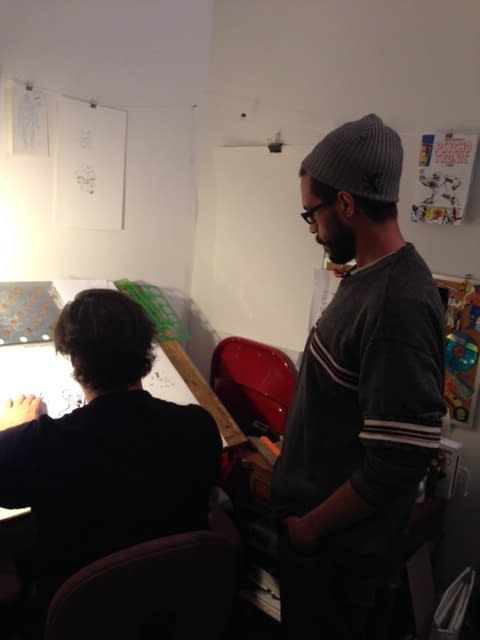 Hannah Means-Shannon is Senior New York Correspondent at Bleeding Cool, writes and blogs about comics for TRIP CITY and Sequart.org, and is currently working on books about Neil Gaiman and Alan Moore for Sequart. She is @hannahmenzies on Twitter and hannahmenziesblog on WordPress. Find her bio here.