Three Ways to Stop – Or At Least Hinder – Comics Piracy
Yesterday, Jude Terror wrote a piece quoting Donny Cates on comics piracy. Earlier today, we looked at a bunch of comics creators and critics talking about the issue. But what few people were doing was talking about how to prevent it. Or at least severely impede it. And these days it's a lot harder than it used to be.
In the old days, comic book pirates had to scan in comics by hand, manually. This would generally only happen after comic books went on sale in comic shops. People who worked in comic book stores might get early access, but they couldn't do it from work, and usually pirated comics would start to be available for torrent days after publication. There was a manual that went round with advice and required standards for pirates, including what scanners to use, what definition and how to edit pages for upload. It was rather in depth, this kind of thing took time.
Then digital comics came along and all of that went out of the window. When ComiXology went day-and-date about ten years ago, that meant that comics would be available digitally many hours before comic stores even opened. Rather than having to wait for a pirated comic, readers now had to wait for the printed comic – the pirated comic was right there when you woke up, sometimes before you went to bed. All the old ways of pirating comics were lost, now the pirate buys the comic, rips the images from the digital file downloaded to their web browser and uploads it to a pirate site in seconds – after adding their own tag page at the end of course. Because they have to have the credit after all. The sites then make money off of advertising.
So how it prevent it? Here are three practical and pragmatic ways.
First option, stop doing digital comics – or severely delay them. Pirates are now a lazy lot. It is notable that comics that weren't made available digitally, such as the DC Walmart Giant books have hardly been pirated at all, and those that have, happened after many weeks of being published. Now that DC Comics is collecting those original stories and publishing them in print and digital, those stories are now made available in seconds. And while big-time comic book publishers may be loathe to do such a thing, such an option is more available for creator-owned comics or small press comics. You may cut off about ten percent to fifteen percent of your market, but it will be a severe impediment to pirates in 2019. Alternatively, delay digital comics. There is a premium on content as close to – or before – publishing dates which drives traffic and ad revenue. Delaying digital comics puts a crimp in this.
Second option, implement some kind of individual hidden watermark for each downloaded comic. Now this will have to come from the digital publisher themselves. But if you can identify the accounts of people downloading and then pirating your comics, along with their name and credit card details they used to buy the comic, then there's the option of a) getting the law involved or b) blocking the account. There are only a handful of active regular comic book pirates. Last week, it seems, one pirate who traditionally pirates Marvel Comics couldn't get online, so a number of Marvel titles were simply not pirated until the weekend. Maybe Absolute Carnage #5 may even have had a sales bump as a result.
Third option, target the advertisers. Pirate sites are paid for by advertising, and while in the old days people pirated comics for free, now they are getting paid. Identify the ad providers and – if you are a big media site like Disney or Warners, send in the lawyers, or if not, name and shame the brands who might look to see what ad networks they are using. People will still pirate comics, but with less of a financial incentive that drives the urgency. A quick check reveals that advertisers and advertising networks include TrackingZen, Nutaka, The Fun Post, MailOnlinePhotos, BeverleyHillsMD, CrowdyFan, SoGoodly, UniversityFox, Obsev, clickTraceclick, and Gunuj. Hee's a quick screencap: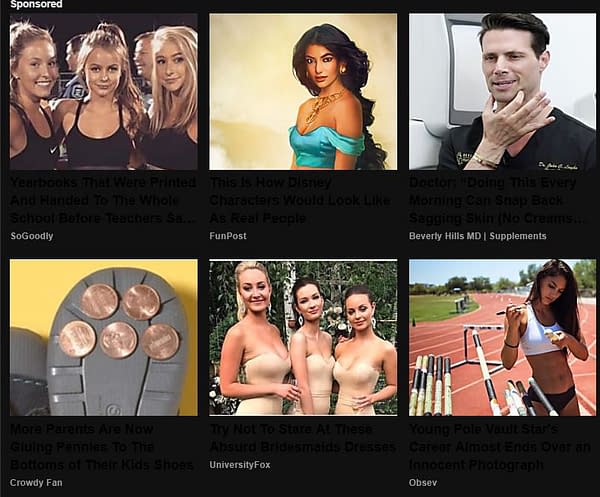 Three solutions. Will anyone use them? Probably not. They'll try shame instead, to a world becoming increasingly shameless. These are not ideological solutions, but they are pragmatic ones. So… thoughts?