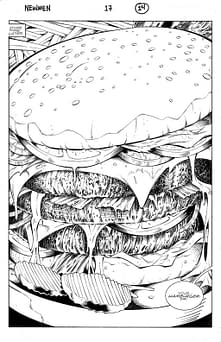 TradeWatch: Remember when DC only had the first four issues of Grant Morrison and Howard Porter's JLA in its first trade?
Looks like the new paperbacks are going to reflect the amount collected in the recent hardcover releases, according to this October solicitation collecting JLA #1-9 and more…
BurgerWatch: Here's a piece of New Men art by Todd Nauck that went for over $2000… of a burger.
SpoilerNewsWatch: Looks like everyone is catching up with our returning John Constantine news…and there's no All-Star Batman And Robin The Boy Wonder style black bars to mask this particular swear word.
But did you see Monday's Lying In The Gutters as a precursor to the specific scene in which he returns?
RealityWatch: Did you know you are living on Earth 1218?
CheapWatch: Anyone for a cheap Invincible Iron Man HC Vol 1?
DeadpoolWatch: Thirty artists, thirty Deadpools.
PlateWatch: Great vanity registration number plates of our time.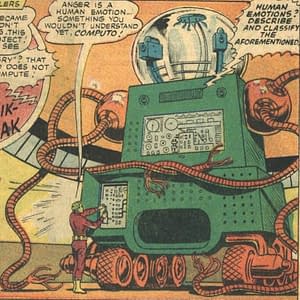 This is Computo the Comic Link Conqueror speaking. I come for your women. But for now I merely collate comic-related bits and pieces online. One day I will rule. Until that day, read on.
They say I am a work in progress. The fools.
Complex 'X-Men: First Class' Screenplay Credit Dispute Resolved (Exclusive) – Hollywood Reporter
After an unusually complicated credit dispute, WGA arbitrators determined Tuesday that Sheldon Turner and Bryan Singer deserve story credit and Ashley Miller & Zack Stentz and Jane Goldman & Matthew Vaughn will share screenplay credit on the Fox/Marvel franchise film, set for release in the U.S. on June 3. In an odd twist, Josh Schwartz and Jamie Moss, the first two writers on First Class, were left out even as Turner, who never wrote on the script, was included. (Though a potential appeal is still in the offing.)
Transmedia Hollywood 2: A Moment With Jeph Loeb > SydneysBuzz
One of the challenging aspects when I started out in film and television was not being token comic book guy. My title on Smallville was "consulting producer" and people thought my job was to say "that doesn't look like Clark" and that couldn't be further from the truth. I would like to think that my role wasn't to be comic book guy but to be a writer and a producer that were in the best interest of the show.
How Much Would You Pay For THE AVENGERS Script? | Obsessed With Film
Out of mild curiosity I asked for visual clarification that the script was real in the form of some photo's (I was never going to make a serious offer, I just wanted to see which actor will get in trouble for letting his script go loose) and what returned was two images which clearly show the name SAMUEL L. JACKSON watermarked over it. Oops.
Sign Swiped at Ohio Home Where Superman Created – ABC News
A historical marker has been stolen near the house where two high school classmates created the Superman character in 1933. The neighborhood's development corporation tells police a hacksaw was used to remove the plaque from atop a pole two weeks ago.
Thor Month: The Walter Simonson Interview Part 1 | Thor | Movie & TV News | News | Marvel.com
As far as I know, and I don't have any hard evidence to back this up, the general scuttlebutt at the time seemed to be that the book was not doing very well. Some of the stories were that it was in some danger of cancellation–I don't know if that was true.
Iron Man's House is up for Sale | The Urban Shogun
Remember that luxury mansion that Tony Stark used in the Iron Man film series? Well it turns out that it's just been put up for sale for a whopping $25 million. The 11,000 square feet luxury mansion comes with 4 bedrooms, 6 bathrooms and private access to Black's Beach. As you can see from the photos, you get an amazing view and some incredible architecture for your money.
The Great Comic Book Heroes: Wonder Man / Wonder Woman – Power man / Power Girl
Then-publisher of Marvel Comics Stan Lee, said in 1978 that when DC Comics created Power Girl after Marvel had introduced Power Man, "I'm pretty annoyed about that. … I've got to ask the Marvel lawyer — she's supposed to be starting a lawsuit about that and I haven't heard anything. I don't like the idea. … You know, years ago we brought out Wonder Man, and [DC Comics] sued us because they had Wonder Woman, and … I said okay, I'll discontinue Wonder Man. And all of a sudden they've got Power Girl. Oh, boy. How unfair."
Enjoyed this article? Share it!