Thursday Trending Topics: The Nightmare Before Halloween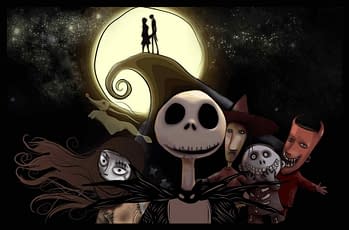 I suppose we all knew he'd be back, but it was equally likely we'd hear about it soon — those original Rob Granito posts have been read by legions of comic and art fans.
Most-Read Comic Stories Today:
Those Latest Rob Granito Swipes
You know when you've been Granitoed. Such as Rob's Nightmare Before Christmas prints he's signing on eBay…
So, what is Rob Granito up to? The art swiper and biographer bloater came to fame after a number of Bleeding Cool articles saw him confronted at conventions and eventually hounded off the internet.
Mid-Ohio Con vs. Wizard World: Mid-Ohio Ohio: Who Won? (A Completely Subjective Analysis By Dirk Manning)
No one was sure what to expect last year when the news broke that Mid-Ohio Con, long seen as one of the most stable and consistent of the independently-owned regional shows of the Midwest, was being bought by Wizard World.
Most-Read TV/Film Stories Today:
The Muppet Parodies Reach Critical Mass In Their Latest Trailer
How many spoofs can the fuzzy ones fit into a single trailer? The prosaic answer would seem to be "four", but I think it's nicer to say "watch this."
Star Trek 2 Won't Be Called Star Trek 2, So Let's Play The Naming Game
But the one fact that she did let slip is that the writers have injected at least a little bit of imagination into the script because, according to Access Hollywood, they haven't called it Star Trek 2.
This Ice Age 4 Poster Is Making Me Paranoid
Just because you're bug eyed with paranoia, it doesn't mean your sail isn't going to jump down and eat you.
Most-Clicked Pics Today: