Time's Up for NBC's 'Timeless' as Network Cancels Series for Second Time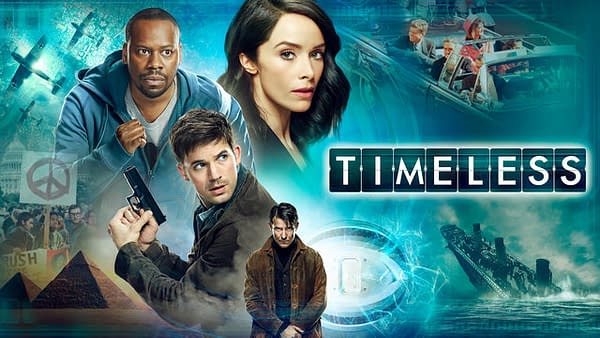 Appears time's run out on Erik Kripke and Shawn Ryan's Timeless, with NBC cancelling the time-travelling drama/action series for a second – and seemingly final – time. The network postponed making a decision on the show's fate until after the May upfronts; and the announcement comes eight days before cast's options were to expire. NBC and series producer Sony Pictures TV are currently negotiating a deal for a two-hour movie finale that would give Timeless fans a proper ending. Both sides are still trying to hammer out both production costs and the possible logisitics to getting the cast under new contracts for the movie.
Only time will tell if this being the show's second cancellation makes it easier for Timeless fans to take – but it's pretty doubtful: fans have been taking to Twitter with #RenewTimeless tweets. Timeless also took the top spot on USA Today's Save our Shows poll, for a second year in a row. NBC first canceled Timeless in May 2017, with the series unable to secure a wide audience or ratings above the average range. But while it's audience wasn't huge, it was passionate, motivated and mobilized to bring the series back; leading NBC to reverse its decision and bring the show back for a 10-episode second-season. Season 2 of Timeless returned on March 1; but the series would never be able to boost its ratings enough, even with the cast and creative taking to social media to promote the series.
https://www.youtube.com/watch?v=J2Mg4ebOg5Y
Launched with a mysterious criminal stealing a secret state-of-the-art time machine to destroy America by changing the past, Timeless focused on the soldier (Matt Lanter), the history professor (Abigail Spencer) and the scientist (Malcolm Barrett) assigned to use the machine's prototype to travel back in time and make things right. Series cast also includes Goran Visnjic, Paterson Joseph, Sakina Jaffrey and Claudia Doumit co-star.
Timeless is produced by Davis Entertainment, Kripke Enterprises and MiddKid Productions in association with Sony Pictures Television; and exec produced by Kripke, Ryan, John Davis, John Fox, Marney Hochman and Neill Marshall.