Titans Season 1, Episode 4 'Doom Patrol': Dinner Gets a Little Disturbing (PREVIEW)
With one of the more "unique" superhero teams to ever grace the comic book page set to make its debut on ths week's newest episosde of Titans, DC Universe is giving Doom Patrol fans a preview of what they can expect as the group readies for its own live-action spinoff series. At the end of the video for this week's edition of DC Daily (which should be set for you to view below), Elastiwoman, Robotman, and Negative Man enjoy what can best be described as a "not exactly nutritious" dinner – one that doesn't appear to agree with Elastiwoman at all.
A reimagining of the superhero DC characters originally written and drawn by Arnold Drake, Bob Haney, and Bruno Premiani, Doom Patrol is written by Jeremy Carver (Supernatural, Being Human), who executive produces alongside Greg Berlanti, Geoff Johns, and Berlanti Prods' Sarah Schechter. Warner Bros. Television produces in association with Berlanti Productions.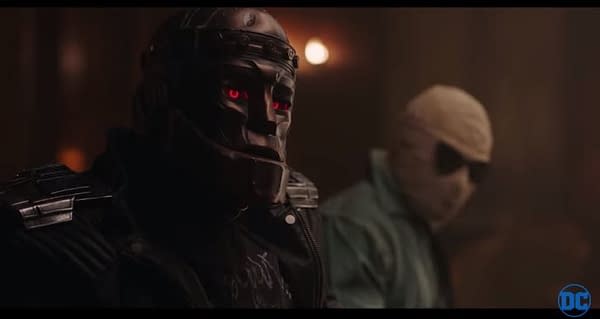 Here's a look at the DC Universe preview as well as an overview of Titans s01e04 'Doom Patrol':
https://youtu.be/4NvJ1wpDbuc?t=495
Titans s01e04 'Doom Patrol': Now aware of Rachel's power, Dick and Kory unite to find her. Escaped from the convent that sought to imprison her, Rachel puts her trust in Gar who reveals his own transformative powers. Seeking refuge, Gar brings Rachel home to his "family" – a group of misfit medical experiments we will come to know as The Doom Patrol (including Cliff Steele aka Robotman, Larry Trainor aka Negative Man and Rita Farr aka Elastiwoman) – in hopes of helping the girl. But what starts as a place of comfort for Rachel, soon turns dark under the scientific curiosity of The Doom Patrol's leader Dr. Niles Caulder, whose experiment into Rachel's powers threatens to set free a darkness, and reveal a new level of evil waiting to escape.

Guest Cast: Hina Abdullah as Arani Desai, April Bowlby as Rita Farr/Elastiwoman, Meagen Fay as Sister Catherine, Dwain Murphy as Larry Trainor/Negative Man, Matt Bomer as Larry Trainor/Negative Man (Voice), Brendan Fraser as Cliff Steele/Robotman (Voice), Jake Michaels as Cliff Steele/Robotman, Bruno Bichir as Dr. Niles Caulder/The Chief and Tomaso Sanelli as Young Dick Grayson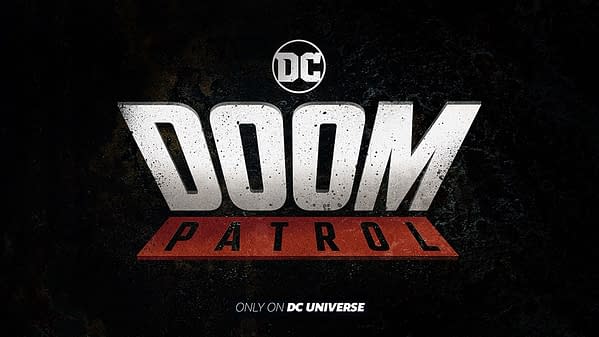 Doom Patrol is a re-imagining of the beloved group of outcast Super Heroes: Robotman, Negative Man, Elastiwoman, and Crazy Jane, led by modern-day mad scientist Dr. Niles Caulder (The Chief). The Doom Patrol's members each suffered horrible accidents that gave them superhuman abilities — but also left them scarred and disfigured. Traumatized and downtrodden, the team found purpose through The Chief, who brought them together to investigate the weirdest phenomena in existence — and to protect Earth from what they find. Part support group, part Super Hero team, the Doom Patrol is a band of super-powered freaks who fight for a world that wants nothing to do with them.

Picking up after the events of Titans, Doom Patrol will find these reluctant heroes in a place they never expected to be, called to action by none other than Cyborg (Joivan Wade), who comes to them with a mission hard to refuse, but with a warning that is hard to ignore: their lives will never, ever be the same.
Firefly's Alan Tudyk has been tapped to play the villainous Eric Morden/Mr. Nobody: after exposure to unknown experiments by ex-Nazis in post-war Paraguay, Eric Morden ceased being a man and emerged as a living shadow able to drain the sanity of others as the enigmatic — and totally insane — Mr. Nobody.