Twisted Powers In Veil #2 From Dark Horse
By Dylan Gonzales

[*Warning: Spoilers]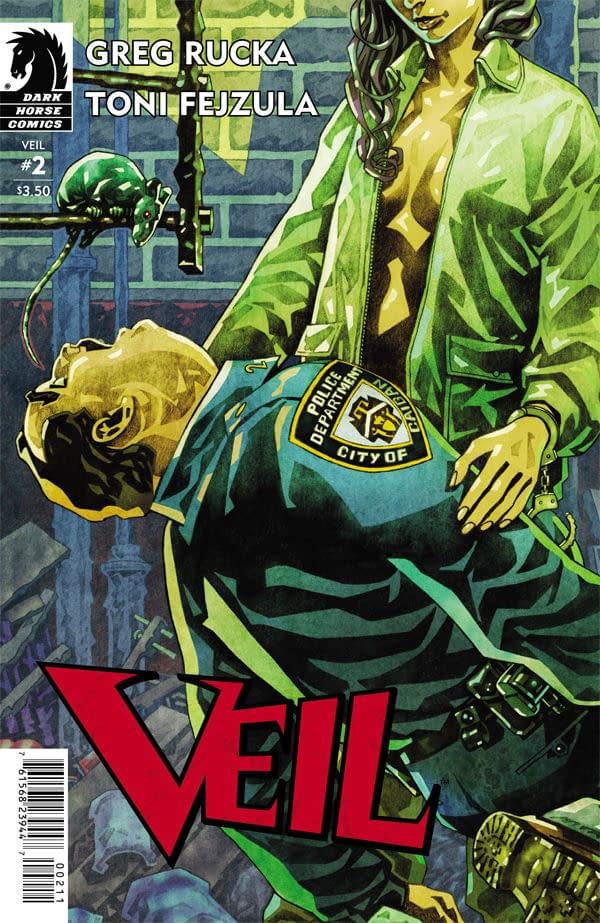 My initial impressions of Greg Rucka's first issue of Veil from Dark Horse were mixed. There was nothing inherently wrong with it. A girl wakes up in the subway with no idea who she is and displays awesome powers. Powers suggesting that there was clearly something bigger at work. The story was presented in completely understandable and easy to grasp manner. But it is a story that has been done before (i.e. Firefly) and I guess that was where my interest faded a bit. Because Rucka is a good writer, though, I wanted to see what would happen by issue two to see what he had planned.
Rucka's twist does not lie in science or some bizarre military experiment. Rather, our protagonist's powers, to manipulate the minds of others and seemingly their own bodies to the point of destruction, spawn from arcane origin. In this issue, we are introduced to who is responsible for Veil's existence, a man by the name of Cormac who is an arcane conjurer. What exactly Veil is I want to know (my guess is some sort of demon, but we will have to see) and I want to know more about this Cormac character as well.
Maybe I have not read enough of Rucka's work, but I rather enjoy this horror take of his. His Detective Comics run featured some supernatural characters, but not in this violent and haunting manner. No, Rucka has taken the mysterious character concept and put a nice occult touch on it.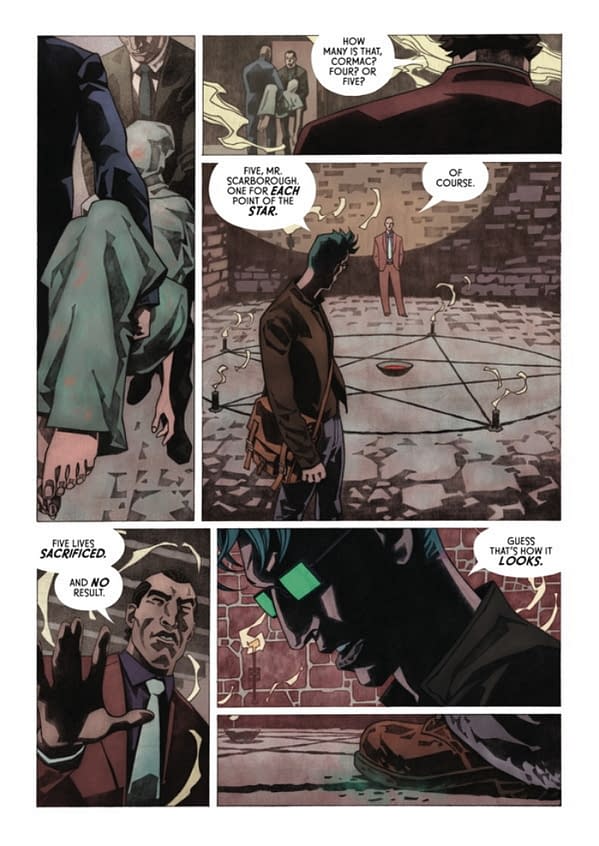 I can also appreciate this story for its simple effectiveness. I realize that this story probably won't break massive boundaries in storytelling, but it doesn't need to. I like that Rucka can take a very tried and true story and still make it engaging. He knows his character beats and story structure well enough to spin a good yarn in just five issues. And while his major book right now, Lazarus, is getting the bulk of attention from his readers, I would hope that they do not ignore this work of his too.
For one thing, they would be missing out on some really cool artwork. I have never heard of Toni Fejzula before, but wow. Fejzula has a wonderfully unique art style. His characters are marked by what look like mazes of shadows. And their eyes. I don't know I have ever seen someone draw eyes in such a expressive and gigantic manner. He seems to emulate the best of Mike Mignola and Tony Harris and still putting his own flare on it.
If you are looking for a solid horror story or are missing Hellblazer, then I would suggest turning your eyes to Veil. Rucka's script is tight and to the point and Fejzula's artwork is unlike anything else I am seeing on the shelves right now.
Dylan Gonzalez happens to love beer and comic books and luckily found a place to write about both because he has no idea how to actually make money in the real world. He lives in a cave in New Jersey.
Tweet him at @BeardedPickle, follow his own beer blog at http://boozegeek.tumblr.com/or email him at dylan.gonzalez1990@gmail.com.