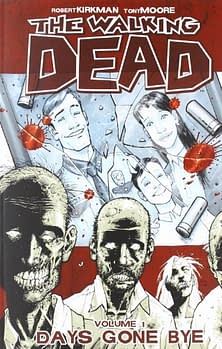 Recently, The Walking Dead Volume 1 went out of print, which led to a mini-run on the trade paperback, with people paying slightly more for it.
Turns out that's going to be a permanent situation. Not the out-of-printness, but the pricing.
Since publication, the book has been priced at $9.99, to encourage people to try it out, with the subsequent volumes costing more. But it seems that the encouragement isn't necessary any more.
With the sccess of the TV show, it seems people would be more than happy to pay more. And so they will be. The new printing will be $14.99.
So if you did want to get into The Walking Dead trade paperbacks and were one of the few who had put it off, now would be the time, if you can find a copy at your store or online (the same price, Amazon doesn't discount this volume at all, they know how much people want it)
Enjoyed this article? Share it!