TweetWatch: I heard there was a Green Lantern screening last week and it tested through the roof. This great news as a comic, movie and GL fan. – Mark Millar
BratPackWatch: Over NYCC weekend, Bleeding Cool scooped that Rick Veitch's Brat Pack was to be adapted as a movie by the makers of Black Dynamite. Now The Beat informs us that Tarik Saleh will be the director.
CurryWatch: Last Thursday, a bunch of comic book creators in London went for a curry. Kieron Gillen, Paul Cornell, Andy Diggle and more. Almost all of them fell ill…
GregWatch: A piece by Greg Capello, halfway through…


FreeWatch: Humberto Ramos is drawing the Spider-Man Free Comic Book Day comic for 2011.
JobWatch: PR work for Rebellion in the UK or teaching comic book film in Canada.
OhDearWatch: The Dixie Sun loves Superman and the redemption of Catwoman
Catwoman uses her feminine wiles and the ability to move undetected through the shadows to help people. I use my words and different forums like the Dixie Sun website and my blog to share my opinions with people all over the world.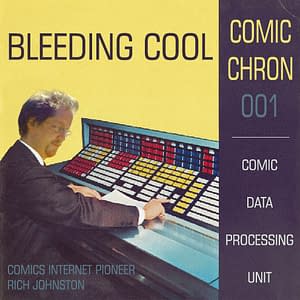 This is The Bleeding Cool ComicChron Robot speaking. I come for your women. But for now I merely collate comic-related bits and pieces online. One day I will rule. Until that day, read on.
Go to pretty much any city, in any geo-location site (such as Gowalla, foursquare or Facebook Places) and you will find multiple entries for "Bat Cave". The same holds true for the "Fortress of Solitude", Hogwarts and Castle Greyskull.
Since the announcement of this platform, 800 people have signed up to work on DMP's manga licenses. DMP has formed partnerships with six manga publishers in Japan—among them, Shinsokan, Taiyoh Toscho and Oakla Publishing—with libraries of up to 5,000 properties and some with more, even double, that number.
Phenomenology of 'Watchmen' on Vimeo
Understanding conscious experience in the graphic novel 'Watchmen' via the themes of simultaneity and totality.
[vimeo]http://vimeo.com/17147357[/vimeo]
Off the Couch, Into the Multiplexes: Irrfan Khan on His New Big-Screen Roles – NYTimes.com
Q) In "Spider-Man" you're playing a character not that many people have heard of. What can you tell us about Van Adder? A)  Is that his name? These science-fiction names don't mean a lot to me. He's a character who, I think, was not in the comics or perhaps a minor character. I've read some pages, but the whole script hasn't been made available to me.
SEGA Inks Actors Chris Hemsworth And Tom Hiddleston To Star In Thor: God Of Thunder
Thor: God of Thunder will take players through an original, epic-scale third-person action adventure for which Matt Fraction, the Eisner Award-winning writer and lead Thor comic book author, served as story consultant.
Unofficial remake of first Batman game released | Joystiq
The game stars an Adam West-looking Batman on a scavenger hunt around the deadly Batcave for seven pieces of the Batcraft (so he can get it hovering again and go rescue Robin, of course). According to the Sinclair User review (issue #50, pg. 51), Batman is notable for being an early, if not the first, game to implement a checkpoint system.
DC Event Detail – Hammer Museum
Comedian, actor, and writer Patton Oswalt will moderate a discussion among DC Comics' Paul Levitz, Jim Lee, and Geoff Johns, the creative and editorial superheroes behind the pages of Batman, Superman, Wonder Woman, The Flash and Green Lantern, who will discuss the pulp origins of DC Comics' story lines and characters, as well as the future of digital publishing. ALL HAMMER PUBLIC PROGRAMS ARE FREE. Tickets are required, and are available at the Billy Wilder Theater Box Office one hour prior to start time.
Enjoyed this article? Share it!