We've spent the last few months holding Boom Studios' feet to the fire amidst their success with big creator-owned launches in Faithless, Once & Future, Something is Killing The Children, Folklords and more – some of which have joined the illustrious 50K Club. But even after Boom president Filip Sablik publicly apologized to retailers about allocations on multiple printings, we've noticed both aspiring the David-to-be Boom and the creator owned Goliath that is Image Comics have struggled to keep up with demand for their top titles, prompting us to ask – What's Wrong With Boom and Image?
Last week, we came pretty close to almost praising Boom as CEO/Founder Ross Richie announced a new, secret variant for their new hit series The Red Mother #1 and an equally generous overprint on the main cover, doubling their standard overprint in anticipation of the now-typical post-FOC demand for a creator-owned comic from Boom. We've been touting The Red Mother as a big launch for Boom from the very beginning through New York Comic Con given that every Boom creator-owned launch in 2019 has sold out before release this year.
So we figured the combination of all you loyal retailer readers noticing those headlines and the early US Thanksgiving surprise of a doubled The Red Mother #1 overprint from Richie might have ensured that not only did Boom print enough copies but retailers also ordered enough copies. Well, someone was wrong… and for once it's not me,
I'm hearing that The Red Mother #1 has sold out at Diamond, weeks before its release on December 11 despite those moves by Boom (in addition to the no-strings returnability they offer on all their new launches). I would expect a second print to be announced shortly, likely fast-tracked (which is publisher code for setting print run numbers before orders come in so the copies can be produced and arrive in stores sooner to meet demand) and, if history has shown us, likely allocated not matter how high Boom guesses orders will go.
Just look at that Folklords #1 second printing going for $30 with collectors, which is even bigger than Once & Future #1 Second Printing at $25 or Something is Killing The Children #1 Second Printing at $15 – Boom second printings are as close to a sure thing as we've seen from creator-owned comics.
While that will frustrate many retailers who decry multiple printings as fodder for collectors & speculators, it does raise the question – why aren't comic shops ordering more of the first printing, given that Boom makes the first three issues of every new creator-owned launch fully returnable with no minimum orders and – as I've learned – without a single request yet for stripped covers (an industry-standard) to verify any returns? Are retailers, through underordering these new Boom launches, inadvertently creating the second (or in the case of Once & Future, seventh) printing speculation craze that some wish to avoid?
Every one of the Boom's 2019 launches from its oh-so-cleverly-named Boom Studios imprint – Faithless, Once & Future, Something Is Killing The Children, Strange Skies Over East Berlin, Folklords, Heartbeat and now The Red Mother – have sold out either before on-sale or the same day. We've seen Boom continue to raise their overprints and print runs to meet demand, but every new release encounters this same issue.
So we have to ask – are retailers ordering enough copies? Is there something else Boom could be doing on these first printings to ensure there's even more copies in the market? Or is it retailers who need to bet big when a red hot publisher having a historic year like Boom – or an established giant like Image – call their shot with a new launch? Whether it's the 85,000 (and counting) copies sold of Image's Undiscovered Country or the soon to be 25,000+ copies of The Red Mother #1, there's a huge appetite for original creator-owned content. But have retailers ordered right…or did they get it wrong? And will Boom get it right next time?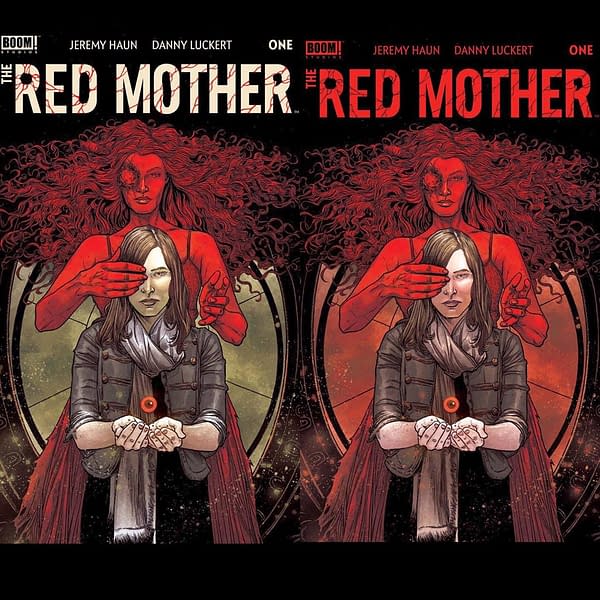 Enjoyed this article? Share it!