This has been a good year for Boom Studios and horror – not only is their recent hit series Something is Killing The Children from James Tynion IV & Werther Dell'Edera continuing to pass the all-important 20k sales mark with each issue, but they've begun to announce – or other people have leaked – a number of their projects that have been optioned.
And now Boom has a new horror series launching in December with The Red Mother, from Jeremy Haun and Danny Luckert – both of whom are proven hitmakers at rival Image Comics with The Realm and Regression. But we'll come back to that in a moment.
We already knew that JT4 (you're going to hear his name a lot) and Michael Dialynas' The Woods had a home at the Syfy network, but Boom's resident Hollywood starlet Stephen Christy recently confirmed that project is still very much in development:
Evening reading pic.twitter.com/ZjmdwmfNJW

— Stephen Christy (@stephenchristy) October 24, 2019
Meanwhile, Matt Kindt & Tyler Jenkins' True Detective-esque Grass Kings can now add an option with Legendary Television – also home to rival Image Comics' Paper Girls – to its laurels, alongside the multiple Eisner Award nominations.
We recently learned – via the Key Collector app, who've been the spot for a lot of breaking option news – that JT4 & Erik Donovan's Memetic by The Boys producers Seth Rogan & Evan Goldberg to bring the apocalyptic series to screen.
And most recently, Cullen Bunn & Jack T. Cole's The Unsound found a home at Netflix, a big move that elicits comparisons to Marvel and Umbrella Academy's success in bringing their comics to as live-action hits.
We're also hearing that multiple studios are sniffing around on Something is Killing the Children, meaning JT4 has almost as many Boom horror projects optioned as he has numbers in his name.
And don't forget that Boom has their first release with media juggernaut Disney in August 2020, as Cullen Bunn and Vanessa R. Del Rey's The Empty Man hits cinemas.
So it's hard not to look at Boom's success with horror and how they're clearly positioning The Red Mother from Haun and Luckert, both in Diamond Previews as the cover of their section and as we noted during coverage of their NYCC retailer presentation, and conclude that it may be the company's horror property next in line to be optioned.
Regardless of an option, we've seen that new Boom Studios launches tend to sell out weeks before on-sale – just look at Matt Kindt and Matt Smith's Folklords, which sold not just once but twice before on-sale and aims to join Boom's illustrious 50K Club, in which Something is Killing The Children and Once & Future are the inaugural members. It's already making noise of its own with the one per story copy being listed by Midtown Comics for $200, as we told you last week.
With the team behind Image's Undiscovered Country getting a million-plus dollar option after a bidding war and Gideon Falls set with at hot new production company Hivemind, it's clear that horror – whether sociopolitical or gothic – is the hottest person at the IP Party for Hollywood execs.
And if Boom has their way, I will be going home with the option of their choosing quite soon…
The Red Mother #1 is on sale in comic shops December 11th and I'll steal their thunder by guessing the fourth printing will hit some time in January 2020.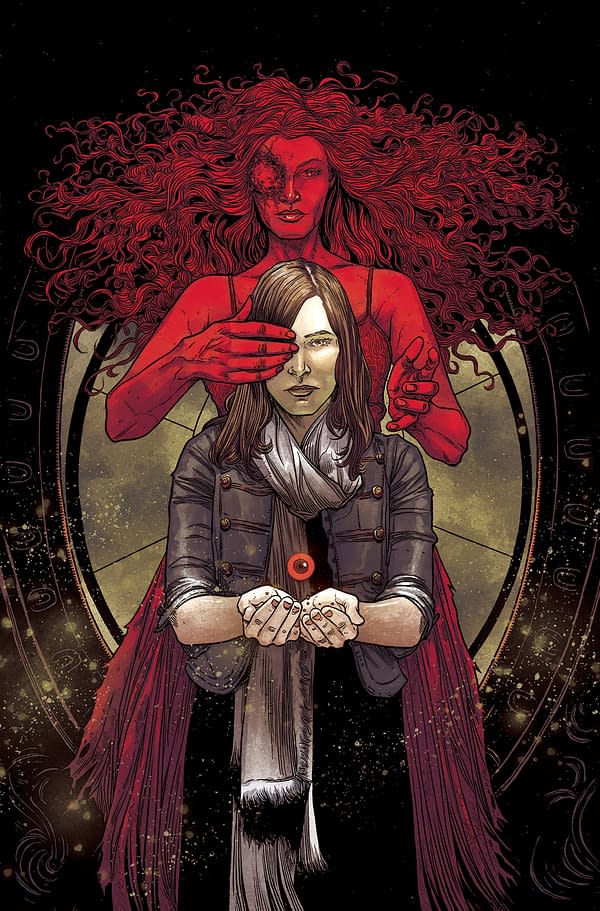 Enjoyed this article? Share it!