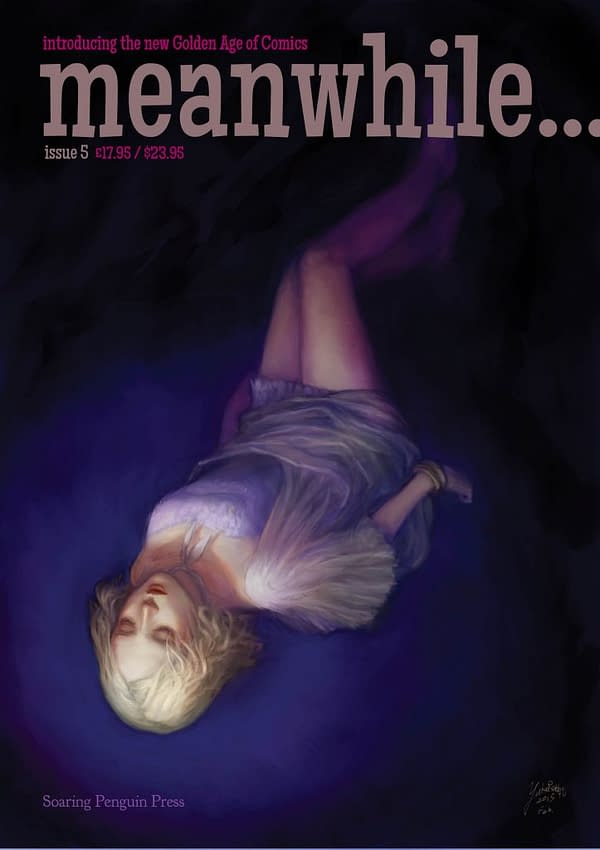 Bleeding Cool has talked a lot about the wonderful Eisner-bait anthology comic that is Meanwhile… published by Soaring Penguin Press. It runs the Strangehaven work of Gary Spencer Millidge, the Bad Bad Place work of David Hine and Mark Stafford and much more besides. If Cinema Purgatorio is the new Warrior Magazine, then Meanwhile… is the new Escape. And it's getting a relaunch for 2017. But it's going through changes.
Publisher John Anderson who lives between me and my nearest Pokestop, tells Bleeding Cool,
When I first re-started Meanwhile…, I had three main intentions for the title:

1. Find a way for Gary Spencer Millidge to finish Strangehaven;

2. Have a regular title that would keep the Soaring Penguin Press name in people's minds;

3. Grow my own graphic novels.

I was basing my thoughts, in part, on A Suivre, a magazine published by Franco-Belgian publisher Casterman from 1978 to 1997. What they did was serialise their graphic novels, and test out material before deciding whether to publish it as a graphic novel or not.

This is what I did with Meanwhile… . Sort of. I mean, apart from Strangehaven, we have The Bad Bad Place by Mark Stafford and David Hine. And I can hardly wait to see the collected edition! We serialised Yuko Rabbit's 10 Minutes, too. The rest of each of the first four issues were stand-alone stories. The idea was that anyone picking any single issue would still have some good stories to read, even if they didn't start from the first issue.

Okay, here's the part where I confess to screwing up. Ready?

I mispriced the book.

Without getting into specifics, sales were good but not as good as I had thought they would be. (And it's not like I just picked a number at random. I had worked up the numbers and asked a few people if the numbers seemed about right. We were all wrong, but it fell on my shoulders. Lucky me.)

Not good enough to pay for printing and the shipping and to provide a page rate for every creator who had contributed to the book. Yes, everyone got paid something.

This is why we paused after issue 4. I needed to figure out how to go forward with the title. I was committed to continuing, but not if it meant I was in debt for the rest of my natural life!

I put the book out to a significant number of printers around the world: China, Hong Kong, Latvia, Poland, Czech Republic, Turkey, Canada, the US and the UK. And I could not find a print cost where I could continue with a 52 page Meanwhile… for UKP4.95 an issue.

What to do, what to do?

When you see Meanwhile… 5 in January, you've find that it's slightly smaller (165 x 235mm instead of 180 x 255mm), will run 96 pages, will keep to a quarterly publication schedule, with a packed content of familiar faces and new ones that I think you'll enjoy. And it will have a cover price of UKP17.95/USD23.95.

That's the price in the shops. But you don't have to pay that. Not if you order directly from Soaring Penguin Press.

The prices on the Soaring Penguin Press website will be about half that. And it'll be even more economical if you order a subscription.

Generally, it'll be about 100 pages of comic for about a tenner. Ten pence a page. And no ads.

(I should mention that if you already have a subscription for Meanwhile… that hasn't run its course, I won't be asking for additional funds. You bought the subscription in good faith.)

In the process of working up not only issue 5, but also a list of creators I can go to for subsequent issues, I've discovered I have a fourth intention: to throw some light on creators or stories that comics readers might otherwise have missed.

If you're interested in subscribing, you can do so here.

If all you want is to test the waters and order just issue 5, that's here.

If you'd rather order digital initially, all issues of Meanwhile… will be available on Sequential, Comixology and other digital platforms shortly.
Enjoyed this article? Share it!