How Many Retailers Won't Order Thor #1, Star Wars #1, Marauders #5 and X-Men #6?
Due to issues with Diamond, Marvel and Image Comics, certain scheduled New Year's Day release titles did not appear on the retailer order form released a month ago for Diamond Previews catalogue. Instead, comic store owners needed to place orders separately as part of the Final Order Cut-Off, with the Marvel Comics deadline for tomorrow.
Except it seems that many retailers don't use the FOC form at all, and simply rely on their initial orders. Which didn't include these comics. Marvel and Diamond has been trying to repeatedly remind retailers of this. It is estimated that around 80% of retailers don't regularly use the FOC service, and as of last week 50% hadn't used FOC for any of these Marvel titles. And if they don't by tomorrow, they simply won't get them.
This includes major Marvel launch titles such as Thor #1 and Star Wars #1, as well as Hawkeye Freefall #1, Tarot #1, and two Dawn Of X titles, Marauders #5 and X-Men #6.
"Unfortunately, the timing of the deadline for the November Order Form meant that retailers wouldn't get orders in on time to produce and ship the books," said Jim Fallone, Diamond's Director of Purchasing – Print Team. "We don't want retailers to be without these important Marvel or Image products for that week, so we're taking these extraordinary steps to make sure retailers can order these books in time by their respective FOC Dates."
But some it seems cannot be reached. The big stores should all be on board but lots of smaller stories have not. If you are wanting any of these books in the New Year, maybe you should make sure that your comic store has remembered to order them? They only have until tomorrow.
To draw attention, Marvel Comics is also adding tiered discounts to orders, Donny Cates-written Thor #1 will get them if retailers match 300%. 275% or 250% of their orders for Venom #20. Star Wars #1 if retailers match 350%. 300% or 250% of their orders for Star Wars #75. Tarot #1 if retailers match 200%. 175% or 150% of their orders for Avengers #26. And Hawkeye Freefall #1 if retailers match 200%. 175% or 150% of their orders for Avengers #27.
There are also Party Launch promotions for Thor #1 and Star Wars #1 including a 1:500 blank blue cover for Thor and trading cards, with free lithographs for Star Wars #1, set after the second movie…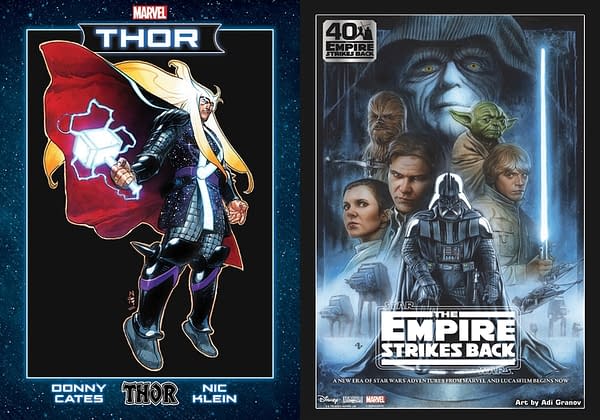 They will be, from Marvel:
Thor #1
Star Wars #1
Hawkeye Freefall #1
Tarot #1
Marauders #5
X-Men #6
Black Panther And The Agents Of Wakanda #5
Daredevil #16
Doctor Doom #4
Miles Morales Spider-Man #14
Punisher Soviet #3
Spider-Man & Venom: Double Trouble #3
Spider-Verse #4
Sword Master #7
Web Of Black Widow #5
True Believers: Criminally Insane: Bullseye #1
True Believers: Criminally Insane: Green Goblin #1