REVIEW: Avengers #30 — "Super On Spectacle And Scant On Sense"
(Marvel Comics, creative team: Jason Aaron, Ed McGuinness, Francesco Manna, Mark Morales, Jason Keith, Cory Petit)
There are so many problematic elements to this, it's hard to know where to begin. There is a distinct challenge with the treatment of a female character. To say more would be a spoiler, but it's both needlessly done and ill considered, given the question at the end of the book. The battle here between Kallark the Shi'ar Imperator, three heralds of Galactus and a woefully understaffed Avengers team was way less lopsided than it should have been, as it didn't really add up. Characterization? Please. There was way too much blasting and fisticuffs (the Blade bit made very little sense) for any of that. The ending itself, rose-colored idealism aside, was dangerously stupid even for people with substandard education from the 1940s. This issue was super on spectacle and scant on sense, and that's both disappointing and baffling. RATING: NO. JUST … NO.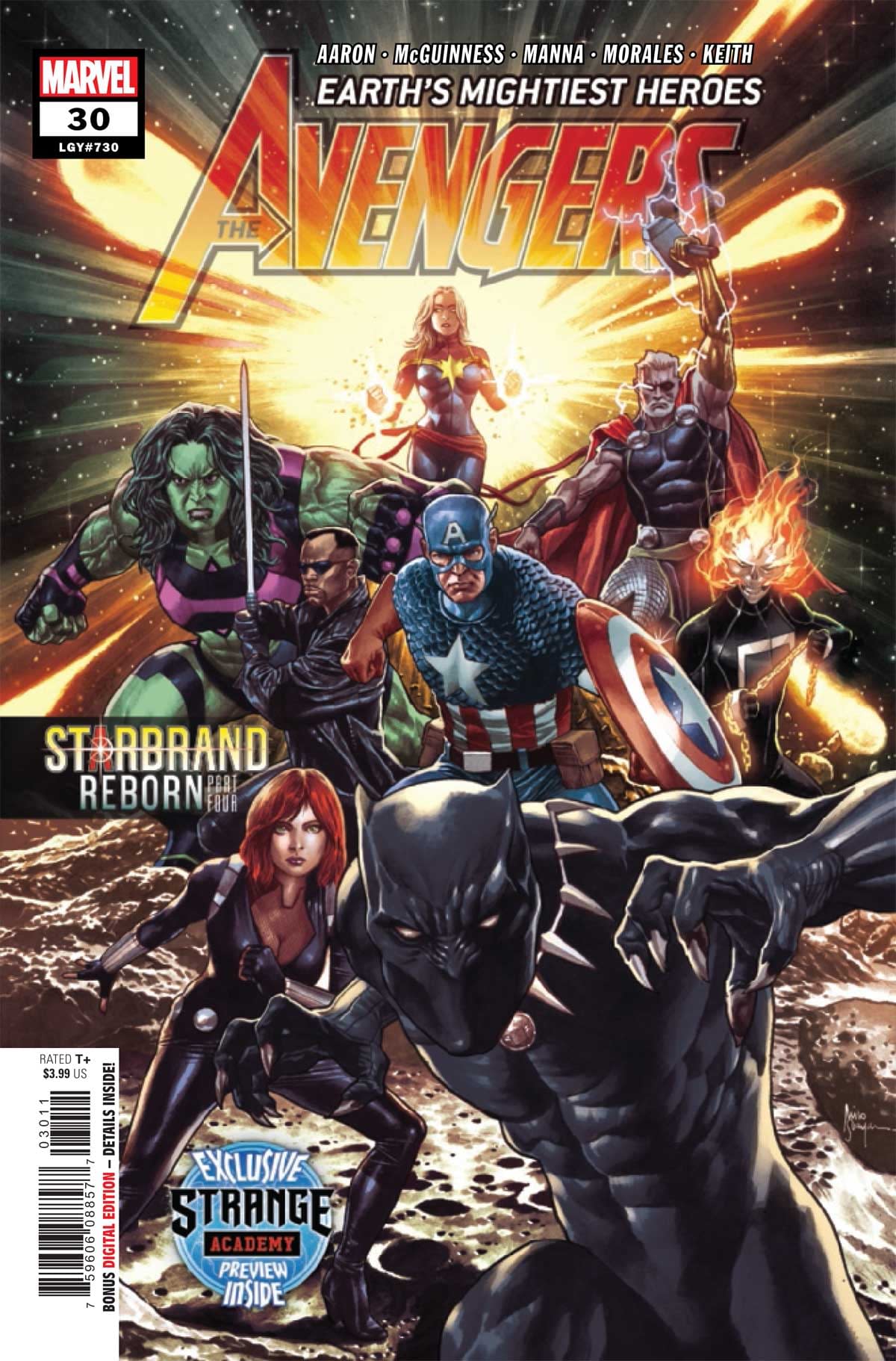 AVENGERS #30
JASON AARON (W) • ED MCGUINNESS (A) • Cover by MICO SUAYAN
STARBRAND REBORN Conclusion: WHO WILL BE BRANDED?
In a Shi'ar space prison the size of a galaxy, the cosmic war for the Starbrand super weapon comes to its cataclysmic conclusion. Who is the shocking new wielder of the Starbrand? And will they survive long enough to control the epic planet-melting power at their disposal? Not if Gladiator of the Shi'ar has anything to say about it. But the space-ravaged Avengers will have a thing or two to say about it too. Including Brood Thor, Captain Corsair, the War Widow, the new-look She-Hulk and Blade … as you've never seen him before!