REVIEW: Justice League #37 – "Less Of A Tragedy And More Of A Mystery"
(DC Comics, creative team: Scott Snyder, Jorge Jiminez, Alejandro Sanchez, Tom Napolitano)
This book is terrible. Let's start there, so there's no misunderstanding about what's happening here. In this issue, the amassed forces of an evil goddess who created everything, an army of goons at the command of Lex Luthor and the will of pretty much the entire world stands arrayed against the world's most recognizable heroes … and they spend most of the issue holding hands praying. Really. At multiple points, Superman suggests going out to punch something, but no, they all remain in a circle, eyes closed, focusing on justice. Really. That's what really happened. Add to that a muddy and largely inconclusive battle scene that had all the nuance of Wolverine slicing through yet another inundation of ninjas and this would be a problem. Alas, no, there are more problems when a guy literally gets smacked into three guys due to a physical impact (okay), then times the perfect ex machina of his deus while a ridiculous threat comes at him (which, frankly, the same idea was done better in Curse Words). Everything that could go wrong here did, and for a book with this kind of budget and production values behind it, that's less of a tragedy and more of a mystery. What in the name of pie happened that this many people let this get to market? Yikes. RATING: NO. JUST … NO.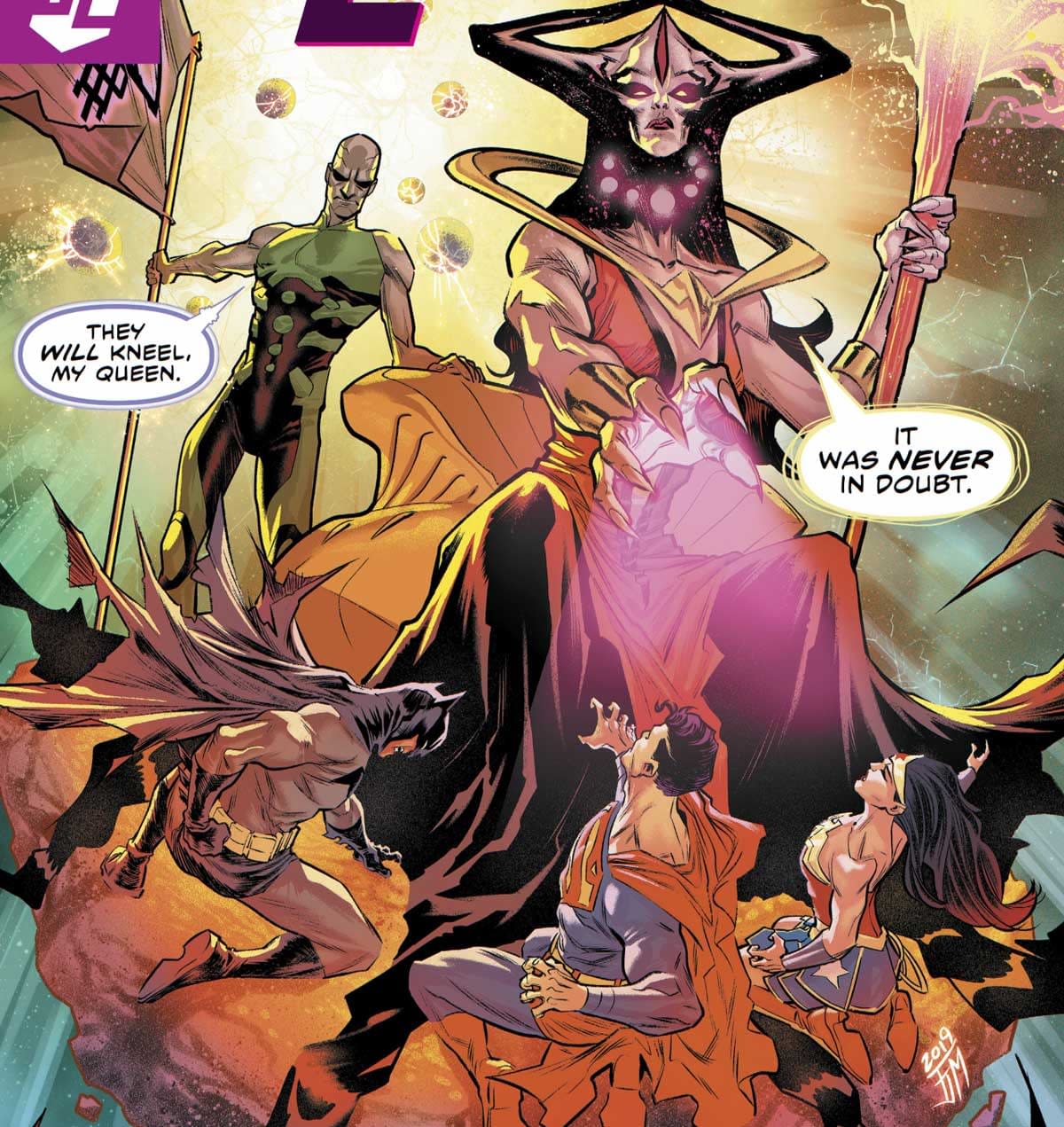 JUSTICE LEAGUE #37
(W) Scott Snyder, James TynionIV (A) Jorge Jimenez (CA) Francis Manapul
"Justice/Doom War" part eight! The Justice League is making their final push against Perpetua, but some players they previously counted as allies may have been working for the other side the whole time! Who among Perpetua's children will betray them and join Lex Luthor's war on justice?In Shops: Dec 04, 2019
SRP: $3.99
Hannibal Tabu is an award-winning journalist and comic book writer, a published poet and novelist, a husband and father, aligned lawful evil and is a professional awful person. His professional efforts can be found on The Operative Network.