Things to know. Everyone knows (I think) that the new Uncanny X-Men #1 with a massive cast, creator count and page count, carries on from the likes of X-Men Red, and X-Men Gold and Multiple Man (note, there are none of X-Men Blue present) but that missed out one colour, it also follows on from the events in the X-Men Black One-Shots #1. Worth a refresher before diving in.
Uncanny X-Men #1 is a $7.99 comisc, two times the price of a usual Marvel comic book, like Black Order #1 (which I also have a copy of) at $3.99. The 20 page Black Order is flimsy. Both Uncanny X-Men #1 and Avengers #10 at $5.99 are far more than twice its size. A 30-page main story and then a 10 pager, a 7 pager, a 17 pager and a 3 page epilogue, a series of shorter stories that all tie in with what's gone on in the main storyline. That's 67 pages for $7.99. Hope that makes a difference.
Because what this comic and Avengers #10 does succeed in doing that Black Order does not, is give you heft. A wodge of comics in your hand that won't take 5 minutes to read. And then encourages you to join dots, the separate stories a reason to justify splitting the characters, writers and artists into their own blocks. Everyone will have their favourites, Matthew Rosenberg's Bishop with Mirko Colak is my fave but Ibraim Roberson's art in Kelly Thompson's Jean Grey story is beautiful to behold, somewhere on the Arthur Ranson and Gary Spencer Millidge spectrum…
But what do we have from this first Uncanny X-Men #1 in an age?
Well, there are a lot of old favourites. To some degree this is an exercise in utter nostalgia and it is not afraid of that, even as it mocks what it encounters.
So after the dream sequence clairvoyance, and Multiple Men to come, we have things slowly starting to go wrong. A Kitty Pryde who disappears. A storm that will not stop. And another politician with a plan to get rid of the mutants. This, of course, will not do.
But first we have some nineties nostalgia, as the X-Men encounter the nineties and Liefeldian mutants… with Wildside up front, and Forearm getting the mockery at the back.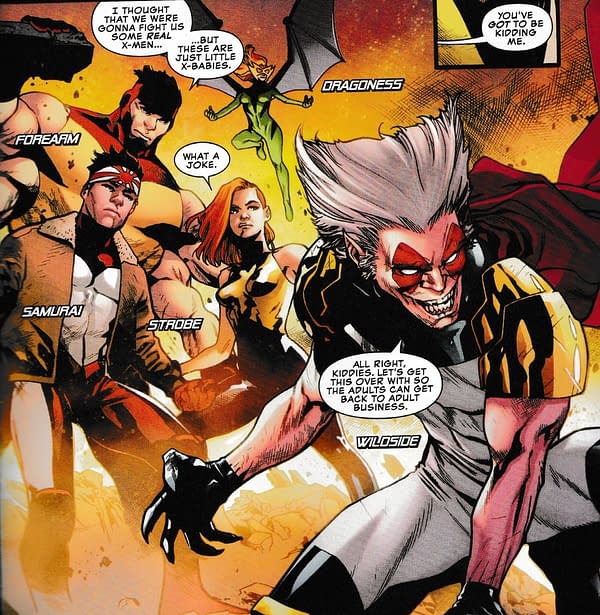 We have that politician promising a cure for mutantism, something we have seen many times before. not least in the third movie.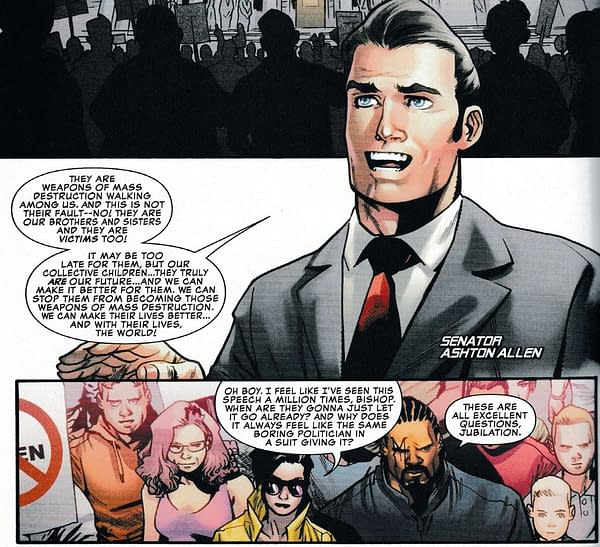 And even Jubilee lampshading this repetition and runaround. Because, yes folks, it's an anti-mutant vaccine storyline. The Brotherhood are trying it stop it…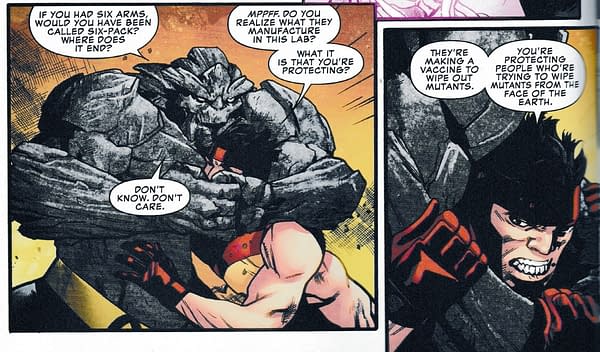 … the politicians are pushing for it, and are thus under threat…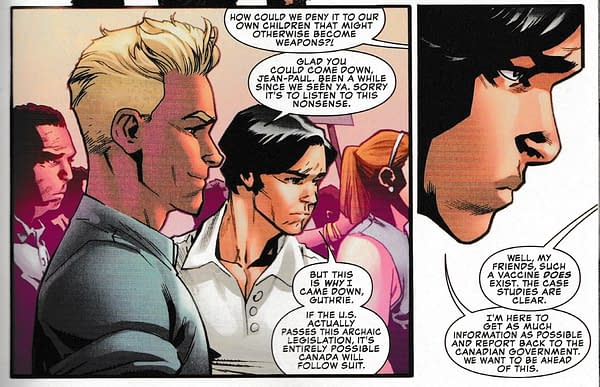 But not everyone thinks it's a bad idea, including some or the mutants… hang on, this is totally X-Men 3 isn't it? I mean, swipe file worthy. It even has Multiple Man doing massive multiple things in it. But, unlike X3, it happens to be rather decent. Ish. Especially in the way it slips off into other narratives to contain such a massive cast.
While in Bishop's solo story, he's off up against a noughties villain who feels very nineties…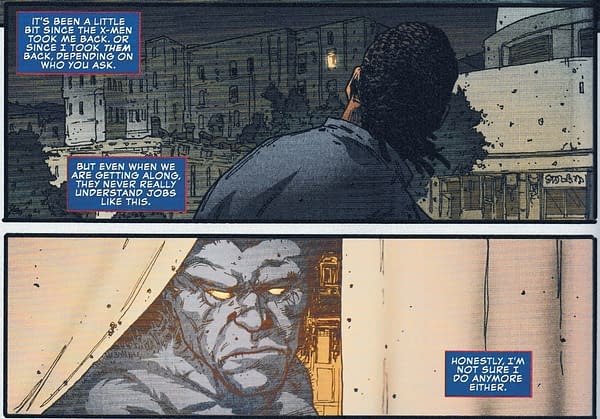 The Dark Beast is in town, post Secret Empire. And where he is hiding…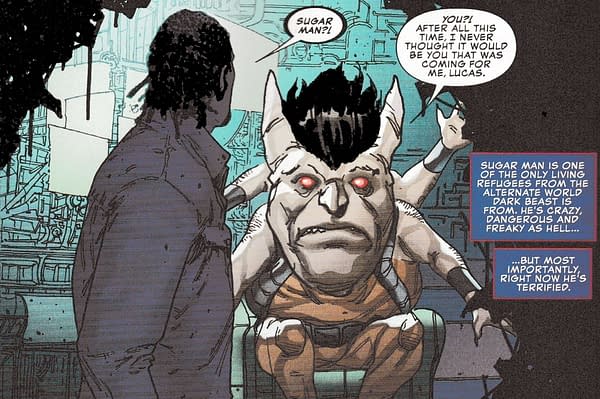 …The Sugar Man is rarely far. Yeah, the Sugar Man is back folks. You don't ask how, you just ask why. The other plots have mysterious women, sewers and fights then merge into each other.
So this comic is an attempt to marry the new and the old. Literally, you have the youngest students going out on their own missions, intended to be baby steps, being guided by the old hands. And that is reflected in the structure of this comic book, wanting to welcome new readers but also providing for existing readers with lots of callbacks to the classics and recent continuity plugins. Or course, in the comic, all these plans go wrong and I think this plan falters as well, slipping between the two stools, failing at both tasks by trying to cater for the other.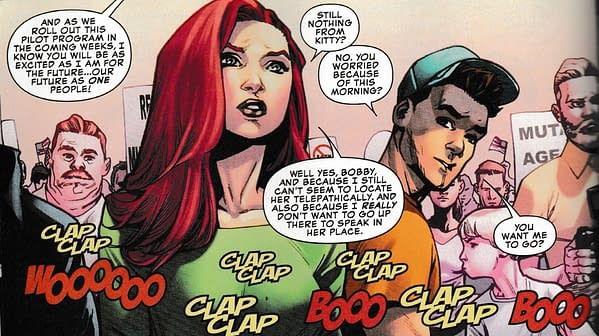 Because, yes, it does help if you have read recent X-Men books, including Multiple Man, it also helps if you read the excess of the nineties and noughties too. And I, for my sins, did, and still do. But I must be an increasingly smaller subsection of the audience.
Oh, I don't care about the rest of you, I enjoyed it, it has heft, it has lots of stuff going on and it has the mutants taking the piss out of the most ridiculous aspects.
And because this is Bleeding Cool, we have a reputation to maintain, and frankly Newsarama have probably also just done it given their form, there is a massive spoiler here if you click on it but you probably shouldn't.
Because as I said up top, I get the feeling you should have read all the Black one-shots before picking up Uncanny as well…
Your call. It's out in Wednesday after all.
UNCANNY X-MEN #1
(W) Ed Brisson, Kelly Thompson, Matthew Rosenberg (A) Mahmud A. Asrar, Mark Bagley, Mirko Colak (CA) Leinil Francis Yu
THE CHILDREN OF THE ATOM ARE BACK!
New ongoing series kicking off with a 10-part weekly epic, the flagship X-Men series that started it all is back and better than ever! Starting with a mysterious and tragic disappearance, the X-Men are drawn into what might be…their final adventure?! X-Fan favorite writers Ed Brisson (EXTERMINATION), Matthew Rosenberg (PHOENIX RESURRECTION) and Kelly Thompson (MR. & MRS. X) and all-star artists Mahmud Asrar (X-MEN RED), R.B. Silva (X-MEN BLUE), Yildiray Cinar (WEAPON X) and Pere Pérez (ROGUE AND GAMBIT) join forces to bring you…X-MEN DISASSEMBLED?! Rated T+In Shops: Nov 14, 2018 SRP: $7.99
Enjoyed this article? Share it!