Ric Grayson Must Learn How to Nightwing in Nightwing #59 Preview
Ric Grayson (yes, he is still going by that name) is looking to join the Nightwings, a team of police vigilantes who have taken up his old superhero moniker in his absence, in this preview of Nightwing #59. Which seems a little bit like the snake eating its own tail, if you think about it.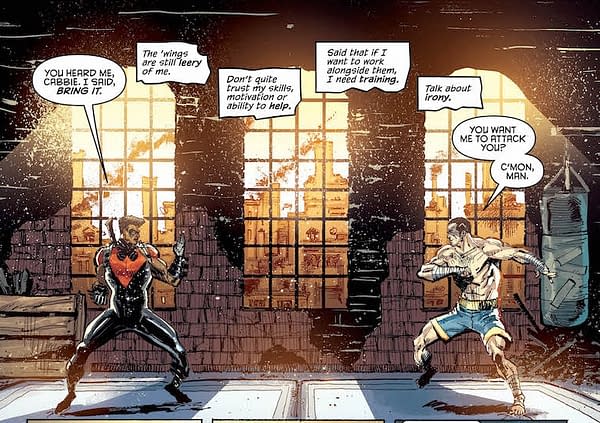 The problem is that Nightwing's memories of his time as Nightwing, and his time being trained by Batman, are lost, thanks to a bullet in the head in a Tom King comic (thanks, Tom King!).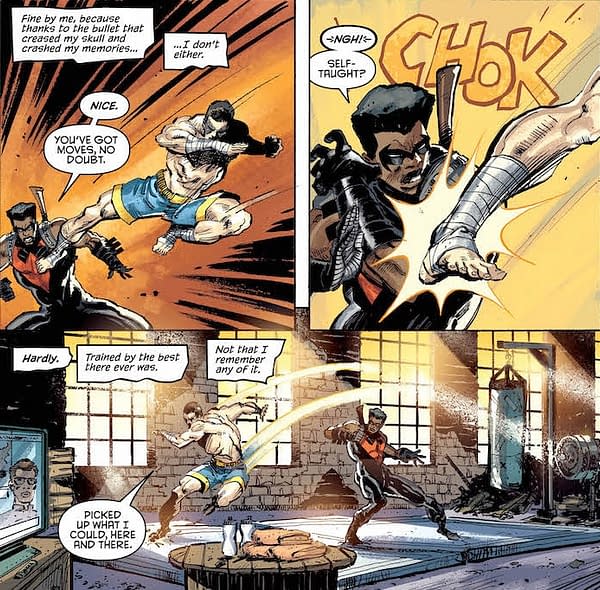 But despite his loss of memories, his body still remembers how to fight. So well, in fact, that he has to pretend to be worse than he is, just so as not to give himself away.
So does he make the team? Find out when Nightwing #59 hits stores on Wednesday.
Nightwing #59
(W) Dan Jurgens (A/CA) Chris Mooneyham
There's a new team in town who will have to learn the hard way that fighting injustice doesn't mean you're cut out to be a superhero. As the newly formed Nightwings are forced to deal with a fiery threat they never saw coming, reluctant recruit Ric Grayson has to make the choice between a carefree life without capes or answering the call that's been ringing his entire life-the call to be a hero. Join Ric Grayson and the Nightwings as they learn what it takes to be a team-and what happens when you fight who you truly are.
In Shops: Apr 17, 2019
SRP: $3.99