What Is Up With The Riddler In Batman #87? (Spoilers)
When last we saw The Riddler, he had gone through a major change. Year Of The Villain: The Riddler saw him decide to put away foolish things. Fed up of his life spent fighting Batman – and losing – as being one big joke, he abandoned it all – for something far sinister. It seemed a set up by writer Mark Russell for a very different Riddler. Someone less obsessed with riddles and more about actually winning. And losing his ridiculous facade in the process. It was rather good.
Seeing himself in the light of another foolish Batman villain, King Tut.
No longer being The Riddler at all.
Well in Batman #87, he is back to being The Riddler again. However, his clothes are still off.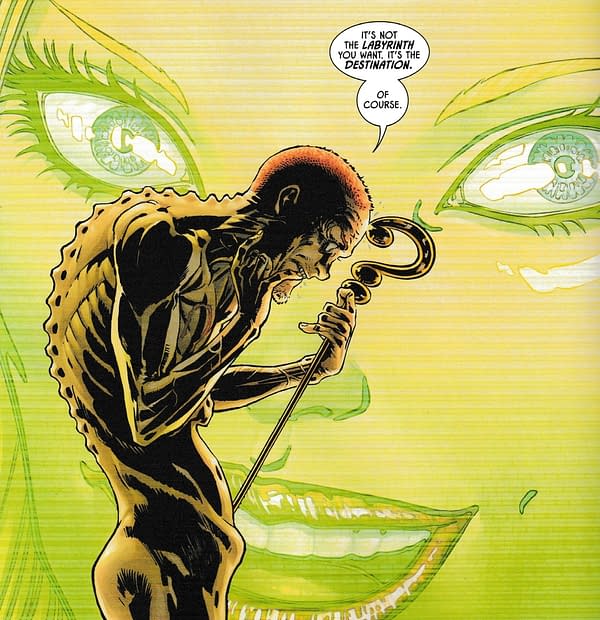 Can we show that at prime time? And yes, the projected image of Cheshire has her tongue in a rather unfortunate – or fortunate – position, depending on your viewpoint.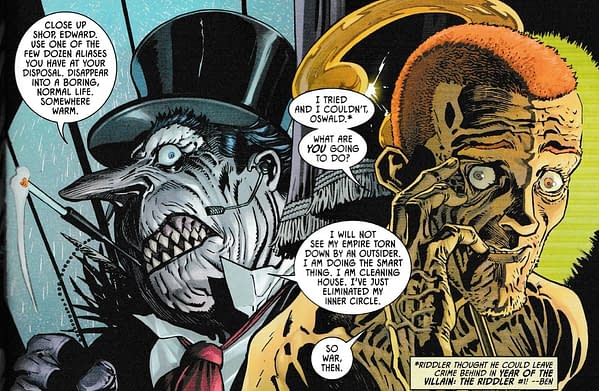 And it turns out whatever the Riddler was et up to do at the end of his one-shot, he failed at. All he did as lose his clothes and go back to being the Riddler again. The Riddler Who Streaks. A little disappointing really… also, maybe he should eat something, he's wasting away…
BATMAN #87
(W) James Tynion IV (A) Guillem March (CA) Tony S. Daniel
The Riddler has been lying low since his humiliating defeat as part of Bane's army- but as costumed assassins start to make their way into Gotham City, Edward Nygma may have the answers he's been looking for. Or at least, the answer to why Deathstroke is trying to kill him! Is it possible that Batman's tussle with Slade Wilson was all just a ruse to get the killer closer to his true target?In Shops: Jan 22, 2020 SRP: $3.99
Batman #87 is out today from DC Comics… I bought mine from Piranha Comics in Kingston-Upon-Thames. Piranha Comics is a small south London comic store chain with a small south-east store in Kingston-Upon Thames's market centre, which runs Magic The Gathering nights on Fridays, and a larger south-west store in Bromley, which also runs Magic nights and has an extensive back issue collection and online store. If you are in the neighbourhood, check them out.