It was the first of the comic book industry's summer weddings that weren't. Kitty Pryde and Colossus fell apart at the altar, but it was an opportunity that the slightly drunk Rogue and Gambit decided to seize. And suddenly…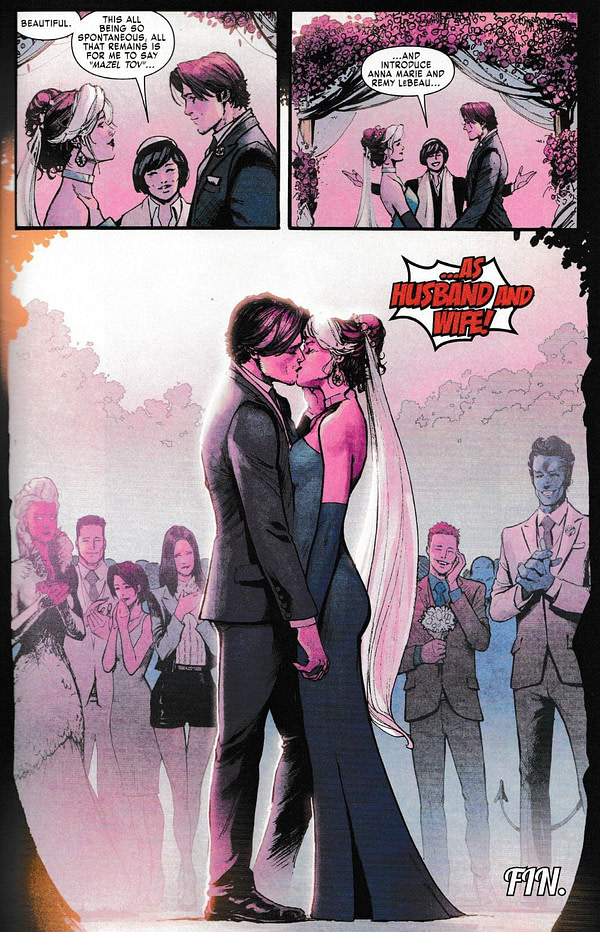 But how could Rogue kiss Gambit? Don't they know that one touch of the skin and Rogue will absorb the totality of the other person's life essence? Taking their powers, their memories and their will to live? You know, just like any marriage… yeah okay, that joke belongs in another decade. As maybe did Rogue and Gambit's relationship, though it successfully pulled in fans of the nineties X-Men cartoon that so established their courting for a generation.
Anyway, the new Mr & Mrs X #1 has the answer. And it was around Rogue's neck the whole time.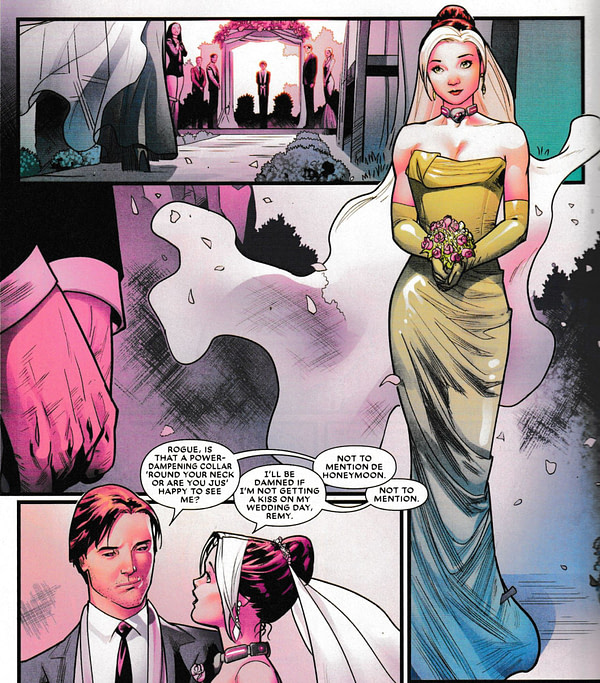 A power dampener and an accessoriser, giving her a monster of a headache but allowing her to kiss her beau… and a lot more.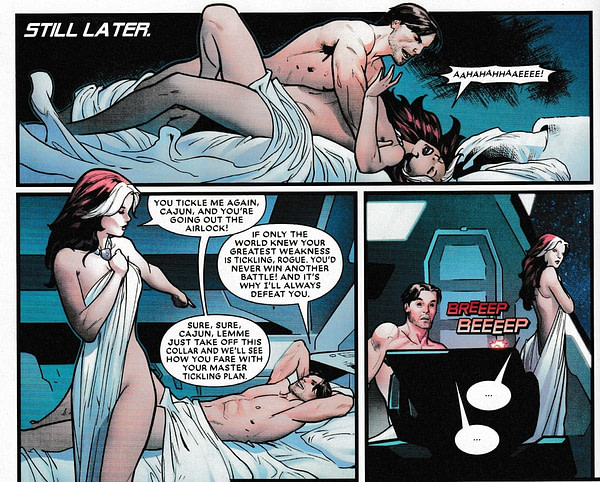 See, she can be… tickled as well. And it looks like having a splitting headache won't stop her being tickled on her wedding night. On honeymoon. On a satellite. So it looks like the Earth moved for both of them.
Published today…
MR AND MRS X #1
(W) Kelly Thompson (A) Oscar Bazaldua (CA) Terry Dodson
LOVE & MARRIAGE PART 1! Straight from the pages of X-MEN GOLD…to the surprise of everyone, the Marvel Universe's hottest couple has finally tied the knot! In their extraordinary lives, they've faced nearly every challenge imaginable, but how will they fare against former flames making trouble? An entire galaxy in jeopardy? You want it? We got it, as Kelly Thompson (HAWKEYE, ROGUE & GAMBIT) and Oscar Bazaldua (SPIDER-MAN, STAR WARS: ROGUE ONE) bring you the tantalizing tale of a modern marriage…X-MEN STYLE!
Rated T+
In Shops: Jul 25, 2018
SRP: $3.99