Rugrats is getting a comic book special in April, and it's focused on Reptar, who BOOM!'s press release insists is "everyone's favorite T-Rex." It's a bold claim, and we're not sure BOOM! can really back it up. For instance, if, gun to our head, we really had to rank our favorite T-Rexes, number one would first of all be the seventies glam rock band T-Rex. Next is Gor Gor, the baby T-Rex whose egg was injected with crack cocaine from GWAR's classic album America Must Be Destroyed. After that would probably come the T-Rex from Jurassic Park, then Devil Dinosaur, then the T-Rex from the Calvin and Hobbes comic strips, then Barney the Dinosaur, then Grimlock from Transformers, and then, finally, we guess, Reptar. So if we're keeping score here, Reptar is only our eigth favorite T-Rex, but, hey, that's top ten. That's not bad.
In any case, Reptar will be the focus of the Rugrats: R is for Reptar 2018 Special #1 by Nicole Andelfinger, Edras Cristóbal, Sarah Webb, Brittney Williams, and Ilaria Catalani. The comic, the press release reveals, will feature "a unique collection of short stories by Grandpa Lou, Phil & Lil, Angelica Pickles, Susie Carmichael and Tommy Pickles, each sharing their own version of Reptar."
"The fans demanded it and now we're thrilled to put the spotlight on Reptar," said BOOM!'s incredibly named editor Whitney Leopard in the press release. "While you've seen the world's favorite green dino in our monthly Rugrats series, we knew that was only the beginning. Now you're going to see that there's no such thing as too much Reptar!"
There they go, making bold claims again. The world's favorite green dino? Green does narrow down the T-Rex field quite a bit, but expanding it to all dinos? Has BOOM! done research on this? Even one single survey?! You have to back up a claim like that!
With covers by Savanna Ganucheau and Matt Frank, Rugrats: R is for Reptar 2018 Special #1 hits stores in April.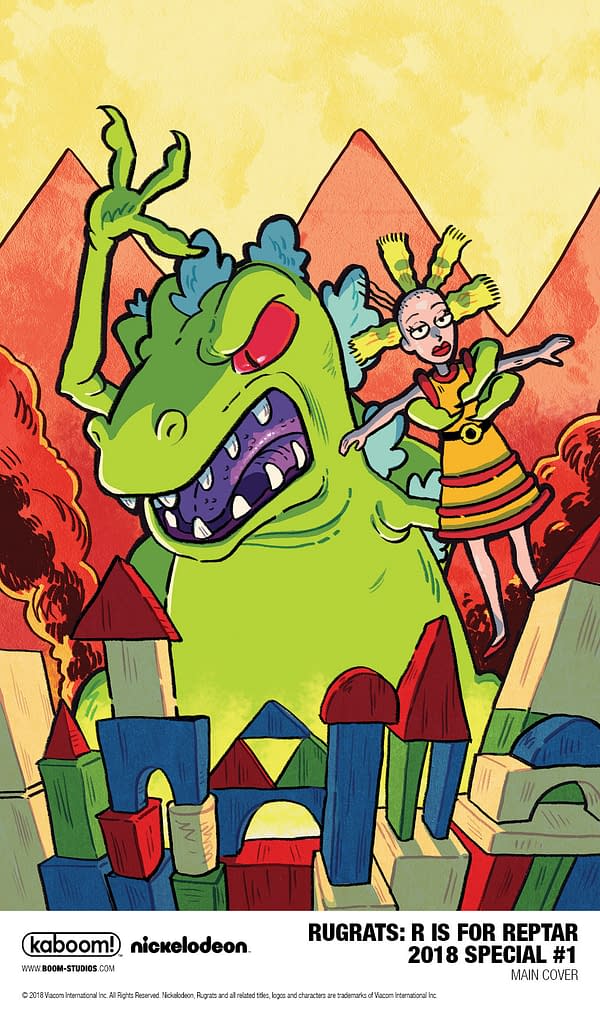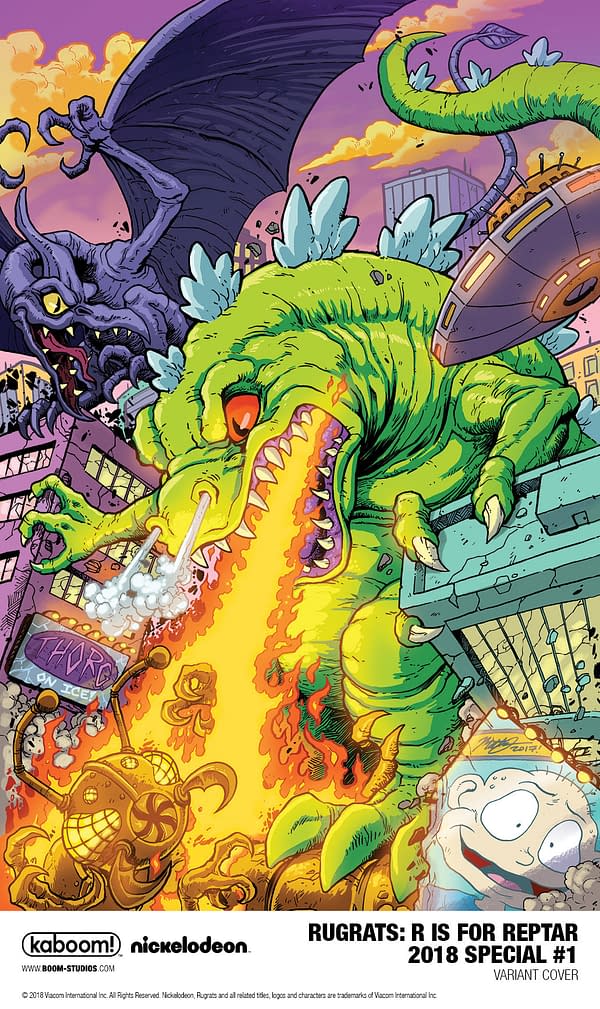 Enjoyed this article? Share it!