Saga Will End With Issue #108; Plus: The Cover to that 1,400 Page TPB
Saga, the hit Image comic by writer Brian K. Vaughan and artist Fiona Staples, will be coming to an end. If course, we already knew that, but now we know exactly when. Entertainment Weekly scored an EX-X-XCLUSIVE cover reveal for Saga: Compendium One, the massive tome which collects issue #1-54 of the fan-favorite series, currently on hiatus. In their article, however, EW also revealed that the current hiatus is actually the exact midway point of the series, meaning there will be just another 54 issues of Saga once it returns, for a grand total of 108 issues.
Said Brian K. Vaughan:
I love Fiona's new cover, and I'm so proud that these first 54 issues and the last seven years of our work together will be available in one gorgeous and affordable package that you can either binge over a single long vacation, or slowly savor until our series returns. And Fiona and I are excited to finally share with everyone that this compendium represents the first half of our story, a planned 108-issue epic! We're so grateful to our amazing readers for their support and patience, and we hope this compendium will be the perfect holiday gift to help introduce your loved ones to the continuing adventures of Hazel and her star-crossed family.
And of course, you probably want to see the cover too, right?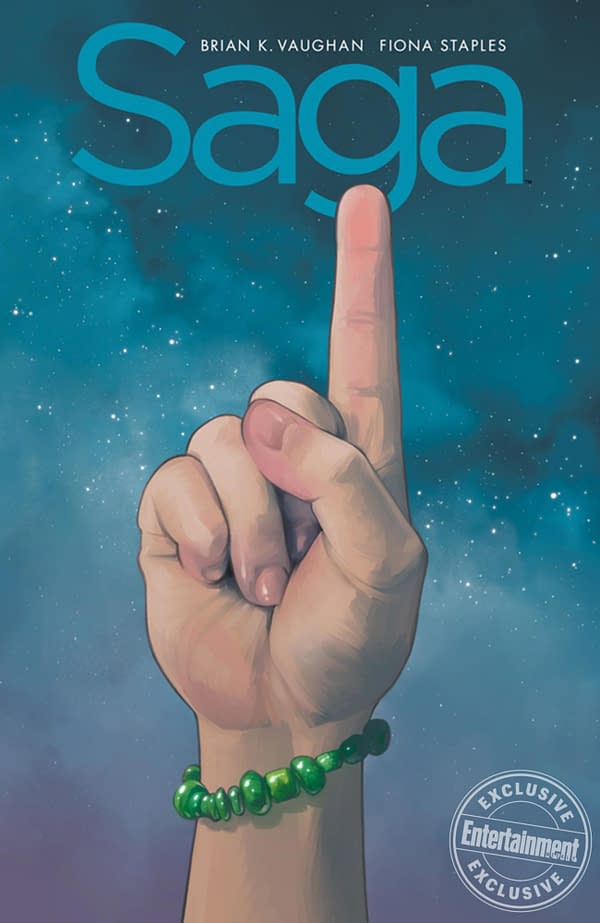 Saga Compendium One Paperback – October 22, 2019 by Brian K Vaughan (Author), Fiona Staples (Artist)

THE ULTIMATE BINGE-READ

Collecting the first nine volumes of the critically acclaimed, New York Times bestselling series into one massive paperback, this compendium tells the entire story (so far!) of a girl named Hazel and her star-crossed parents. Features over 1,300 pages of gorgeously graphic full-color artwork, including a new cover from Eisner Award-winning SAGA co-creator FIONA STAPLES.

Collects SAGA #1-54

Paperback: 1400 pages
Publisher: Image Comics (October 22, 2019)
Language: English
ISBN-10: 153431346X
ISBN-13: 978-1534313460
Shipping Weight: 1.1 pounds