Another shakeup rocked the comics industry today as IDW editor Sarah Gaydos has jumped to Oni Press to become Editorial Director of Licensed Publishing. Oni announced the news in a press release:
Oni Press is excited to announce that Sarah Gaydos will be joining our editorial team as the new Editorial Director of Licensed Publishing. Gaydos, the Eisner Award, Ringo Award, and Diamond Gem winner for Love is Love, is formerly the Group Editor of IDW, where she championed such licensed titles as Star Trek and Jem and the Holograms.

Gaydos began her career at WildStorm, a future imprint of DC Comics, in 2006, first in the administration department, working her way into editorial. After joining IDW Publishing and eventually being promoted to Group Editor, Gaydos has found success editing original and licensed content. She's known for her work on Star Trek, and her most recent Free Comic Book Day offering was nominated for a Diamond Gem award. She also found success in launching Disney's standard character comics. Other partnerships include Hasbro, Dreamworks, CBS, Paramount, Blizzard Entertainment, Cartoon Network, and Scholastic. In 2016, Gaydos won the "Best of San Diego People" award for her work in lifting up women in comics, and also received the ComicsAlliance Outstanding Editor award. Additionally, Gaydos' focus on original and licensed content for girls and those new to comics will continue at Oni Press, as the Editorial Director of Licensed Publishing.
That's a lot of important licenses Gaydos had a hand in bringing to IDW. What shifting allegiances might the future hold?
The news that Gaydos has left IDW comes less than a month after we learned that Editor-in-Chief Chris Ryall and PR Manager Steven Scott had left the company. Publisher Ted Adams also stepped down as publisher of IDW last November. But IDW's loss is Oni's gain.
"I've been lucky to call Sarah a friend for years and I'm thrilled to have her joining our team as the Editorial Director of Licensed Publishing," said Oni Press Publisher James Lucas Jones in the press release. "Her eye for talent, rapport with creators and licensors alike, and varied publishing experience will be a huge asset to Oni Press and its creators—across both tie-in and original work. I'm dying to see the projects this team-up will produce!"
"I couldn't be happier to join the Oni Press crew," said Gaydos. "Oni's vision for the future of comics is right where I want to be, and I can't wait to be there to help top-notch creators bring even more fantastic original and licensed comics for all types of readers into the world."
The press release also noted that Gaydos "really, really likes cats," in case you were wondering.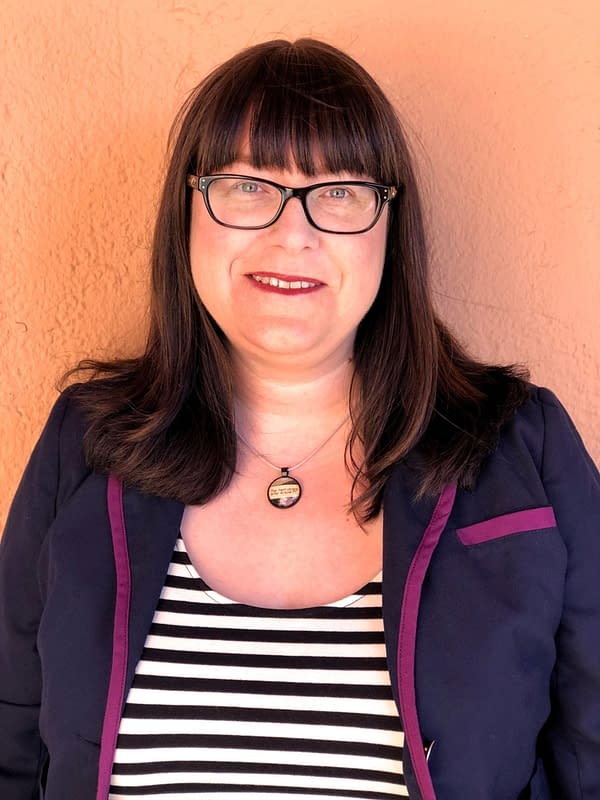 Enjoyed this article? Share it!