Savage Dragon #250 – An Anniversary Issue Spent in Lockdown
In today's Fantastic Four, Marvel Executive Editor and Senior Vice President of Publishing, Tom Brevoort is quoted as saying the following "Hopefully by the time you are reading this, the situation will have resolved itself, but at the moment, we at Marvel are all in the midst of the self-quarantine measures being taken to slow the spread of COVID-19, and we are working from home. Our best wishes and hopes for the future go out to all of our Marvel readers across the globe–with any luck, this will all be a faded memory by the time these words reach you." Well, that didn't work out did it?
Savage Dragon #249 from Image Comics was the first mainstream superhero comic book to mention that there was this thing called the coronavirus and social distancing made superhero fights a little bit tricky. Set in Canada, it also reflected that country's initial lockdown plans. The comic book was rewritten and redrawn in lockdown to reflect this, but Erik Larsen got it out before anyone else. However in the month-and-change since he has not exactly had other superhero comics beating down the door to join him in reflecting the world outside their window.
So in the anniversary issue, Savage Dragon #250, Larsen takes the counter-intuitive decision to tell the story of a month in lockdown for Savage Dragon and family. Where nothing is happening. A fact that is not lost on the fictional publishers within the Savage Dragon universe who publish Savage Dragon comic books and also have a #250 issue planned – and a similar content gap. Also, in this world, it looks like the comic is being written by Gail Simone and drawn by Larry Stroman. And he needs something to draw.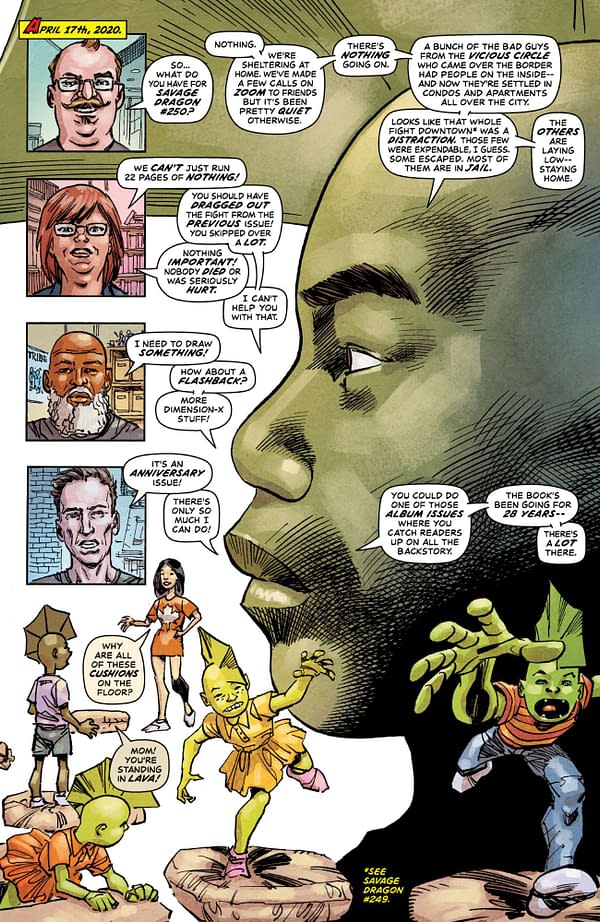 Erik Larsen is okay with that, utilising his trick of drawing a large figure taking up one side of the page as dynamic panels build up around them. Whether that's fighting aliens, or doing the housework, there's both dynamism and cheesecake/beefcake opportunities from the most humdrum of lives, under his pen.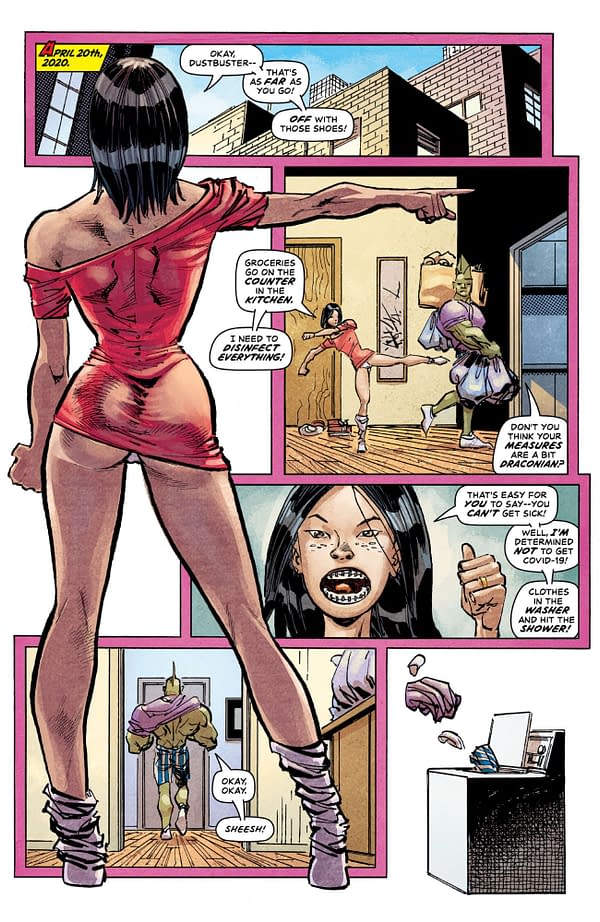 We even get a return to his Spider-Man days courtesy of a Zoom call or three. It also gives the comic book a chance to spotlight all manner of characters without them outstanding their welcome. And for an anniversary, Malcolm Dragin gets to revisit his life and that of his father's.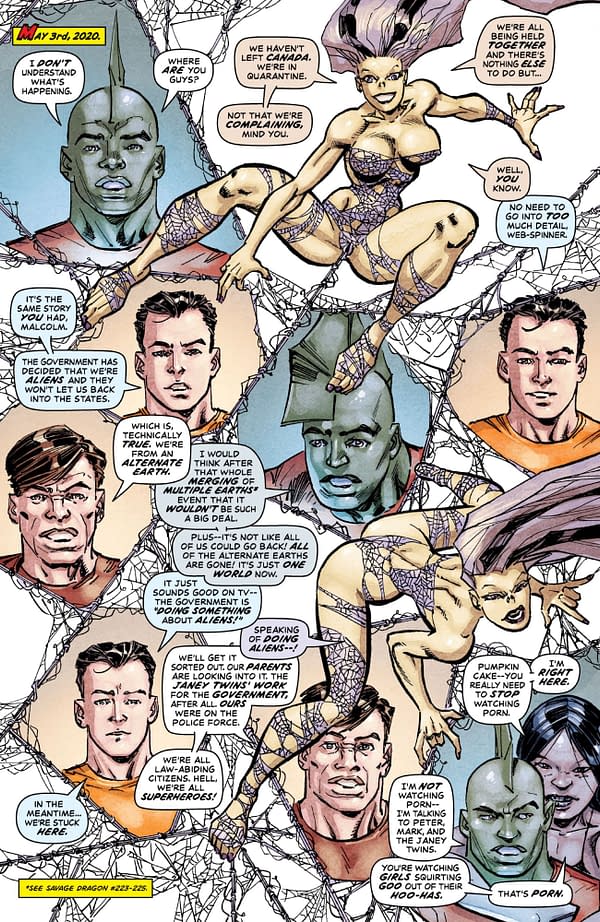 Oh yes, and we get a massive Savage Dragon fight as well. Lockdown means that those who want to find Dragon know just where he is and where his wife is too. Expect the bloodiest of violence alongside bad language, nudity and stressed parenting in close confines. Then there's also a massive runaround the Dragon universe in time and space. A revolutionary superhero brought to present-day America.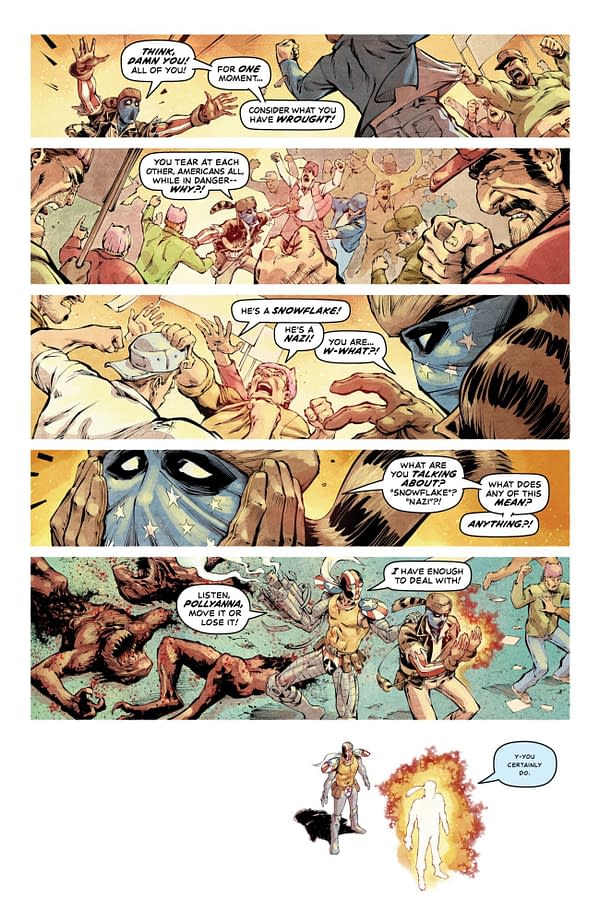 The Dragon's own version of the Teenage Mutant Ninja Turtles.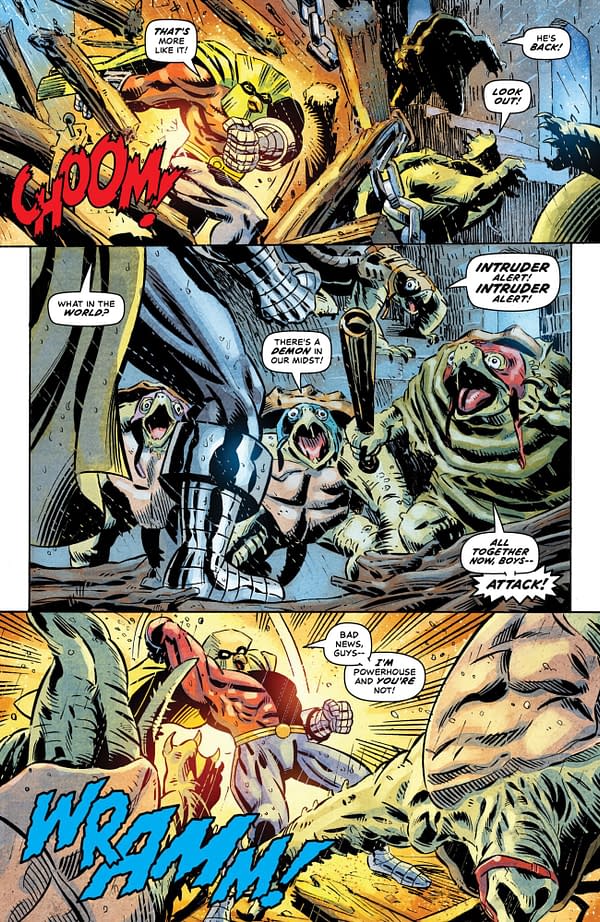 The original Savage Dragon story from Graphic fantasy.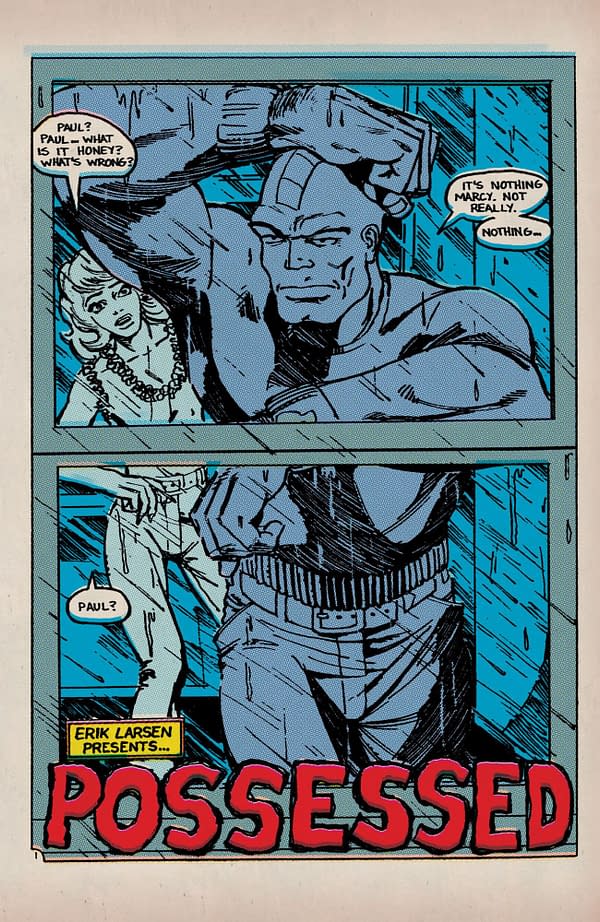 Oh and a nice big surprise which should see all sorts of people picking up Savage Dragon #251…
SAVAGE DRAGON #250 CVR A LARSEN (MR)
IMAGE COMICS
DEC190056
(W) Erik Larsen (A/CA) Erik Larsen
ERIK LARSEN'S SAVAGE DRAGON HITS ISSUE 250! For 28 years, ERIK LARSEN has chronicled the lives and times of the Dragon and his extended family in one of comics' only series set in real time. This monumental oversized milestone issue is a sweeping culmination that sets the stage for the next phase of comics' most uncompromising series with its most shocking story yet! Forces have conspired against Malcolm Dragon and his family-but is this a turning point or…THE END?! Find out as SAVAGE DRAGON becomes the second original Image title to reach its 250th issue and begins the countdown to #300!In Shops: Jul 15, 2020
SRP: $9.99

SAVAGE DRAGON #251 (RES) (MR)
IMAGE COMICS
JUN200267
(W) Erik Larsen (A/CA) Erik Larsen
"CRAWLING FROM THE WRECKAGE"
Following the cataclysmic conclusion of SAVAGE DRAGON #250, Malcolm Dragon has to put the pieces of his shattered life back together. A standalone issue that sets the stage for what's to come, from award-winning writer/artist ERIK LARSEN. A great jumping-on point for new readers!In Shops: Aug 19, 2020
SRP: $3.99