Scott Snyder Talks Plans For a Sequel to Metal, the Launch of Doom War and #NOTG
At his spotlight panel at WonderCon, Scott Snyder confirmed the rumours of a Dark Knights: Metal 2 being planned, and that it would feature a character cut from the original. Just as the first saw a variety of dark Batmen from other dark dimensions, so Metal 2 would include a Sorceror Batman, and an Alien Batman. And presumably a whole lot of new Batmen as well.
Talking of those Dark Batmen, Scott promised the audience that The Batman Who Laughs would fight The Court Of The Owls in #5 of his mini-series.
And that he has a 2-year plan with Greg Capullo, to follow Metal. So we will see Scott Snyder's Year of The Villain stories followed by Doom War and then one even bigger thing for 2020…
As for other sequels, Scott Snyder promises that Rafael Albuquerque is working on American Vampire set in Las Vegas and Jock is already on the second proper Wytches series…
Snyder also talked about his horror book about a man who finds the director of a destroyed horror movie who tells them that the monster is real and coming to kill them that very night, and flashes back and forward to the set of the original movie.
Could this be the NOTG project with Francesco Francavilla? I think it might…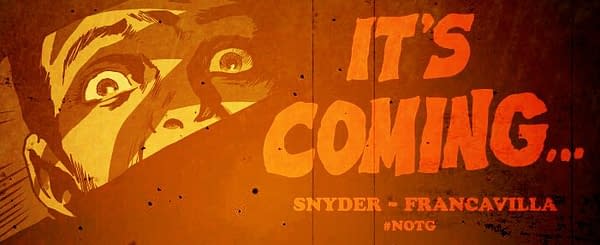 More to come…