Sean Gordon Murphy Apologises For Comments About Police and Looting
Earlier this week, comic book writer/artist Sean Gordon Murphy posted the following regarding protests against the murder of George Floyd by police that has caused worldwide anger
I want equality. I want more good cops. And I want bad cops to be held accountable when they break the law. I want people to be allowed to protest peacefully. And I want the looting to end. The solution to these problems isn't MORE CRIME.
It did not go down well. Comments included the following from other comics professionals:
Hannibal Tabu: If I could catalog all the things you don't understand by making this flawed, uninformed statement, I could make a print out to fill the graves of all the people your empty sentiments don't help. Shut. Up.

Zac Thompson: How about supporting Black Lives Matter? It seems to be a pretty big hole in your statement.
And a page from his own Batman: White Knight was brought up for the occasion, which recontextualised the late Eric Garner's words – now repeated by the late George Floyd – and used in protest by Black Lives Matter, as those of The Joker, being beaten up by Batman.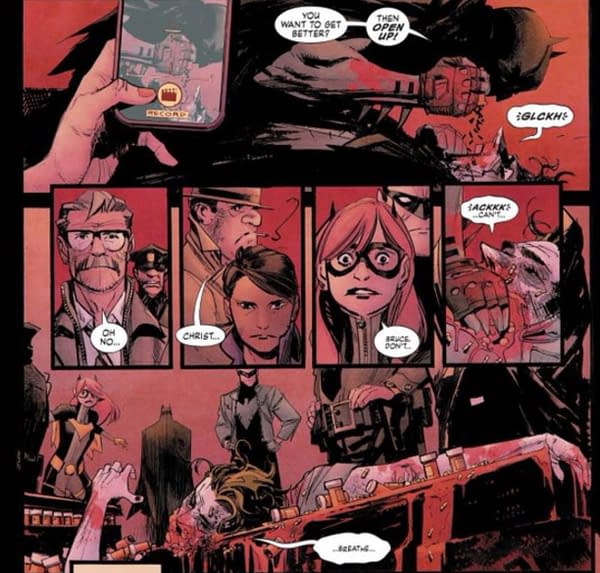 Comments continued;
Jane J Kim: This is has got to be the least punk shit you've ever said, cmon. A man got murdered by cops after decades of unwarranted imprisonment and murders of black community by police and gov't. But looting and vandalism is what you're worried about? Please reflect on your words.

Tana Ford: Way to absolutely miss the point. What a waste.

Paul Krueger: i too remember when Joe Strummer famously sang "now let's all be respectful and orderly about this"

Hernán Guarderas: Bro, you don't understand what's happening. Police are instigating violence and setting up peaceful protestors to fail. Tell the cops not to show up armed + with riot gear. Their very presence is about escalation, not de-escalation. Reflect on what's happening and your thoughts.
Which is just what Sean appeared to do. The following day he posted
We just listed Batman: White Knight #2, Pg 1 for auction on eBay, with all proceeds going to Black Lives Matter charities:
Two days later, he followed up more fully and posted;
It's obvious I need to clarify my tweet from the other day. Sorry for the pain, fighting, and division it's caused for that past few days. My job as a writer is to communicate *clearly*, and I didn't do my job. In my heart I really intended to say something meaningful and unifying, but it's clear that some people aren't reading my tweet that way. The mission of Black lives matter is very important to me. It's so important that it needs to be protected. And when I heard of friends' comic shops being broken into and saw many BLM supporters on TV imploring for the looting to stop–looters who are working against the goal of the protesters–I wanted to boost that message. But I didn't mean to overshadow the true horror here: what's happening to people like George Floyd. That video is horrifying. People should be pissed. People should be protesting. Those cops should be jailed. We have major work to be done if we want equality. I'm sure people will accuse me of walking back my statements because of pressure from my friends. That's not the case: I've read every comment and listened to what was being said. Reevaluating a statement or decision is not a sign of weakness, but a chance to improve. And sorry for the delay in responding–with my workload these days, I don't spend much time on Twitter. If I'd known what was happening I would have done this sooner. Again, here's the link to my Ebay charity— we're almost at $1,200!
And as of now $1650. I just sold mine for only $500 on #ComicWritersChallenge won by one Brian Roth.
How You Can Help
The protests against police brutality now span the entire globe and there are many ways you can get involved. You can go out and peacefully protest if you want. You can also donate to numerous organizations that are doing a lot of good work for the cause. Here is a list of just some of them:
Over at AfroTech, there is a great list of five apps that can help you find black businesses to help support in these trying times. The rest of us should be supporting, protecting, and lifting up our black friends, family, colleagues, and total strangers whenever we possibly can.