Sean King – The Rob Granito Of Britain
We now have a name for the man who has been exhibiting at British comic conventions, exhibiting and selling work from deviantArt creators and more, without permission or recompense. Sean King. Here is his Facebook page, though it is rather private.
Exhibiting at Collectormania, he told one Little Bleeder that he exhibits at events at least once a month, that his team can do up to three events at one, that he will be appearing at the London Film Comic Con and that this is a sideline for him, his main buesines being an art studio in the south of England.
Our Tumblr street warrior Donna Evans had a brief conversation with King on Facebook after, it seems, the MCM London Expo made enquires;
King: Hi Donna, Sean here, expo have been in touch regarding the art we sell at expo? let me clear up a few things. 1st of all the guy who was selling and saying he was a genius was just working for us and I can tell you he is no genius! But moving on from that, any pics you see that you think should not be up there of course we will take down, on your pics that you say are stolen artwork go to, wallbase.net and you will see the images for free. We make these pics from recycled products i.e the wood is scrape and so is the canvas,we then get unskilled school leavers and show them how to make canvases. I've spoken to deviant art, and the trouble is that they cannot own copyright to a Marvel or DC image. I like promoting artists, did you think Bansky got to where he is without his work being seen? let me know what you think, regards Sean

Evans: Wait, wait wait. Hang on. You were exhibiting? I was given no details of the stall, and no business card of any kind. There has been NO PERMISSION to reproduce these images and sell them in any way. If I were you I would inform the guy you are working for that what is being done here is illegal. Expo as looking into the matter as we speak. I don't really wish to discuss it any more at the moment, but I would like to ask the name of the stall, and the name it is under.

King: Hi donna, we have also been in touch with trading standards. Please inform us of what images offend you and who owns the copyright of what images and we will take them down. As we are on the rights and wrongs of a show donna what you should really be policing is art work that sold at the show showing school girls being tied up and buggered. You can also buy a sword at the show which is a deadly weapon that can cause injury. I can see that your an artist yourself, when i'm approached by an artist at shows and if their art work is of high quality, we would happily discuss trade and production of the work with the artist. As you know the copyright laws for american artist are different to artist in the UK, we work with a few artist from america. I can see your very upset with our company, at the show did the guy who claims to be the "genius" offend you in anyway or form? I haven't been able to get in contact with him, but we are in the middle of sacking him at the moment.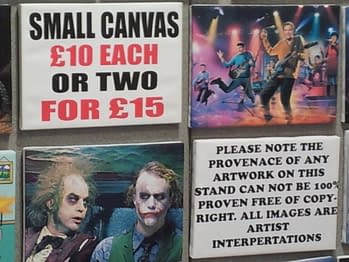 This is the sign he's now started showing, making its first appearance at Collectormania. Which is rather confusing the issue here. Let's condense it in a nutshell.
DeviantArt creators often make images featuring copyrighted characters. They are not selling them and, as a result, are left alone by the IP owners for the most part.
This seller is taking those images, and printing them on canvas. This may be chickenfeed for the IP owners who often let this stuff go unchallenged. But for the creators, they are seeing their work being used commercially without credit, permission or compensation. But many have no way of cobjecting or getting recompense.
Is Sean is asking who owns the copyright of all the images, the easiest answer is "not you".
So what happens now? Well, social and industry pressure drove Rob Granito out of the convention business. If you are interested in expressing your opinion to the London And Film Comic Com where Sean will next be exhibiting, you can contact the company through their Facebook and Twitter accounts too.