Immortal Hulk #1, Astonishing X-Men #12, Deadpool #1, Doctor Strange #1 and Infinity Countdown: Captain Marvel #1 have all sold out and gone to second printing from Marvel Comics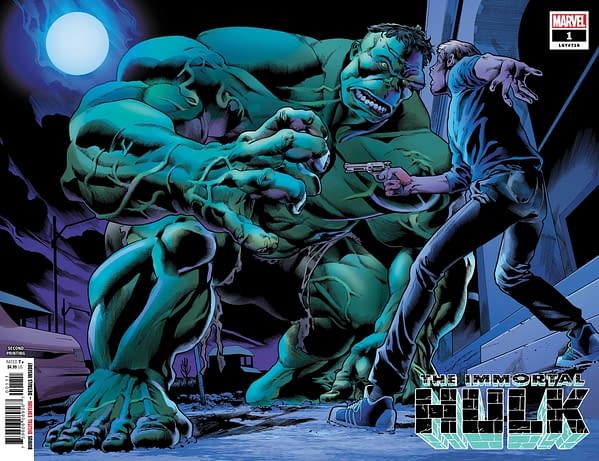 And Avengers #1 has gone to a third printing.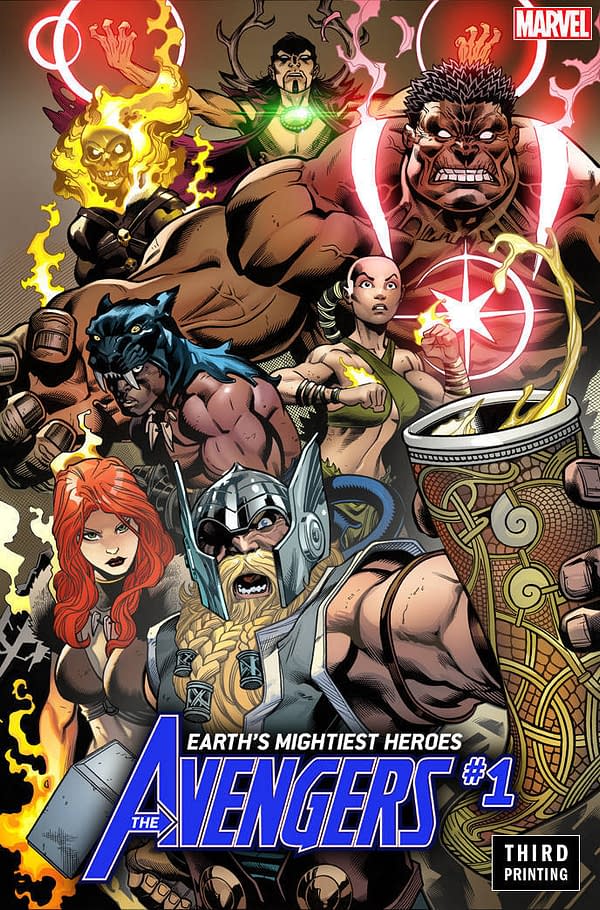 Look for them all on the 11th of July.
IMMORTAL HULK #1
(W) Al Ewing (A) Joe Bennett (CA) Alex Ross
HORROR HAS A NAME.
You'd never notice the man. He doesn't like to be noticed. He's quiet. Calm. Never complains. If someone were to walk up and shoot him in the head… all he'd do is die.
Until night falls. And someone else gets up again.
The man's name is Banner.
The horror is THE IMMORTAL HULK.
Rated T+
SRP: $4.99
ASTONISHING X-MEN #12
(W) Charles Soule (A) Gerardo Sandoval (CA) Greg Land
THE FINAL SHOWDOWN FOR…A MAN CALLED X!
• It's XAVIER and PSYLOCKE versus PROTEUS!
• In a battle for reality itself, which of these super-powered psychics will win?
• And when the dust settles, what's next for the Astonishing X-men?
Rated T+
SRP: $3.99
DEADPOOL #1
(W) Skottie Young (A/CA) Nic Klein
MERCIN' FOR A LIVING!
Skottie Young and Nic Klein bring you the craziest tales of the Regeneratin' Degenerate yet! It's been a while since Deadpool's had to merc to make ends meet, but things are tough all over. While Deadpool tries to get his humble mercenary-for-hire business back off the ground, a catastrophic threat so unfathomably huge, so mind-breakingly cataclysmic it defies description, is heading toward Earth, and there's only ONE PERSON WHO CAN STOP IT!!!
Oh no, wait…it's not Wade, is it? Oh, %$@#. It's Wade.
Parental Advisory
SRP: $4.99
DOCTOR STRANGE #1
(W) Mark Waid (A/CA) Jesus Saiz
NEW SPELLS, ALLIES & ENEMIES IN THIS NEW SERIES FROM MARK WAID & JESUS SAIZ!
SORCERER SUPREME…OF THE GALAXY!
The Eye of Agamotto is closed! Doctor Stephen Strange has lost his connection to the Earth's arcane power, and he can't wait to recover while nightmares press against the seams of our reality. Tony Stark offers a 21st-century solution: When astral travel fails, try astronautical travel. Enter Doctor Strange: Space-Explorer Supreme! New spells, allies and enemies – new and old – await Strange beyond the stars, along with corners and secrets of the Marvel Universe seen here for the first time! Space is endless, but time is short. After years of threats, Stephen's bill for magic use is coming due – who will come to collect?!
Rated T+
SRP: $3.99
INFINITY COUNTDOWN CAPTAIN MARVEL #1
(W) Jim McCann (A) Diego Olortegui (CA) In-Hyuk Lee
Carol Danvers has crossed the borders of reality itself and returned in possession of the Reality Stone…and with it has contacted the Marvels of many worlds! Join the Captains Marvel for a cross-time adventure into the nature of the Infinity Stones!
Rated T+
SRP: $3.99
AVENGERS #1
(W) Jason Aaron (A/CA) Ed McGuinness, Mark Morales
A NEW ERA DAWNS FOR EARTH'S MIGHTIEST HEROES –
courtesy of JASON AARON and ED McGUINNESS!
Thor Odinson. Steve Rogers. Tony Stark. The Big Three of the Avengers are reunited at last! And just in time to save the world from total annihilation at the hands of their most powerful enemies yet: the 2000-foot-tall space gods known as Celestials.
Behold the coming of the Final Host.
Who will answer the call to assemble for a wild new era of Earth's Mightiest Heroes? Hint: one of them has a flaming skull for a head. And what strange, world-shaking connection exists between the Final Host and Odin's ancient band of Prehistoric Avengers?
Rated T+
SRP: $4.99
Enjoyed this article? Share it!