Separated at Bath: Rob Liefeld and the New Domino Annual
This is one of those famous scenes by the young Rob Liefeld for the comic book New Mutants, back in the day — with Cable and Domino having an end of day relax in a hot bathtub.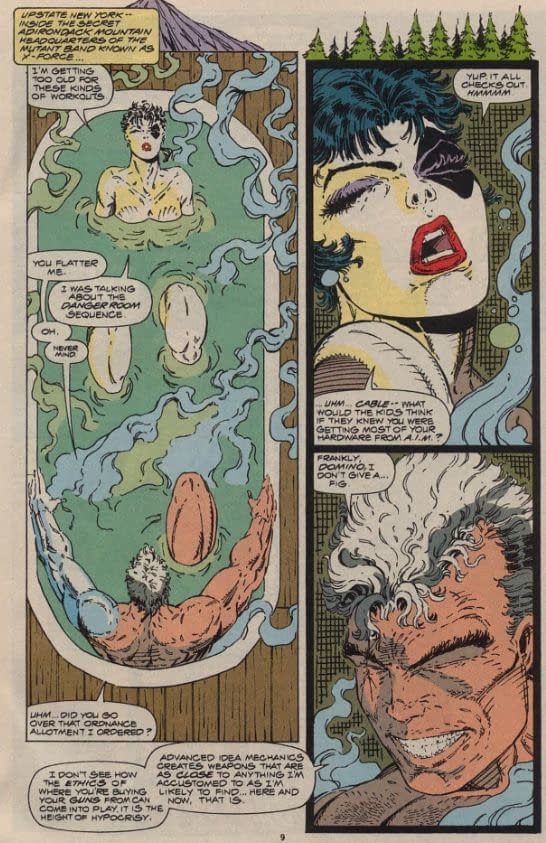 There was a little mocking at the time. Questions as to why Cable didn't rust, as well as noting that, considering rules of perspective, Domino would have been larger than Cable — especially her legs. And something somewhere seemed to be on fire.
But that was decades ago, and no one will remember now — unless you are Gail Simone, Victor Ibanez, and Juan Gedeon. From the True Believers Preview Panel for the upcoming Domino Annual: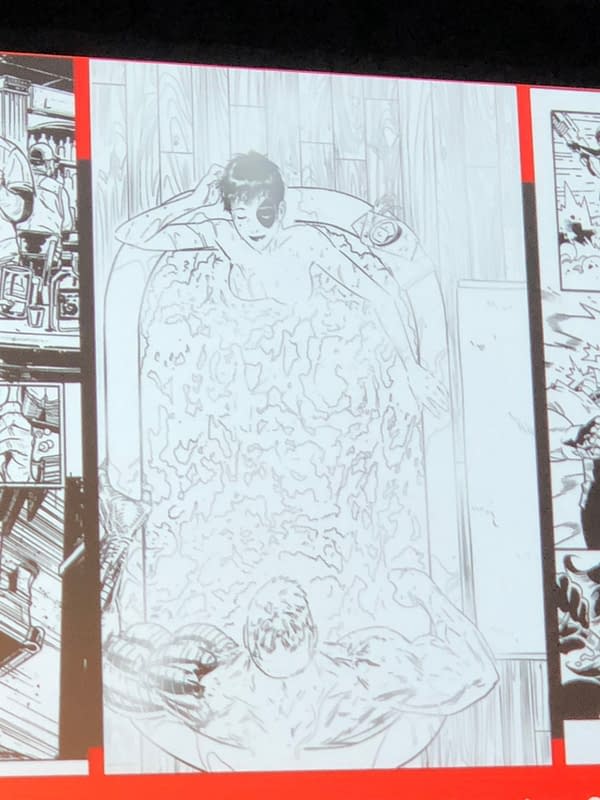 Still reckon he's going to get rusty…
DOMINO ANNUAL #1 CHO VAR
(W) Gail Simone, Fabian Nicieza, More (A) Victor Ibanez, Juan Gedeon, More (CA) Frank Cho
Tales too big for Domino's best-selling solo series! Neena Thurman's never worked alone… She keeps her friends close and her lovers closer! FINALLY REVEALED: the origin of Domino's posse! Colossus and Domino rekindled? Cable takes a bath! Plus: Domino's not the only mutant wearing her X-gene on her sleeve… don't miss the first appearance of the RejeX!
Parental Advisory In Shops: Sep 26, 2018
SRP: $4.99
Separated At Bath used to be called Separated At Birth which also used to be called Swipe File, in which we presented two or more images that resemble each other to some degree. They may be homages, parodies, ironic appropriations, coincidences, or works of the lightbox. We trusted you, the reader, to make that judgment yourself. If you were are unable to do so, we asked that you please return your eyes to their maker before any further damage is done.
The Swipe File didn't judge; it was interested more in the process of creation, how work influences other work, how new work comes from old, and sometimes how the same ideas emerge simultaneously, as if their time has just come. The Swipe File was named after the advertising industry habit where writers and artist collect images and lines they admire to inspire them in their work. It was swiped from the Comic Journal, who originally ran this column, as well as the now-defunct Swipe Of The Week website.