The Shadow Vol. 3 #4 Review: The More the Merrier Issue #4 of The Shadow Vol. 3 finds our mysterious burn victim back on the streets, bedecked in the iconic red and black of The Shadow. It looks as if we've finally got confirmation on his identity — not just with costuming, but classic black speech bubbles as well. Maria is certainly convinced; though the suit does not make the man, as both of our protagonists soon find out the hard way.
The pair end up running into yet another set of would-be vigilantes trying to do "justice" in the name of the Shadow. Obviously it doesn't go very well for either of them. A shootout and a concussion later and the world is down two more fakes; though the reveal of their identities feels more than a little cheesy. #4 is keen to show us that nearly everyone and their brother has a Shadow cosplay at home they're just itching to wear.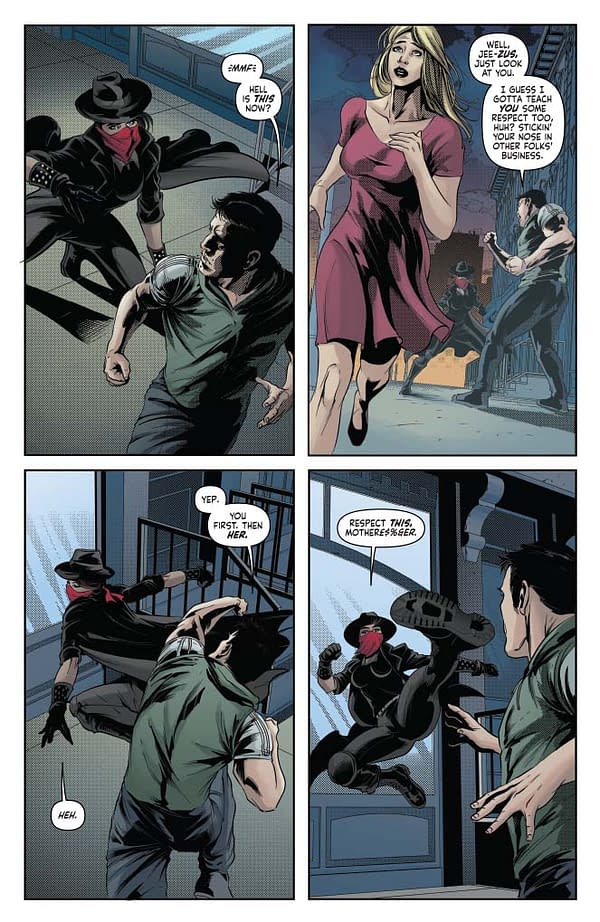 Emboldened by clips of the real Shadow and spurred on by the fan website "HeKnows", the image of the Shadow is quickly growing tainted. Cranston himself is distraught, expressing his sorrow with a poetic lament about his place in the world. He seems weary, even with a shoddy memory of himself and his past. This issue definitely continues the more human side of the Shadow we've seen recently — that of a tired, lonely man who can't seem to make the world a better place and earn his rest.
Maria doesn't let him mope for long. She's quick to call out what she sees as a lot of ridiculously obtuse language and self-pity. From the beginning of this series, she's always known just a little too much and been a little too sassy. Given her quick identification of the Shadow and her wide variety of skills, she's walked the thin line between "helpful character" and "obnoxious Mary Sue" time and time again. Luckily she's yet to dip over into eye-roll territory. Her light chastising of Lamont and justified suspicion keeps her grounded and continues to shape her into a realistic person.
Interspersed with questions of legitimacy (seriously, why is anyone still on the fence about "the patient's" identity?) and missing memories, we get some more backstory on Worthy. It's obvious he wasn't pleased by Cranston's interference in his life and the problems it's caused. A neat thing to note is the alternate Shadow costume shown in one of the panels.
Despite the dual impostors, our mysterious man back in costume, and Worthy's continued storyline, it doesn't feel like a particularly exciting issue. The ending leaves much to be desired as it falls back once again on "Cranston" losing his mind and shouting what seems to be plot-relevant nonsense. Hopefully this return to madness will be properly explained in issue #5.
You can pick up The Shadow Vol. 3 #4 now for 3.99.