Shawn Kittelsen & Eric Zawadski Finally Complete Their Heart Attack
After a delay caused by pandemic, the completed graphic novel Heart Attack is to be published by Image Comics and Skybound.
---
In 2019 and 2020, Image Comics published Heart Attack #1-6 from Shawn Kittelsen, Eric Zawadski and Mike Spicer. Intended as a twelve issue series, the sixth issue was two months late and then… nothing, save for a collection of those issues. But three years later, it appears that the whole thing has been completed and will be published as a complete graphic novel, twice as much as had been previously released. Heart Attack by Shawn Kittelsen and Eric Zawadski will now be published by Skybound and Image Comics in September 2023.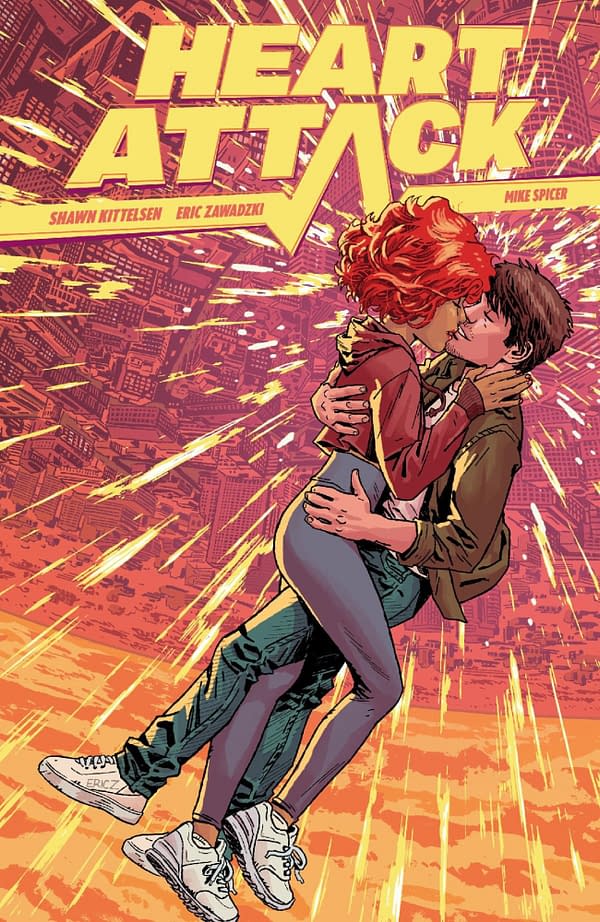 "Heart Attack began 10 years ago as a story about young lovers fighting for equal rights in a post-pandemic future. But with every year since 2013, that future became disturbingly present, from videos of police killings to mass protests to authoritarian politicians, to a real pandemic in 2020," said Shawn Kittelsen. "To cap things off, I survived an actual heart attack in 2022. So I feel an urgency to tell this story, and I'm grateful to be here with Eric. Not just to hold up a mirror to the problems of today, but to imagine a way forward for tomorrow. This book is about fighting injustice with the best weapons we have, truth and love."
"I am beyond thrilled to have the never-before-seen entire 12-chapter story of Heart Attack presented in one big collection," said Eric Zawadzki. "Everyone on the team put their all into this project and I couldn't be more excited to share this epic love story with the world."
Gene therapy has saved Americans from disease—only to give birth to Variants: people with powers so unique, the government denies their human rights. But a new rebellion begins when Charlie North and Jill Kearney learn their instant attraction unlocks powers of mass destruction and forces them to question how far they should go to topple the system.
"I can't wait for readers to be able to get their hands on the complete collection of Heart Attack," said Amanda LaFranco, editor, Skybound, "And for us to be able to dive back into this world and conclude Charlie and Jill's story, filled with heartbreak, passion, and ultimately love. The themes in Heart Attack are still as prescient as ever, and Shawn and Eric have been able to weave a tale that's both immensely exciting and thought-provoking all at once."
Heart Attack will be available at comic book shops  on Wednesday, the 17th of September, and in bookstores on Tuesday, the 3rd of October.