Shining A Spotlight – Tess Fowler Last week I debuted this column with a look at Ray Anthony Height. The reaction on the message boards was very positive with one member suggesting that we do this as a regular column. That is my intent as I feel there are a lot of talented artists who have done professional work but just haven't gotten the attention they deserve. I will be looking for more artists to feature in this column as it goes forward and would be interested in ideas of artists I should look at.
This week we're going to take a look at artist Tess Fowler. An extremely talented artist who started her professional work doing likeness books (Charmed) as well as in her own style (Wonderland Annual). She has a strong on-line following, is very active in social media and is now focused on come creator-owned projects in between completing her paid commission work.
Let's get to know Tess and her work better:
BLEEDING COOL: How did you get started drawing?
FOWLER: I began working professionally at 17 doing posters for motorcycle shops. At 18 I moved on to portraiture and advertisement art for renaissance faire costumers and professionals. Then I moved on to comics in my 20s. Last year I began delving into music and television work. BC: Who were your biggest inspirations?
FOWLER: When I was a wee pup it was Frank Frazetta, Kevin Eastman, Simon Bisley, and Wendy Pini (among many others) Now it's Dino Battaglia, Sergio Toppi, Gabriel Rodriguez, and Andrew Robinson (among many others). BC: What is your process for doing a page? How long does it take you?
FOWLER: Comic book pages can take me anywhere from a day to three days depending on complexity. My process includes Tom Waits music, black tea, and a lot of black ink. BC: Where might folks have seen your work previously?
FOWLER: Probably on the internet. I did a re-imagined Disney princess piece in 2011 that went viral in the past year. It's called "Apocalypse Princesses" and it's EVERYWHERE. Tumblr and Facebook have been on fire with it thanks to the multiple groups of young ladies in the states and abroad who have taken to building costumes based on it. also worked on the Charmed comic book series, and did various work for Zenescope in the past.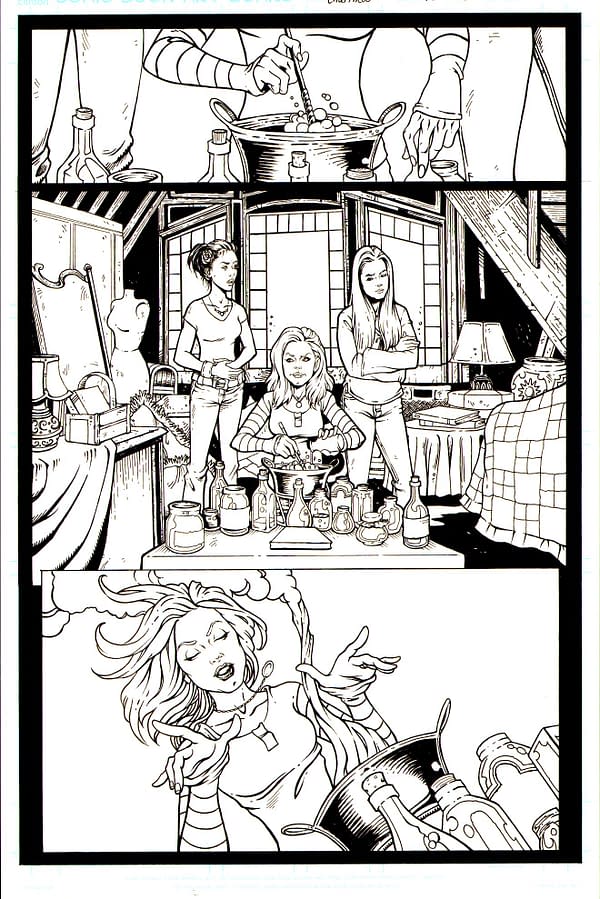 BC: What are you working on now?
FOWLER: A lot of creator-owned books, mostly. Right now I'm doing an anthology of short stories, and a Western graphic novel with my husband Chris Gutierrez (Chris is a concept artist and writer). Also on the table is Doc Wilde cover and interior illustration work with creator Tim Byrd (who does wonderful work, and you should check him out!) Also have some very secret irons in the fire. Watch www.tessfowler.com for updates!
BC: What is your dream project?
FOWLER: This question always reminds me of that scene in Willow where he thinks he's supposed to pick a finger on the High Aldwin's hand, but the right answer is to pick his own finger. "Now, the power to control the world… is in which finger?"