Small Press Favorite Picture Box, Inc. Announces Closure Picture Box, Inc. headed by founder and only full-time employee Dan Nadel, has announced that it will not be releasing new titles in 2014. What's surprising for readers is that Picture Box has continued to be a critical success with plenty of popular support since it began publishing in 2000. This year, the Ignatz Award nominated Pompeii by Frank Santoro was the talk of Small Press Expo, and the books that have been released in 2013 like World Map Room, bringing the work of Yuichi Yokoyama over from Japan and School Spirits by Anya Davidson, celebrating an underground commix vibe, suggested momentum rather than depletion in products from Picture Box.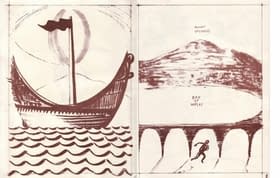 But Nadel cites the instability of the market for his choices, something that's more than understandable in the rough economic climate of the past 5 years or more, as well as the embattled position of the print medium. It's never a total surprise when a publisher closes these days, but in this case, it's a sterling example of the kind of pressure that small publishers are under, when they maintain what is essentially a labor of love for readers, often at the cost of sleep, personal finances, and the like.
Nadel announced:
As of December 31, 2013, PictureBox will no longer release any new titles. This was not an easy decision, but the company is no longer feasible for me as a thoroughgoing venture. Change is, as the cliché goes, a good thing, and I am proud of PictureBox the idea and the company, and grateful to the many artists I've worked with over the years. I've been publishing since 2000, and without such an astounding array of loyal and talented people PictureBox would be nothing. Some of my closest friends were made while working on PictureBox projects.

I want to thank all the artists and writers I've worked with over the years, and I look forward to future ventures together in other areas. I also want to thank all the stores and distributors who have carried PictureBox over the years. And thank you, readers and book lovers, for your support.

PictureBox books will remain available to stores and individuals through my distributors and this web site.
Tom Spurgeon's The Comics Reporter had some more observations to add about Picture Box after speaking to Nadel directly:
What Nadel couldn't guarantee, and which had become a major concern having recently become a father, is insulation from the ups and downs of publishing: that he could somehow always make it so that that every book would work, that he could somehow avoid one or two books that might take a heavy chunk of his personal savings when they failed to meet sales expectations. This was further complicated by the changing state of publishing as print continues to feel the effects of a growing market for digital and the impact that new methods of production and new priorities had on those devoted to print. While Nadel claimed a fantastic relationship with his book distributor and a solid one with the shows he regularly attended, including TCAF and SPX in terms of sales at those shows, his penetration into the bulk of North American comic shops was limited due to the nature of the material he published.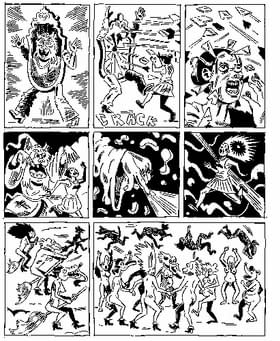 Even though sympathies must lie with Nadel and gratitude for the years of hard work and excellent books Picture Box has produced, it's still a blow for small press readers, art comics, and art comics fans. They set a very high standard for the publication of comic art and encouraged indie creators to aspire in their own work as well as to encounter new styles and influences. They will be greatly missed as an ongoing venture. However, we can help out Picture Box by taking part in their liquidation sale, beginning today at 50% of titles through January 2nd, to continue to show support and help the publisher through their final stages to keep their plans running smoothly.
Hannah Means-Shannon is Senior New York Correspondent at Bleeding Cool, writes and blogs about comics for TRIP CITY and Sequart.org, and is currently working on books about Neil Gaiman and Alan Moore for Sequart. She is @hannahmenzies on Twitter and hannahmenziesblog on WordPress. Find her bio here.