Sorry Doomsday Clock, Justice League #30 Got There First – and Damian Wayne Joins (Spoilers)
Doomsday Clock is late. Very late. Intended to be set in the near-future of the DC Comics Universe, it's tardiness of publication has seen the DC Comics Universe all but catch up with it. DC publisher Dan DiDio has committed to trying to get a new timeline down, but it's all a bit up in the air.
Nightwing seems to be called Dick Grayson not Ric Grayson in Doomsday Clock. And Alfred is very much alive.
There were three aspects of the DC Universe intended to be kept solo for Doomsday Clock, the unauthorised sequel to Watchmen by Geoff Johns and Gary Frank, published by DC Comics. Namely Shazam, the Legion of Super-Heroes and the Justice Society Of America. With a thread regarding just how Dr Manhattan had messed with the DC Universe timeline, removing ten years and kickstarting the New 52.
Writer Geoff Johns used Black Adam prominently, set up Dr Manhattan's interactions with the Justice Society and saw how his interference in their lives changed the very existence of the Legion of Super-Heroes, who had one member come to the present day, get locked up in Arkham Asylum and help the new Rorschach escape.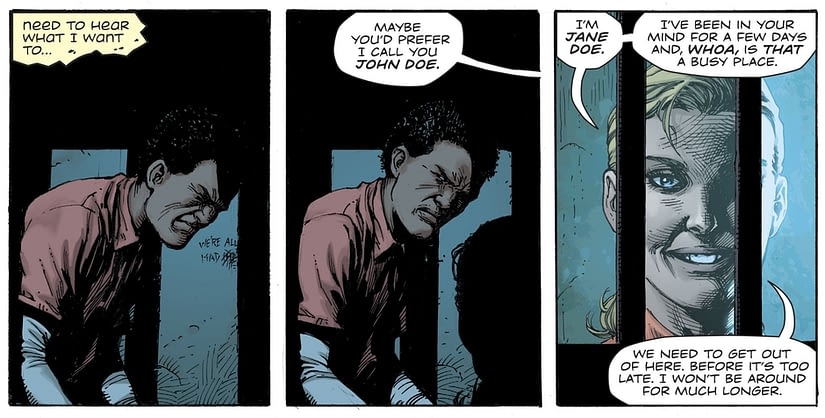 Today saw the proper debut of the much-promised, publicised and pulped newly rebooted Legion Of Super-Heroes, with Superman #14 – now with added skin tone changes.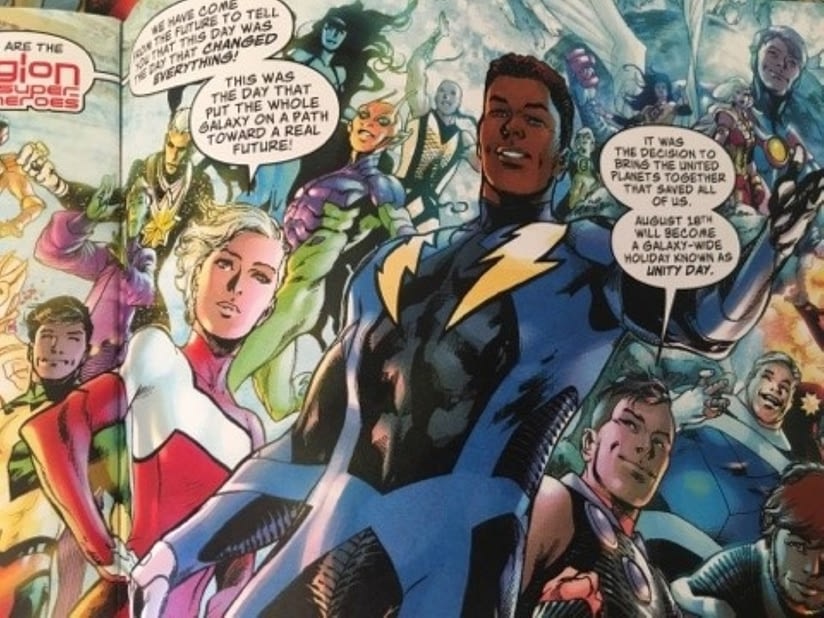 But it's not alone. Because there is also the Justice League #30 by Scott Snyder, James Tynion IV and Jorge Jimenez. Who are dealing with the perils of their own futures – against an Apex Lex Luthor who has six of the seven pieces of the Totality to recreate the multiverse in its originally intended dark form.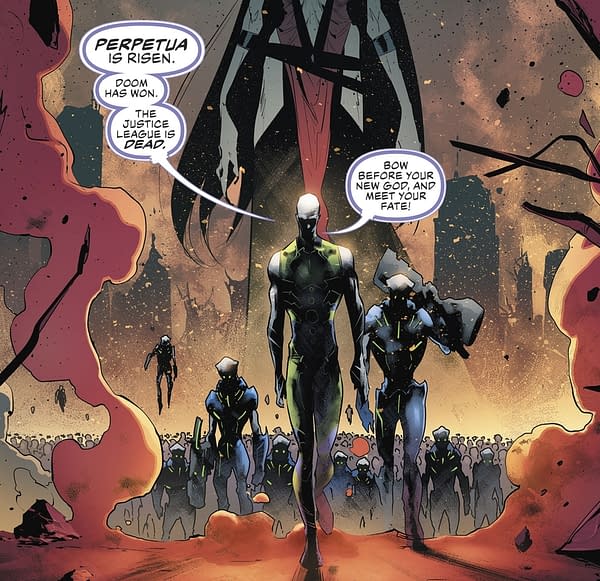 And a future that spells doom. Seen and identified by Starman as coming in three days.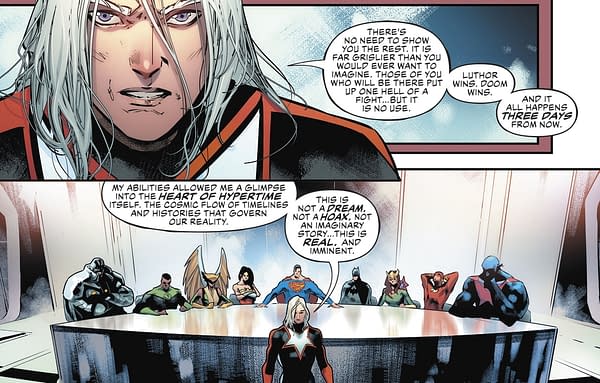 Which necessitates a much bigger Justice League. Including Damian Wayne. Seriously.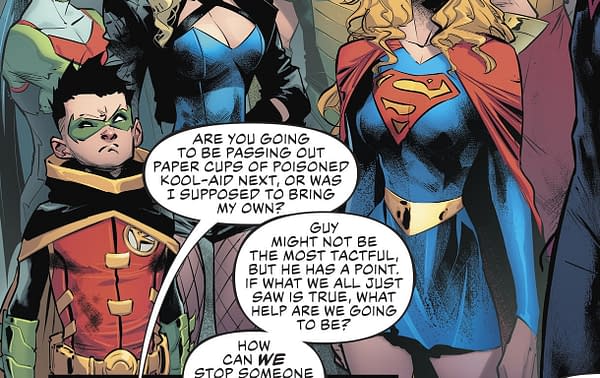 And Luther reaping the corn from all the seeds germinated of all his Year Of The Villain crossovers.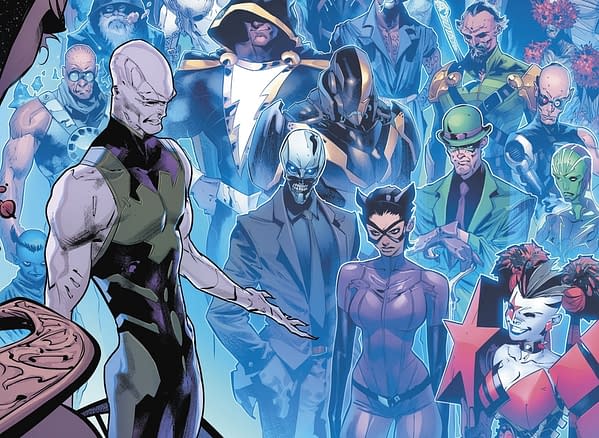 And so, in a scene totally nicked from Avengers: Endgame, the heroes have to travel to different times to capture the thingamabobbydoody to bring it to the present for… reasons. And while a trip to the futire, on Jack Kirby's birthday, reveals someone fun…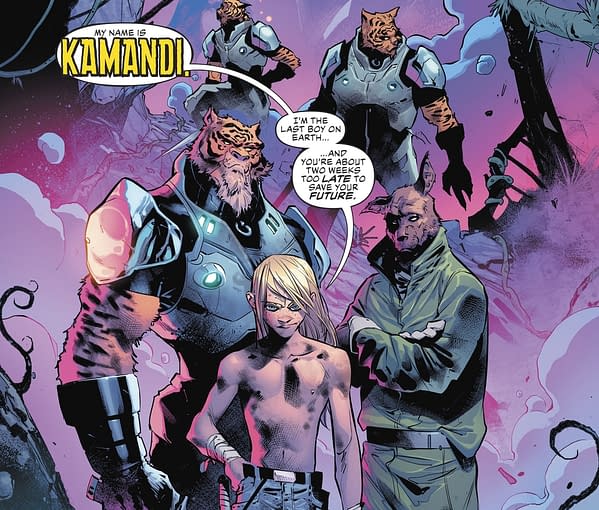 A trip to the past rather steps on Doomsday Clock's toes…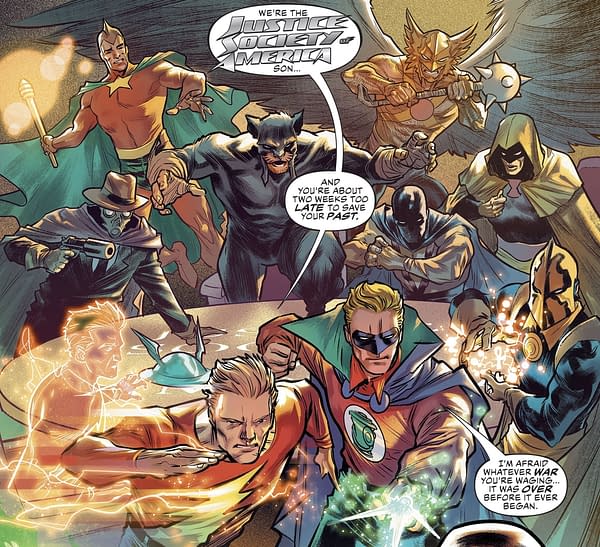 Though I do note the Justice Society are dressed just the same, with the same components as in Doomsday Clock...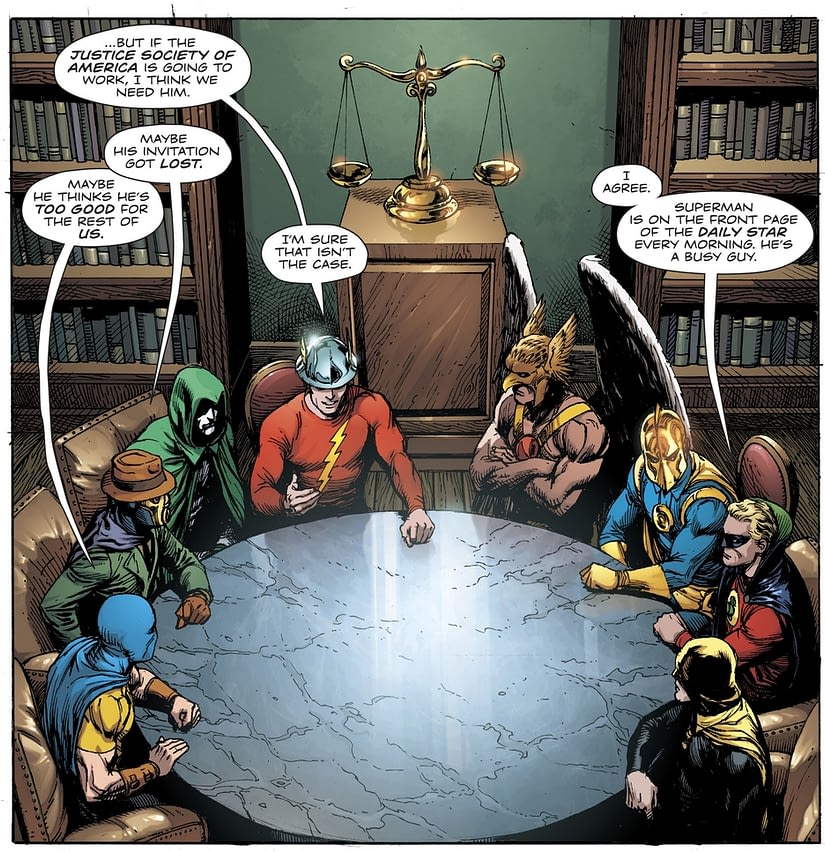 Justice League #30 is published today. Doomsday Clock #11 in a week's time…
JUSTICE LEAGUE #30 YOTV DARK GIFTS
(W) James TynionIV, Scott Snyder (A) Jorge Jimenez (CA) Francis Manapul
The "Justice Doom War" starts here! The Lex Luthor the League has known and fought is no more, replaced by an apex predator version of Lex, powered by Perpetua with a goal of bringing tragedy to the DC Universe. Now that Lex has powered up villains across the cosmos, he marshals his own troops, sparking a war between the Legion of Doom and the Justice League that will span space, time and the Multiverse itself. This is the start of the next big Justice League event, with consequences affecting "DC's Year of the Villain" and beyond!In Shops: Aug 28, 2019 SRP: $3.99

DOOMSDAY CLOCK #11 (OF 12)
(W) Geoff Johns (A/CA) Gary Frank
The critically acclaimed series by the renowned team of writer Geoff Johns and artist Gary Frank marches toward its conclusion. In this penultimate issue, the truth behind "Rebirth" is revealed as Batman searches for the one person he believes can help him save the world…Rorschach!In Shops: Sep 04, 2019 SRP: $4.99