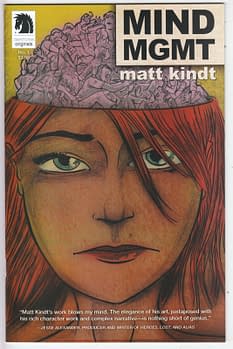 The series by Matt Kindt from Dark Horse has been hitting the headline recently with a movie deal here and a movie deal there. Ridley Scott's name has been mentioned. And we all know what that does to back issue prices.
Issue 1 has sold for up to $70, with the variant cover topping that slightly around $77.
Issue 0 is going for a relatively low $8.50, but then it reprints MGMT online strips. The first appearance in print was in Matt Kindt's 3 Story, previewing issue 1, which is now selling for up to $50 for its eight pages of MGMT…
Despite all this, the comic is still off many people's radars and it is likely that a number of shops wil have early copies, even in the 50 cent bins. Certainly worth a rummage…
Enjoyed this article? Share it!