You think that Chew #1 in your vault is worth a bomb? That your Walking Dead and Deadpool collections will see you through the bad times? Holding onto that Superman #75 hoping it will pay for your great-great-great-great grandkids college education?
Pah. This is where the real money is. Profiles in History is holding an auction on December 16th with two very special items.
Alice Liddell, on whom the central character of Alice In Wonderland and Through The Looking Glass was based, owned an original of "Through the Looking Glass." And it's up for auction.
As is Beatrix Potter's personal copy of The Tale of Peter Rabbit. And if you think Alice is big in America, you wait till you see how big Peter Rabbit is in Japan.
Both items are from ex-NFL player Pat McInally's personal collection. And he's decided it's time to sell. And the children's collector market has exploded. And considering he's also selling
The auction will also include first edition The Wizard Of Oz, the signed dedicated copy of Goldfinger, the 1/20 signed copy of Winnie The Pooh and House At Pooh Corner, Through The Looking Glass with two original pencil drawings of Alice and Humpty by John Tenniel, first signed editions of The Time Machine, The Lion, The Witch And The Wardrobe with an autographed letter, signed first US edition of Peter And Wendy , first edition Little Black Sambo., Stuart Little, Fellowship Of The Ring, Mother Goose and, as they say, more. Internet bids can be made here and here.
Do you think they accept lungs or kidneys? No, seriously, I've got a spare of each.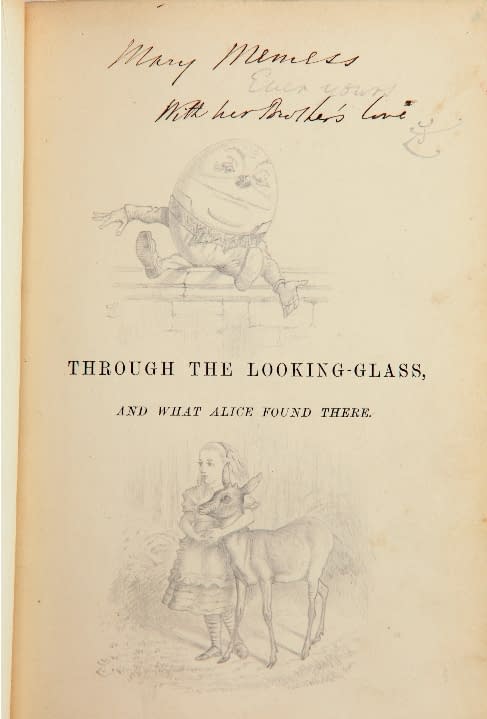 Photo credit to Profiles in History…
Enjoyed this article? Share it!