Stan Lee Gets His Own Brand of Coffee in 2019
In 2018, Stan Lee passed away. But in 2019, he's getting his own brand of coffee. The Stan Lee Foundation and Onyx Coffee Labs are together branding an official Stan Lee Foundation Signature Blend Coffee, the blend being a small batch roast crafted based on Stan's coffee flavor palate.
The Stan Lee Foundation is a non-profit organization that seeks to provide access to literacy, education and the arts throughout the nation, and was founded by IDW founder Ted Adams of Unified Industries, Stan Lee and Junko Kobayashi, former Controller of Stan Lee Media in 2000, CFO of POW Entertainment until 2011. And we are told that every coffee bag purchased supports the Stan Lee Foundation. Which empowers the foundation to provide hands-on experiential learning programs.
But the link between Stan Lee and coffee is not as spurious as you, or indeed the Foundation and Onyx Coffee might think however.
In 2010,the animated and now forgotten mostly-cartoon Heroman, plotted by Stan Lee, was broadcast which featured Stan Lee cameoing asking for his coffee mug to be refilled. Stan Lee Asking For Coffee was a subsequent internet meme.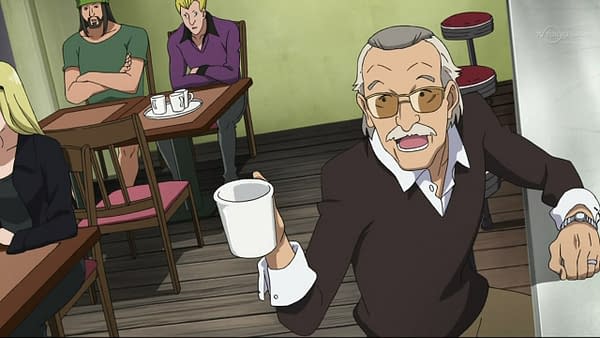 Comics editor and writer Dennis O'Neil was writing for Marvel Comics for Stan in the 60s and fellow Marvel writer Jules Siegel, dared O'Neil to spike Stan Lee's coffee with LSD… though he declined.
And there are also a series of videos, Coffee With Stan to enjoy. We'll run them at the end of the article.
There will be a limited amount of bag designs sold, created by Jeremy Teff, currently available for purchase on Baxtor.co.