Star Wars: Thrawn #4 Review – ASMR Imperial Procedure Roleplay
[rwp-review-recap id="0"]
Commander Thrawn and Ensign Eli Vanto are called out to handle a dispute between human colonists and the local population on the planet, Cyphar. Human colonists are raiding Cyphari crops, and it is believed that a criminal known as "Nightswan" is responsible for the conflict. It's up to Thrawn to discover the truth.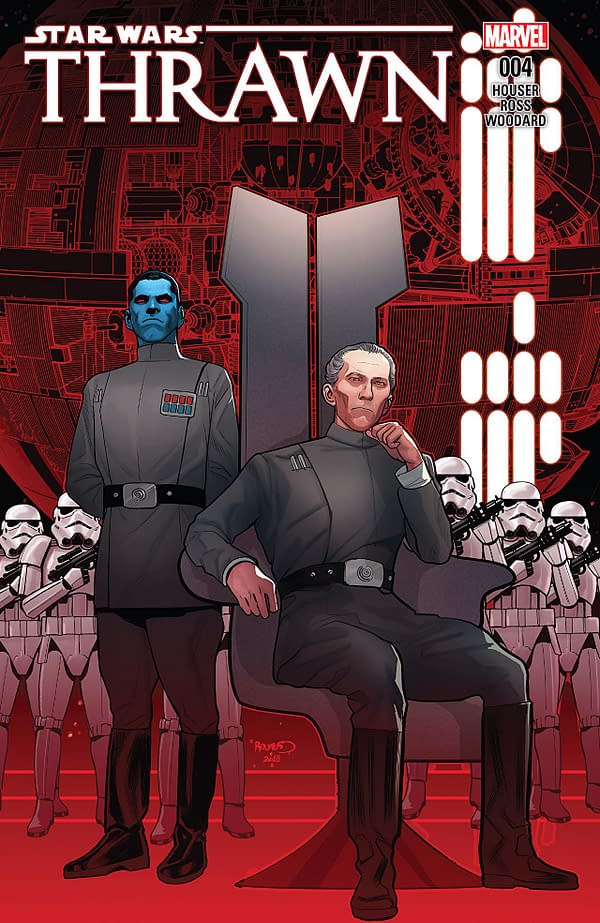 While Thrawn #2 laid on the procedure and methodology of Imperial operations too heavily for its own good, #4 is almost relaxing in its ability to handle how the future Grand Admiral navigates said procedure.
That's to say, this comic is still interesting, but Jody Houser has made an art out of depicting the bureaucracy of the Galactic Empire.
How Thrawn handles the dispute is definitively him. It's efficient, effective, and has a hint of cruelty — even if it's incidental.
The final few pages resemble a prologue to #5, which smacks of mis-planned plotting. It's honestly bizarre, because, after Thrawn and Vanto are put aboard the Chimaera, we are given a splash page summarizing events while screaming "insert Imperial March here." That bothered me, as these events looked interesting. I am aware that they may have been included in one of Timothy Zahn's novels, but it could have made for a good final few pages instead of cliff-hanging for the next issue.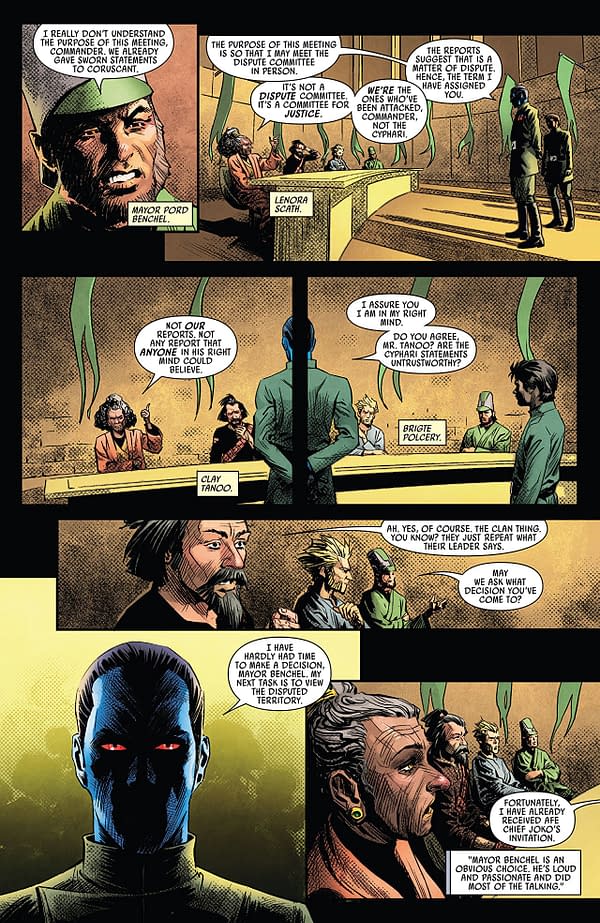 Luke Ross doesn't disappoint in this installment. His detailed 3-D art style captures the cold calculation of Thrawn well, and there are many great panels that embody this figure well. Nolan Woodard compliments it well with his color art, especially in the neon blue and blood red of our fearless protagonist.
Star Wars: Thrawn #4 has its quirks, but the overall comic is quite enjoyable and holds the interest and attention of the reader. Houser, Ross, and Woodard have done great work with this miniseries, and, hopefully, the final two issues won't disappoint either. This one earns another recommendation. Check it out.
[rwp-review-ratings id="0"]
[rwp-review-form id="0"]