[rwp_box_recap id="0"]
IDW kicks off six issues of intergalactic conflict between Star Trek's greatest crews in Star Trek: The Q Conflict: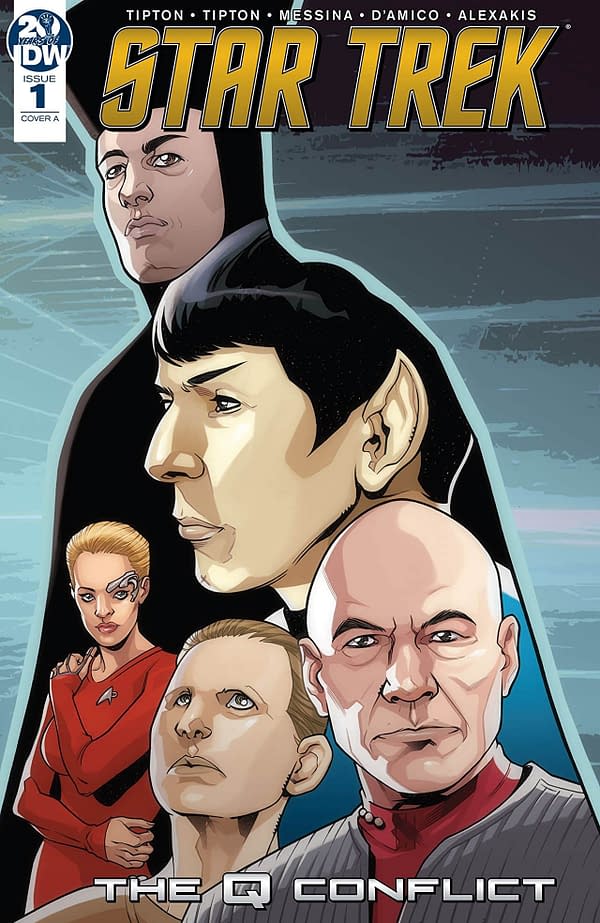 The crew of the USS Enterprise E is racing to evacuate the population of a planet caught in the explosive wake of a star that has suddenly gone supernova. The farther the crew goes towards investigating the cause of this, and multiple other stellar phenomena, the more Picard and company begin to suspect Q's involvement.
Subsequently, crews from some of Starfleet's most notable ships begin to disappear, arriving to help Q settle a dispute he is having. The reaction each crew has to their arrival is note-perfect, especially Janeway's–she knows what's up the second she arrives and makes no qualms with expressing her ire at the situation.
David Tipton and Scott Tipton do a nice job establishing the various crews of the Star Trek universe, and their take on Q's smug, imperious arrogance is perfect. David Messina does exceptional work with the penciled art, establishing great likenesses of most of the crew without resorting to caricature. Elisabetta D'Amico inks Messina's pencils perfectly, they're a great team and do excellent work in what can be a finicky franchise. A couple of the surprise guests are rendered beautifully, making the impact of their arrival all the more satisfying.
Normally, we would make a big to-do about some spoilers right about now, but we're going to abstain from that, and encourage readers to pick up "The Q Conflict" themselves. There's some clear delight being had with Trek lore here, and those Star Trek fans out there that are still capable of having fun without picking details apart are bound to have a blast.
SUMMARY: Words: David Tipton, Scott Tipton; Pencils: David Messina; Inks: Elisabetta D'Amico; Colors: Alexandra Alexakis; Letters: Neil Uyetake, Editors: Chase Marotz & Denton J. Tipton; Publisher: IDW; Release Date: January 30th, 2019; Price: $3.99; 31 Pages.
[rwp-review-ratings id="0"]
[rwp-review-form id="0"]
Enjoyed this article? Share it!