Step By Bloody Step – A Silent Comic From Image & Depuis #SBBS
This morning we promised we would have news of a new comic book series by Si Spurrier, Matias Bergara, Matheus Lopes and Emma Price. And so it has come to pass, from Image Comics and Depuis, Step By Bloody Step. A silent, worldess comic book, but with lots of folks talking about it. Here's the Image Comics PR: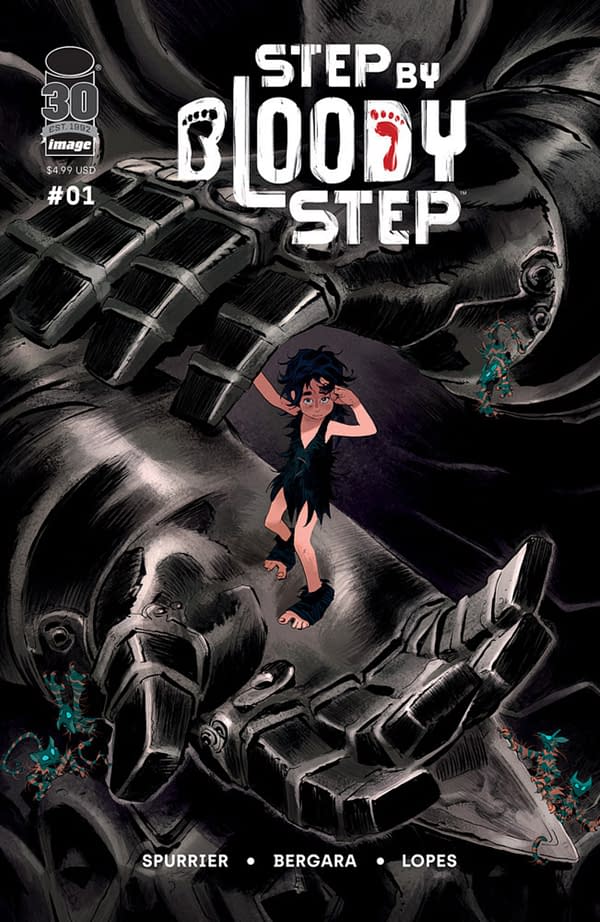 A bittersweet fantasy opus about a nameless child and her giant guardian, which is completely text free. A miniseries in four double-sized issues, this watershed moment in modern comics is a co-production between Image and Éditions Dupuis, with the U.S. edition's #1 issue out from Image in February 2022 and the French edition—to be titled Saison de Sang—from Dupuis slated for June 2022.

Step by Bloody Step is an exquisitely designed story that puts the awe-inspiring artwork front-and-center, showing off what comics are truly capable of and eliminating language barriers in a unique and compelling way.

"My last collaboration with Matías Bergara, Coda, has picked up awards and nominations everywhere it's gone. We knew our follow-up had to be even more ambitious. We set our sights on nothing less than a step-change in fantasy comics," said Spurrier. "Step By Bloody Step resounds with all the elements I love most—magic, mystery, monstrosity and the bond between two lost souls—but above all it's an opportunity for Bergara and Lopes to shatter your senses with peerless storytelling spectacle and raw emotion. Love, after all, transcends any mere language."

An armored giant and a helpless child. Together they cross an astonishing world brimming with beasts, bandits, and—deadliest by far—civilizations. If they stop walking, the earth itself forces them onwards. Why? The child can't ask. She and her guardian have no words, no memory, nothing—except each other.

Bergara added: "For the first time in my career, I can indulge myself in the very challenging task of telling a story purely through images. And what a story it is. We put all our skill and hearts into it for all of you."

Step by Bloody Step #1 will be available at comic book shops on Wednesday, February 23.
A few quotes from their friends;
"A stunning feat… truly unique. Dazzles the eyes and swells the heart." —Scott Snyder
"A gorgeous tale of humanity and love." —Tula Lotay
"The best artists of their generation presenting masterful storytelling and astonishing visuals. Reminds me why I love comics so much." —Rafael Albuquerque
"One of the most absurdly beautiful books of the year." —Bilquis Evely
"I love anything these guys do, but nothing more than this." —Mark Millar
"Gorgeous, heartfelt, surreal… three of my favorite creators." —Rick Remender
"Beautiful story. Reminds us why comics are a visual medium." —Gabriel Bá
"An incredible silent tale." —Fábio Moon
"A giant leap forward in fantasy comics." —Gerry Duggan
"Haunting, ethereal and above all visually stunning." —Al Ewing
"Entirely without words, this beautiful fantasy will leave you speechless too." —Kieron Gillen
"Do not miss this stunning visual storytelling." —Matt Wilson
"Jaw dropping beauty… storytelling at its purest and most elegant." —Declan Shalvey
"How could one resist the invitation to join this journey? Let's go!" —Leandro Fernández
"Spurrier, Bergara and Lopes have created something that celebrates everything comics can be; mysterious, inventive, bursting with imagination and also incredibly heartfelt without ever saying a word. Right to my pull list." —Jeff Lemire
What they said before:
As posted to Twitter over the last couple of weeks:
Si Spurrier: 29/10/21: We announce in two weeks. @matiasbergara/ @_matlopes_/ @sispurrier #SBBS
Matt Lopes: 2/11/21: Just one more week until the announcement! #SBBS @sispurrier @matiasbergara
Matias Bergara: 2/11/21: SO, next week we're officially announcing our next book with @sispurrier and @_matlopes_. Something quite unique, born out of a long creative process amidst a worldwide crisis. A book that speaks in any language you can understand. Something new for a new world. #SBBS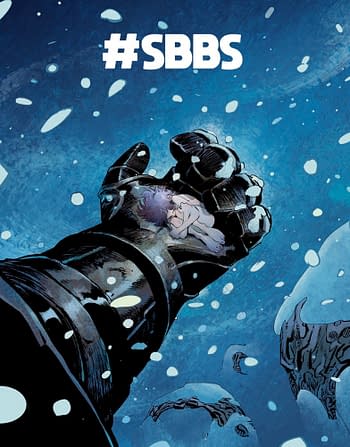 Si Spurrier: 8/11/21: New project announcement imminent. There's never been anything quite like this. Standby. And: ssshh. #SBBS
And what they are saying now;
Si Spurrier: STEP BY BLOODY STEP. My new creator owned project with @matiasbergara, @_matlopes_and @TinyMaster. A dialogue-free fantasty spectacle, co-published in '22 by @ImageComics and @EditionsDupuis. It is, in a word, beautiful. You'll be hearing more about this. And not just from us.
Matias Bergara: STEP BY BLOODY STEP – a tale in 4 over-sized chapters. No words, no sounds, all fantasy. Come walk with us.
Si Spurrier is a novelist and comic book writer, co-creator of series such as Disenchanted, Coda, Six-Gun Gorilla, Extermination, The Spire, Cry Havoc, Wakers, Godshaper, Angeliuc, Motherlands, Alienated, as well as work on 2o00AD, Crossed, Crossed +100, Star Wars: Doctor Aphra, The Dreaming, Hellblazer, Judge Dredd Megazine, Ghost Rider, Doctor Who, X-Force, Justice League, and X-Men: Legacy on which the TV series Legion was based.
Matt Lopes is a writer, artist, and colourist on the likes of Gasolina, Vampirella, Batgirl, The Black Bat, Moon Knight, Dead Body Roas, X-Files, Robin: Son Of Batman, Doctor Who. The Electric Sublime. Supergirl: World Of Tomorrow and with Spurrier on The Dreaming.
Matias Bergara is a comic book writer, artist, and colourist who co-created Coda with Si Spurrier, and worked with him on Hellblazer. He also worked on Sons Of Anarchy, Cannibal, Supergirl, and Dengue.