Steve Dillon Covers The New CBLDF Magazine As Garth Ennis Talks Censorship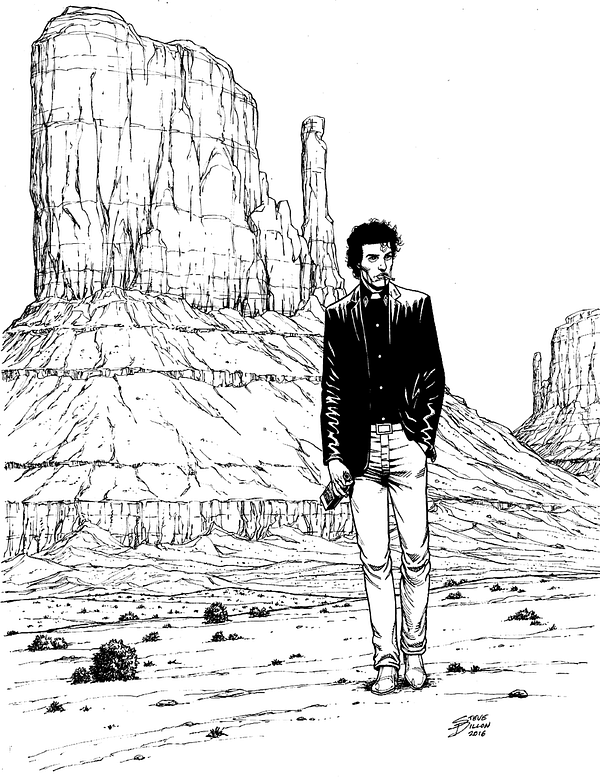 Available in comic stores this past week is the CBLDF Defender quarterly magazine. with a Preacher cover by the late Steve Dillon, the original artwork of which appears above. And in which Garth Ennis talks about an old Bleeding Cool story, about a young woman who had her copies of The Boys repeatedly seized by the government.
Hardly surprising under the circs, but I do hope nothing awful happened to the lady in question.
Thankfully she just had her comics taken away. But Garth is in this for the self preservation.
I've always assumed that one day I'd drop myself in the shit, so helping the CBLDF stick around has always just seemed
like sensible self-preservation.
There's also an article looking at what the CBLDF has acheived in 2016. With retailers like Dennis Barger asking what the CBLDF even does these days, well, it's a timely reminder. Here's just a few of them…
We aided comics creators facing legal crises before their matters went to court. From combating misguided cease and desist notices to more delicate legal matters, CBLDF's expert legal team came to comics creators' aid in meaningful ways and without any expense to the artists who needed our help.
We struck down H.B. 153, an unconstitutional Louisiana law that posed a threat to retailers and artists. The law would have required websites to age-verify every Internet user before providing access to non-obscene material that could be deemed harmful to any minor. Violations of the law carried penalties of up to $10,000 in fines.
We advised retailers on laws that affect their right to sell comics, including California A.B. 1570, a law that imposes new burdens on the sale of autographed goods.
We advocated on behalf of activist mangaka Rokudenashiko, who visited the United States on a speaking tour. The artist was convicted of obscenity in Japan, making her entry to the United States potentially problematic. We argued that her prosecution, which targeted Rokudenashiko's work addressing contemporary issues of feminism and gender identity in Japan, underscore why our First Amendment is such a necessary and valuable legal protection.
We defended comics, including four separate challenges to the highly acclaimed graphic novel This One Summer by Jillian and Mariko Tamaki.
We co-signed more than a dozen letters of support to battle book challenges around the country.
We provided advice and counsel that led to successful resolution of numerous comics challenges.
We provided hundreds of pages of online resources to support comics in education, including resources designed to aid in the collection of challenged and banned graphic novels.
It's also available free on ComiXology and… embedded below right here.
And how the CBLDF and the Defender magazine are funded? Well, there's a Neil Gaiman Humble Bundle just waiting for you…