Tata Rambo: The True Story of a WW2 Vet, Native American Activist, and Human Being, Now on Kickstarter
Debuting this week on Kickstarter is a new comic called La Voz De M.A.Y.O. Tata Rambo, telling the story of Ramon Jaurigue, nicknamed Tata Rambo, a World War 2 veteran who successfully fought for equal rights and opportunities for the Pascua Yaqui tribe in Tuscon, Arizona, founding the Mexican, American, Yaqui, and Others (M.A.Y.O.) organization while struggling with his own family life. The comic is written (and lettered) by Jaurigue's great-grandson, Henry Barajas, with art by Jason "Gonzo" Gonzalez, and edited by the esteemed Claire Napier.
But why read words when you can watch a video?
The entire team was kind enough to answer a few questions about the comic, so read the interview below if you want to learn more. If you've already heard enough, head right to Kickstarter, if you're so inclined, and pledge for reward levels as low as $5 for a digital copy ($8 for a softcover), and include at higher levels merchandise (even a fanny pack!!), original art, and commissions.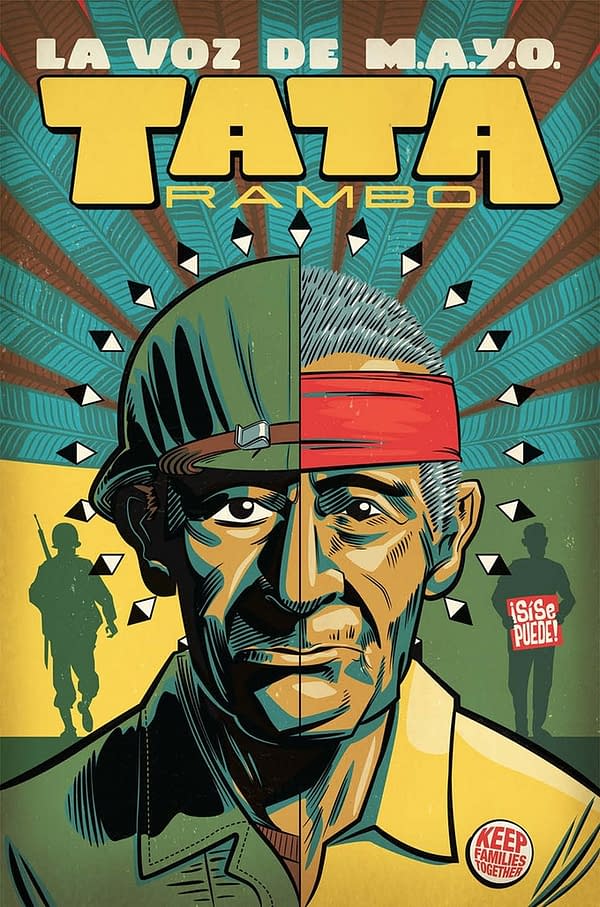 ---
Who is Tata Rambo, and why is he an inspirational hero?
Barajas: I was told to call my great-grandfather, Ramon Jaurigue, Tata Rambo when I was a child. He was a proud American that fought in World War II. After his service, he married my great-grandmother Elenor, they had children together, and he lived a long and vital life. He fought a war at home and helped his wife's native tribe become federally recognized under the Carter administration. He encouraged the city of Tucson to help his impoverished neighbors by securing plumbing, sidewalks, streetlights, and co-founded a low-cost clinic for the Pascua community and beyond.
Gonzales: He was a tough, WWII Marine veteran who knew how to organize people to achieve hard-fought goals. He was a man of his community who fought tirelessly for the rights of Native and Indigenous Peoples in Tucson, AZ. Ramon made great personal sacrifice to assist the Yaqui tribe in becoming federally recognized as a Native Tribe and prevent them from being exploited by the city."
Napier: Ramon looked further than his own problems and saw the ones that were systemic, saw that they were institutional, and roused his community to a defence of their shared human rights.
Why is a comic the best way to tell his story?
Gonzales: A Comic book narrative suits this story best because, not only does it allow the reader to better visualize a time and place unfamiliar to them, but it also accentuates the beauty and richness of the cultures represented; permeating the entirety of the tale. Also, as this is a personal story, the art style implemented hints at a curated reality – the forms, palette and structure are a heightened reality to signal to the reader that this tale is subjective; furthering the personal connection with Ramon (as we all live in our own personal, curated realities – this Comic book allows you inside access to his). Comicbooks allow for the simultaneous internal and external storytelling that this biography requires without having to resist the extreme or clunky narrative devices of other mediums
Napier: Comics engage as literature as well as products for the gaze, and combining both of those styles of audience intake is exactly what marginalised and overwritten narratives (such as this one) need.
Barajas: There are little to no comics out there that depict Native Americans or people that look like me in a positive light. I want to reflect my community and family's accomplishments by using words and pictures. Truthfully, I was inspired to switch from prose to comics thanks to March by John Lewis, Andrew Aydin, and Nate Powell.
Napier: Jason's colour work on this book is terrific, it's so sun-bleached and vital— I've never been anywhere near Arizona, but looking at his finished pages gives me a sense of climate that provides a sensual window into the events and interactions. How did the people going through this struggle feel? The script and character expression explains their emotional and intellectual investment, how they felt on the inside, but the colouring reminds you that they felt the weather, too. That's relatable in a way that I think is important; it induces another kind of almost unconscious empathy. "This could be me."
History is interesting, but comic book readers need some good soap opera drama to keep them interested. What kind of personal challenges do the characters face? And how accurate is the comic to the real story? Are there liberties taken?
Barajas: The accomplishments are true. I can back up the facts. But the storytelling is based on folklore, stories from survivors, and history books I've researched. When I was in high school my world history teacher Mr. Johnson used Maus to teach my class about the Holocaust. It changed my life forever. I was never so engaged in school and history. I kept thinking to myself "why aren't all my class using comics to teach me?!" I think comic books have enormous power and I hope this can show today's divided voter that you can inspire change by peaceful protest and by voting in not just the presidential election but in the general and midterms.
Gonzales: Ramon is a very human protagonist; he's no saint and his struggles are real. He is haunted by his time in the war and his time spent being activist erodes at his presence as both a father and a husband. He is a complicated man who is enamored with youth and beauty and his notoriety affords him some opportunity to indulge in the young and beautiful – which he hasn't the capacity to resist. – This obviously is a strain on his marriage and his credibility as an activist.
Napier: Ramon and his wife have several children and perhaps an imperfect understanding of one another. They're family, but they don't share an identical perspective on immediate, domestic needs. Ramon is dedicated to making changes in and for his community, he's a man with a strong sense of what's fair and enough innate feminism to establish a low-cost birth control resource for those around him, but he's not the perfect husband. Henry manages to perceive the limitations of the individual as he deeply admires Ramon's many strong qualities, which makes for an honest and magnetic drama.
What can people learn from Tata Rambo's story that might help them navigate the difficult times we live in today?
Napier: Organisation is a hell of a thing. Solidarity empowers. And that you can help, when something's wrong.
Barajas: Tata Rambo lost his mother and father when he was a young boy. He fought a bloody war. When Ramon returned, he became an educator and helped Mexican migrants get night adult schooling to find better jobs. He helped save a tribe from losing their land and integrity. His accomplishments all cost his him family and eventually was lost in obscurity. I would implore you to dig into your family history if you can. Not everyone's family is as prolific as Ramon's, but I hope you can take a look back and learn from their mistakes and try to continue their history of kindness and compassion.
Gonzales: Ultimately, the lesson of Tata Rambo is that one person can make a difference and that you don't have to be perfect to enact substantial change. Ramon stands as a shining example of a life spent in service – from his time as a soldier, to his time as a father, and ultimately as an activist, he sought to do good for those who had been marginalized and discounted – at some personal cost. Having stormed beaches in the Pacific and designated a hero, he could have easily sat back and considered his duty done, but his higher sense of justice and determination wouldn't allow for that and thousands of people's sense of self was protected as a result – We could all expand our understanding of bravery and sacrifice by experiencing this story.
---
Tata Rambo is on Kickstarter now.